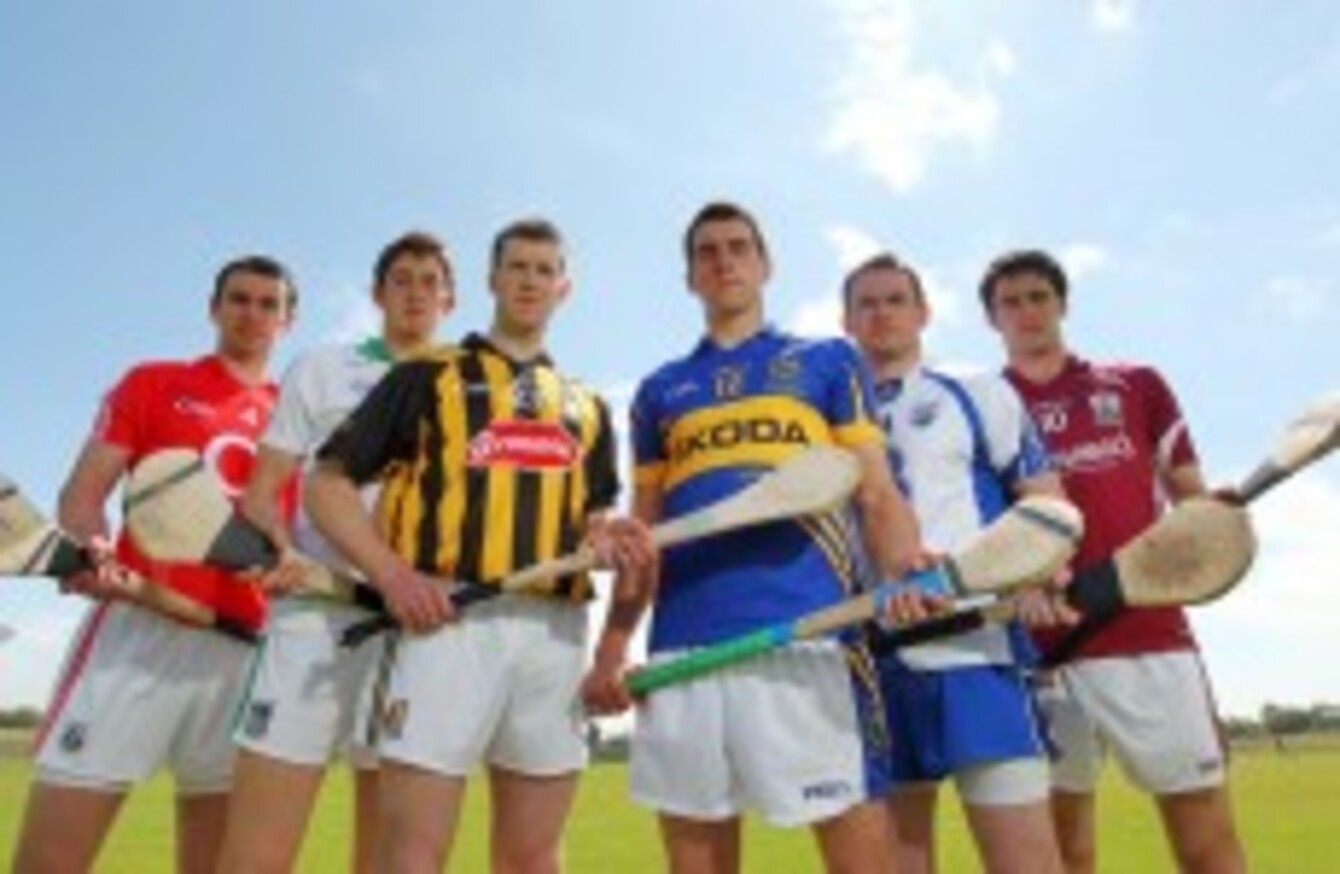 INPHO/Lorraine O'Sullivan
Image: Kilkenny's Michael Rice pictured at the launch of this year's All-Ireland SHC in the WIT Campus in Waterford yesterday.
INPHO/Lorraine O'Sullivan
Image: Kilkenny's Michael Rice pictured at the launch of this year's All-Ireland SHC in the WIT Campus in Waterford yesterday.
HE WAS OVERTURNED in a stunning upset in Wimbledon recently by outsider Lukas Rosol and now faces a race against time to assume full fitness in order to try to retain his men's singles gold medal at the upcoming Olympic Games in London.
It's not been a smooth few weeks for tennis star Rafael Nadal and Kilkenny midfielder Michael Rice is the unlikely sportsman who has been able to relate to the Spaniard's travails.
For starters Rice endured a sporting shock of his own when he and his Cats teammates were swept aside by a stunning Galway display in the Leinster final. Rice's appearance in that Croke Park clash was delayed until the 26th minute when he was introduced for Paddy Hogan and therein lies another shared tale with Nadal. Ever since Kilkenny's league meeting with Galway on April 1st, Rice has been hampered with a knee injury. The counties rematch in the provincial final marked his re-introduction to the county game as the Carrickshock man battled back from the same unique ailment that is currently afflicting Nadal.
"I had tendonitis in my knees. I just had to do a rehab programme, get it built up again. I've seen a few different lads with it, with straps on their knees. I think Nadal had it. He seems to be okay. I was reading his book as I'm just interested in tennis and interested in sportsmen. He seemed like a good sports person to be looking at.
"t's just under your knee cap. The tracking is a small bit off and I couldn't drop into a tyre company to sort it out or into the garage. Your tendon is meant to slide up and down straight but then there was some kind of horizontal force on it that is causing irritation."
Rice first started to be troubled by the problem in 2009 but the 28 year-old was still able to force his way through the schedule of training and matches. After emerging unscathed from a Kilkenny senior hurling championship match last weekend, he is now hopeful that he can start to see the benefits of his rehabilitation programme.
"In 2009 it started a small bit. I said I can't got to the physio with this or I'll look like an awful soft lad altogether. It just wasn't that bad. I just couldn't actually be on the sideline and saying I can't hurl. I was able to run, I was able to hurl. It wasn't that I was playing through massive pain.
"It was only this year and at the end of last year that it really flared up. I wasn't being a martyr. I stayed going and it just got worse and worse progressively. I played a club match last weekend, got through it fine and trained on Tuesday night so I'm happy enough. The Leinster final probably was too soon I only got two real good hard sessions under my belt."
Rice's midfield comrade Michael Fennelly may also be in line for a return for Sunday week's All-Ireland quarter-final against Limerick, which would be a significant boost for Brian Cody's charges.
"He played a bit with the club last weekend," revealed Rice. "It gives him hope, it's great to get out and I know he has been spending a lot of time in the gym. He has been brilliant for us the last two or three years so it would be great to get him back. Obviously, you'd like to pick from a full-strength panel, but you can't rush a lad. He still has to get his work done.
"But it's funny, when lads are injured it's a very selfish thing. When I was injured I spent a lot of time in the gym and I wasn't talking to the lads. You'd meet them afterwards, but when lads outside asked me how training was going, all I could say was 'it's going well inside the four walls of the gym'. I didn't know what was going on outside."