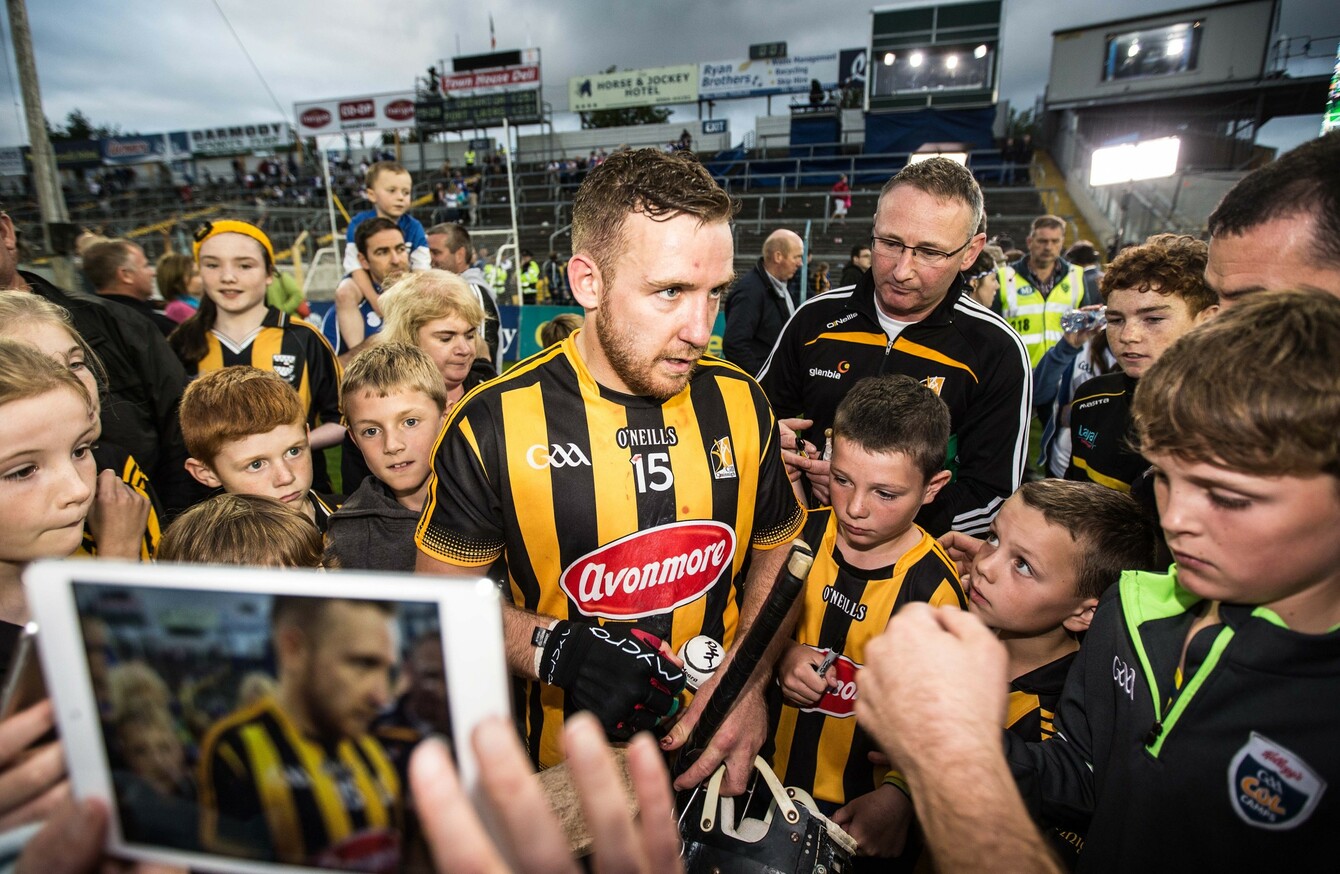 Image: Cathal Noonan/INPHO
Image: Cathal Noonan/INPHO
IT WAS SILENCE which greeted Kilkenny's defeat in their Leinster semi-final at Wexford Park, so says Richie Hogan.
The Cats were ultimately outfought and outplayed on a day which, for their neighbours, will go down in folklore, but they needed no further reminder that they were sub-par that day than the thousands of jubilant Wexford supporters who took to the field to be serenaded by Davy Fitzgerald from his pulpit in the stands, or the scoreboard which read 1-20 to 3-11 in favour of the hosts.
Nobody knew that better than Brian Cody.
"He actually genuinely didn't say anything," Hogan says, recalling the evening when a plethora of armchair pundits finally sprouted the stones to definitively write Kilkenny off. It was a watershed moment, all right.
"Sometimes that's worse, but he doesn't really need to say anything when the players are hugely disappointed. It's important to be able to let that linger so that it drives you on for the next day. And then we have a three week break, so there's almost no need to get us going straight away, that minute. We could kind of feel sorry for ourselves for the day and then get up and get on with it afterwards."
Hogan's own lack of impact on his side's defeat was brushed aside by many as merely a symptom that this crop of Cats was down to its last life, void of energy and fight, ready to wander out the back door only never to return.
It's rarely if ever that simple with Kilkenny, of course. Hogan had been suffering with a back injury in the build-up which prevented him from preparing accordingly, and the four-time All Star readily admits he was blowing hard at crunch time as Kilkenny were sentenced to death by their rivals.
"I was very doubtful before the Wexford game, and I actually felt great going out into the warm-up, and I felt fine in the first half. But I tired quickly. I hadn't done a huge amount of training. To be honest with you, I was just so relieved and happy to be on the pitch. I missed the first round last year with a broken hand. I missed half the Leinster final as well.
"It's so devastating because the league matches are great and all, but Championship is what it's all about. You train since November or whatever, training three or four nights a week and then a couple of nights in the gym, and then you get to the week before the game and you get an innocuous enough injury – it's a killer. Especially with the way it is now, like. I mean, lose on Saturday and we're gone, Championship is over. So a back injury for 10 days might as well be a cruciate injury for nine months because you don't come back 'til next year."
Speaking at an event to promote Sure's 'Never More Sure' series, which has been launched in celebration of the company's second year as Official Statistics Partner of the GAA, Hogan declared with a degree of certainty that he was now fighting fit. A combination of epidurals and steroids – the legal kind, as per his own nervous interjection – have left the seven-time All-Ireland winner feeling "as good as new" ahead of the qualifiers.
It's just as well. Here sits a man for whom the ability to hurl competitively is quite literally the be-all and end-all. Last Easter, the 28-year-old cleared his desk at Belgrove Jr Boys National School in Clontarf, Dublin, and left teaching in his rear-view indefinitely.
The toils of a 120-kilometer round-trip and an ungodly schedule eventually forced him to prioritise, but where for many this would see a career in Gaelic games reluctantly parked, Hogan is one of the few who has flipped the script.
"Since I stepped away from [teaching] it's been absolutely brilliant. I like to be able to do hurling every day. So I used to do my gym sessions in the morning, I'd go to DCU at maybe quarter-past six. Then I'd go to work, and maybe do my hurling in the evening, and obviously on a training day travel home. Now I'm able to recover properly, so I don't have to go to the gym at six o'clock in the morning. I can go to the gym at nine o'clock and take that break in the afternoon, and then do my hurling and do a bit of lower-body, a bit of core work. Look, I'm 28, so I have to look after myself properly, and that's my highest priority.
It would depress you travelling home and you get out of the car, and you're just so broken up after it. Now, I just love training; I can't do the Michael Fennelly thing of, you know, take it easy and get yourself right at a slow pace. I can't do that. In my own head I'm not able to do that. I drive down from Dublin, but I'd walk from Dublin to be able to train I just love it so much. I can't do that thing that he does.
"I'm incredibly lucky that I'm very good with money. I worked for seven years, and I have a Masters in Business and Finance. I saved a huge amount of money, and then I do a bit with a recruitment company where we recruit teachers to go to the Middle East. I do a couple of hours a week at that. At the minute I'm going off savings alone, but I've seven years' savings behind me where all my friends are going on holidays and that sort of stuff, buying new cars. I don't have to worry about a car because I've sponsorship like a lot of other hurlers, so that's one thing off the books. But it is mostly savings, and I'm just very careful with it."
Somewhat incredibly, he intends to continue in a similar vain until his time in the black and amber elapses. He still lives in Dublin, however; his girlfriend, too, is a teacher, and her gig in Ballymun means Hogan continues to train a long way from Danesfort. And the life of an athlete in No Man's Land is hardly a picnic.
"It's great sometimes, but sometimes it can be difficult because you're completely on your own. It's alright going to training sessions and you're around other people, but when you're training as an individual… I have great sympathy for triathletes or runners or whatever. When you look at them they all try to train in groups of two, three or four, so it's quite difficult when you're on your own, especially when every club keeps kicking me off their hurling pitches! You name it, I've been kicked off it."
All of this being said, Hogan doesn't perceive his own endeavour as a call to action to his fellow players, many of whom might like to see the GAA go down the route of professionalism. Frankly speaking, he's not overly fussed. His own pursuit is about the small ball and nothing else.
"Do I see it going like that [professional]? I honestly don't know. I haven't really thought about it. But for me it's not about money at all. There's some people who need money, who like to be able to live that lifestyle, who like to be able to focus on their career. That's hugely important, and the GPA do a huge amount of work around that, but it's just not that important to me.
I remember saying it to one of these life coaches that I was speaking to, I said: 'If I play to the age of 35, and get everything out of myself, I will gladly sweep the streets for the next 50 years'.
"But I'm lucky in the sense that I'm a teacher, I'm fully qualified, so I can go get a job whenever I want. It shouldn't be that difficult if I ever decide to go back to it."
It might well prove to be the case that Hogan's decision to focus solely on hurling couldn't have arrived at a more crucial juncture for his county. For the first time in four years, Kilkenny are staring down the barrel in late June, and Hogan recalls only too well the slings and arrows of outrageous scheduling which await them in the qualifiers.
Mind you, he's reveling in the challenge.
"It's just such a difficult route to go through," he says. "I know Tipperary went through that route, I think in 2010, but I'm just judging it on 2013 where we had so many games. We had Tipp in the Páirc, we had Waterford and won after extra time. We had Cork, we had two games with Dublin, we had a game with Offaly. It's just game after game after game. If you talk to any of the lads that played on that team, they just loved the whole experience. We were devastated when we lost to Cork, but if we could have continued it just would have been an unbelievable way to win an All-Ireland.
"There's just no thinking: you go out and just play the game, and the best man wins. There's not enough time to analyse other teams, there's not enough time to prepare, because you don't even know who you're playing until a couple of days beforehand. It's just a great, natural way of playing the game."
On a day in which he's promoting Sure, the GAA's official Statistics Partner, the decorated all-rounder readily admits he 'loves' doing his own video analysis on fellow greats, "the likes of Austin Gleeson, Tony Kelly and Séamus Callanan." A few of them might well cross his path not only in the coming weeks, but with more regularity in the coming years, too.
Then the reigning Hurler of the Year, Hogan was vocal in his dissatisfaction with the hurling championship structure back in 2015, calling for more games after Kilkenny again reached the All-Ireland final after just three outings. Fast forward a couple of years, and it seems he'll be granted his wish from next season.
"Look what I fucking started!" he laughs.
I genuinely don't even know. We want more games – yes we do. The new Championship that's going to come in, and I think it more than likely will come in, and everyone's in favour of it. And then in my own head I'm kind of thinking, if you have four group games in Leinster, us going down to Wexford and the joy [after Wexford's win]…will that exist? Or Tipperary beat Cork in Semple Stadium, and it's just a group game, does it take away a little bit from that?
"I don't really know. But I think what's great is that you have the Munster final and the Leinster final. If it was just a group thing and the top team wins it, it probably wouldn't be a good idea. But I think I like it.
"Teams will have a lot of players who are incredibly talented and don't get a chance to play and prove themselves because they might be number 16 or 17, so it gives a team the chance to use the whole panel. In Kilkenny we're very much about the panel. The panel is everything for us. You're going to need your whole panel if you're going to play that many games in that short space of time. I think I am in favour of it. I'm not 100% sure."
His doubts don't necessarily concern Kilkenny's position within a new format, but rather the 'neither a hurling stronghold' counties, and as to whether they would still play a role in their own provincial championships.
"The qualifier group, I don't know what it's even called – is it Leinster 2? What do you do with that? What happens if Kerry win that? Do they go into the Munster Championship and a Munster team goes out? Or if Kerry win, and beat Waterford in the quarter-final, do Waterford go into the group and Kerry go into the Munster Championship? They beat them before, in '92.
Leinster and Munster are fine, but I would be more in favour of coming up with two groups, and just join all the teams together. Mix Leinster and Munster teams in a group, and then the top Leinster team on either side can play in a Leinster final, the top Munster teams can play in a Munster final, and your top two or three teams on each side go into quarter-finals."
Of one thing Hogan is certain: the provincial championships must be maintained in some form or another. And he has a sharp response to anyone doubting the gravitas of a Leinster championship over which his own county has reigned superior for almost two decades.
It aggravates me sometimes when you talk about, 'oh, the Leinster Championship is not worth anything'. You're going to have about 65,000 people in Croke Park next week, and they'll tell you what a Leinster Championship is worth.
"I hate that comparison between Leinster and Munster. Our championship is just as important. You often see great Munster Championships and then you see a Leinster team winning the All-Ireland. The Leinster Championship is huge to us. Wexford are back, Dublin are back – let's say compared to where they were 20 years ago. If we can get Offaly up there again now, and obviously you have Galway in there, it just makes for an unbelievable championship.
"You're going to have lean years here. Of course you are. But that doesn't mean you scrap the whole thing."
That last line could also be applied to the supposed crisis facing Brian Cody's Kilkenny. On Saturday, they host a youthful Limerick outfit unburdened by the same expectation, and on this occasion Hogan doesn't need to go back to the early '90s to search for an example of why such a proposition might be problematic.
"There's that element of no fear about them," he says, eyes widened. "I know it's in Nowlan Park, which is great, but if you break it down they have fantastic players all over the pitch who would make teams on other counties easily, and just 'cause they didn't get it right last year or the year before…look at Wexford last year and the year before. So just because they didn't get it right then doesn't mean that they're gone. They're going to be a really huge challenge for us."
And with that it's a wrap, but when you're speaking with a full-time hurler of Richie Hogan's ilk, you should know better than to hastily hit 'stop' on your recording device. For him, there's no off switch, not least three days before a do-or-die clash in his homeland.
"And they were there or thereabouts against Clare!" he adds rapidly. "Clare play the kind of game where it can look like a bad game, but it's just a style of play. And Limerick cut them open a few times, and if a couple of those goal chances that they got had gone in, and they got their tails up, they'd be in a Munster final."
Instead they'll visit a Kilkenny team desperate to inflict silence upon the rest of us.
The42 is on Instagram! Tap the button below on your phone to follow us!