A NEW HEINEKEN CUP campaign, Richie McCaw going on 'sabbatical' and a big announcement due at Connacht Rugby on Wednesday evening – it all made so much sense.
McCaw announced last month that he was taking a six month break from the game and would miss a Super Rugby season with the Crusaders and some Test matches for the New Zealand.
However, with former All Black teammates such as Brad Thorn and Doug Howlett raving about the challenges of European rugby, the World Cup-winning captain might fancy a tilt at the Heineken Cup.
So, in a stroke of sensationalist sports journalism, TheScore.ie asked Connacht coach Eric Elwood if he knew the international phone code to reach McCaw in New Zealand.
"Have you got a blank cheque-book," Elwood remarked.
No, we won't be going there. It's dream stuff. If I won the Lotto maybe, or Euromillions, I'd personally sign him.
"That's not for us I'm afraid."
Elwood joked that flanker Johnny O'Connor, who played superbly against Leinster last Friday, would not be too impressed to find McCaw in the Connacht dressing room, demanding the Number 7 jersey.
"Johnny would probably beat me up," joked Elwood.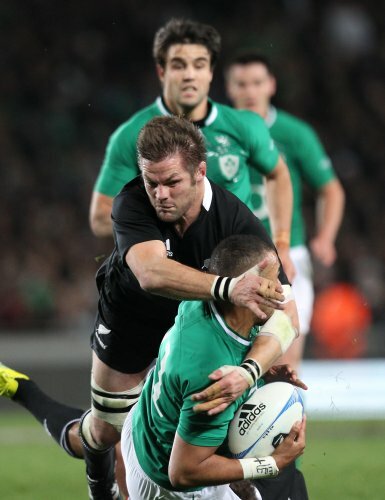 Simon Zebo won't be feeling the 'McCaw effect' just yet. (©INPHO/Billy Stickland)
Elwood was speaking at the Irish launch of the Heineken Cup at the Aviva Stadium on Thursday.
He declared that Connacht was looking top improve on their Heineken Cup showing of one win from six and is heartened, ahead of the upcoming campaign, by the 34-6 league victory over European champions Leinster.
However, the former Ireland out-half made no mention of reported intentions that he will be stepping down from his role.
McCaw made his New Zealand debut against Ireland at Lansdowne Road in 2001.
The 31-year-old, who holds a pilot's licence in New Zealand, would be well catered for out west as there is a Galway Flying Club at the city's airport, which is also home to helicopter pilot training facilities.
Speaking about his decision to take a break from the game, was quoted in Rugby Heaven saying: "The big thing I want to make sure is there is not a perception I'm just hanging in there and just being around for the sake of it."