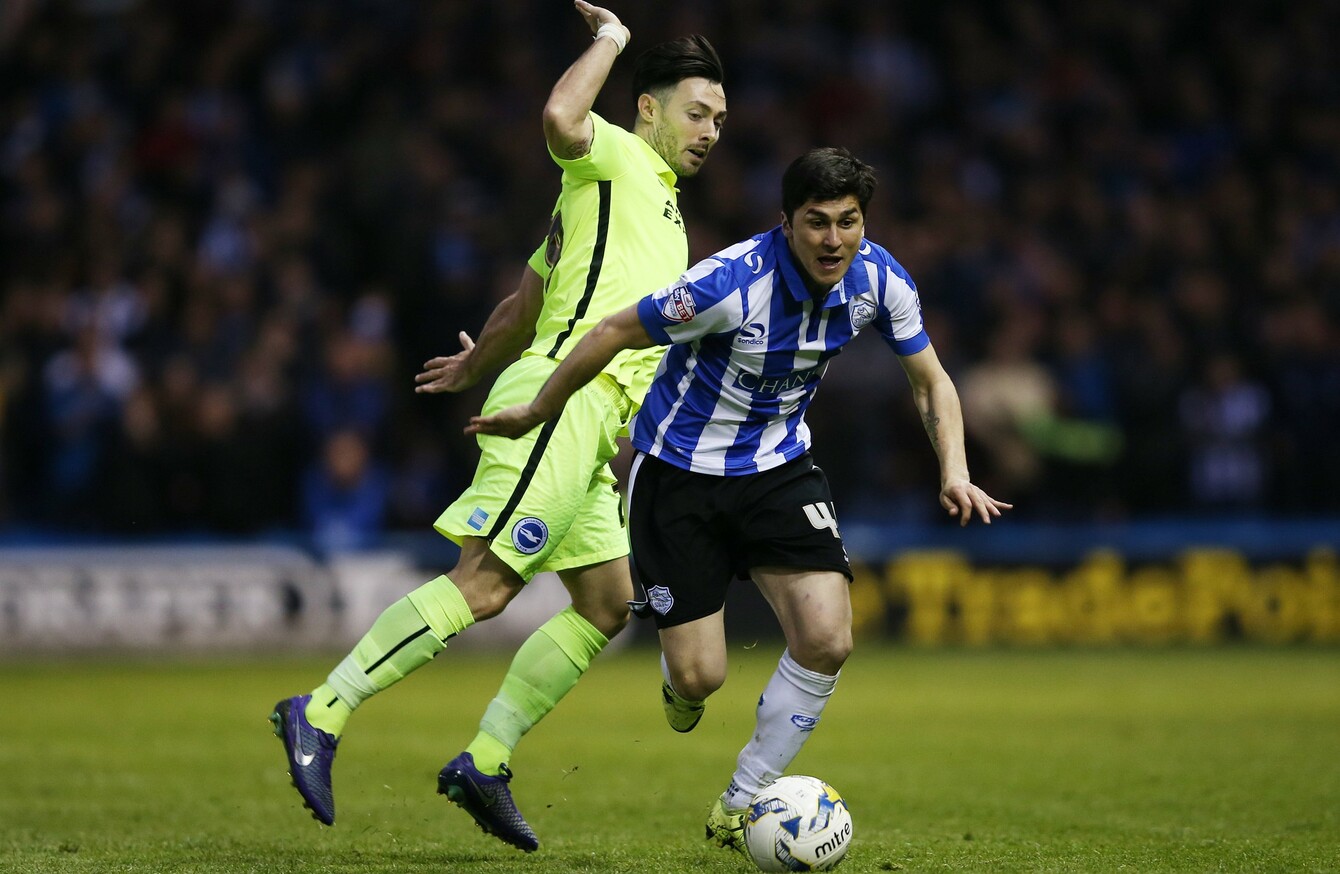 Towell, left, had to wait until the play-off semi-finals to make his league debut.
Image: David Davies
Towell, left, had to wait until the play-off semi-finals to make his league debut.
Image: David Davies
RICHIE TOWELL'S INTRODUCTION to life in the Championship has been rather stop-start, but the former Dundalk ace is bullish of his chances at Brighton & Hove Albion ahead of the new season.
Since moving across the Irish Sea last January, Towell has been forced to wait patiently for his chance but he believes that the time is right to start making developments at the club.
"I came over halfway through a season and to be fair, they had quite a set up here," the 24-year-old told The42.
"They were pushing for promotion and the lads were playing really well so I knew I had to bide my time.
"I was really waiting for pre-season to get a good crack of the whip then. Luckily enough, I've come back really fit. I feel really strong and hopefully it can be a big season for me."
The 2015 League of Ireland Player of the Season required a sense of realism when he first arrived on the south coast of England but even as he watched from the sidelines and stands, he never lost sight of his ambitions.
"I always just want to play. That's really my main ambition always. Obviously I wasn't playing football as much as I would have liked when I initially came over but I was kind of half-expecting it coming off a long season in Ireland.
Having a baby and moving over was quite a transitional period. and really my main focus would have been to come back over for pre-season as fit as I can.
- Breakthrough -
Towell wasn't the only person targeting pre-season as the right time to impress and manager Chris Hughton also made his feelings known to the midfielder before the summer break.
"Before I left, [Chris] told me to have a nice break after doing back-to-back seasons and to come back as fit as I can, which I have done.
"I'm very happy with the way I've come back and hopefully now I just get to play some games over pre-season.
I want to play. I don't want to be a sub. I don't think any footballer will accept that. If you're accepting that you are going to be a sub, I don't think it's a good thing.
"My main goal is to play and play as much as I can and help the team push for promotion again."
Pre-season appears to be going well for the man who fired 25 league goals for Dundalk last season and opportunities could soon be beckoning.
"[Pre-season] has been going great. We were in Tenerife. We did a week camp out there with up to three sessions a day," continued the Dubliner.
"It was quite tough but I think every pre-season in every club is quite tough. But it's something I've always enjoyed since going back over after the break."
- Irish Eye -
Despite bright prospects looming, Towell refuses to let his hopes venture too far into the future. Plans of breaking into the Irish team have been temporarily put on hold until he hits his target of first-team football.
To be honest, there's no point of me planning on breaking into the Ireland team if I haven't nailed down a place in the Brighton team. I think you have to take it one step at a time.
"My main focus at the moment is to get into the Brighton team and show what I can do. Obviously with this being such a good club, pushing for promotion last year and the players we have here, hopefully I won't go unrecognised by the Ireland manager.
"It's every young lad's dream to play for the national team especially after such a successful Euros."
- Patience -
Towell's career path has been undoubtedly colourful. He began earning his trade in Scotland before he went on to terrorise defences in the League of Ireland. Eventually greener pastures became apparent and after making the switch cross-channel, he eventually made his league debut in the first leg of Brighton's play-off semi final defeat against Sheffield Wednesday.
"When I got the shout to come on I was buzzing. I felt great . Obviously it was under difficult circumstances with the start we got in the game but I was just happy to get myself on the pitch.
"It was unfortunate we went down to 10 men after about four or five mins of me coming on. I was just happy to be on the pitch trying to help my teammates out and hopefully I can do a lot more this year."
The bright lights of English football haven't distracted him from his goals and they certainly haven't made him forget about his past as he remains a keen observer of progress at Oriel Park.
"(Dundalk) are six points clear at the moment — I don't think you can ask for much more. Doing back to back titles and top of the league in the next campaign, Stephen Kenny will be adamant that the players are on top of their game all the time.
"I wish them all the best in all that they do because they're a really good club and I still have a lot of good friends in it."
The42 is on Snapchat! Tap the button below on your phone to add!