Liveblog

Olympic breakfast: Here are the Irish athletes in action today
We're almost there but still plenty of Irish interest on the penultimate day. Stephanie Meadow and Leona Maguire are up first in the final round of women's golf while Aileen Reid starts her triathlon at 3pm.
Arthur Lanigan O'Keeffe will be hoping to emulate Natalya Coyle's fine performance when he continues his modern pentathlon from 4.15pm.
Stephanie Meadow is about to get her final round underway
The 24-year-old is on +1 for the tournament and will be hoping for a good start here.
Leona Maguire is just about to start her final round
The 21-year-old was disappointed with her third round. She's on evens par overall so here's hoping for an improved performance.
Bright start for Leona Maguire in final round
Back to back birdies at the 3rd and 4th move Maguire up to a tie for 17th in the final round of the golf. She is now -2 for the tournament while Stephanie Meadow is +2.
Leona Maguire is now tied for 15th
The Cavan native is now -3 after six holes of her final round. She is joint 15th and is five shots outside the medals.

Aileen Reid is out of the water in 31st place and takes to the road
The 34-year-old from Derry gets out of the water 19 seconds behind the leader for 31st place and is on the bike now for the second part of her triathlon.
Leona Maguire finishes on -2 for her final round
An excellent final round of 69 for Leona and that leaves her on -2 overall and good enough for joint-19th.
It would be a fantastic achievement if it stays that way but there are a few others still to finish their rounds.
A decent final round from Stephanie Meadow sees her finish on +2
Not as good as that superb second-round 66 but Stephanie finishes on +2 overall with a final round of 72.
That's good enough for joint-32nd at the moment.

At the halfway mark in the triathlon, Aileen Reid is in 26th
The gap to the leaders has widened – it had been 54 seconds but it's now pushed out to 1.45 minutes with over 20km of the 40km cycle already done.

In men's modern pentathlon, Arthur Lanigan-O'Keeffe finishes 13th after swim event
An impressive 2.03.03 for Arthur in the 200m in the pool. That's good enough for 331 points He's next in action in the equestrian portion of the modern pentathlon which takes place around 6pm Irish time.

Aileen Reid finishes 21st in the women's triathlon
That's a superb push from Aileen and she's just short of a top-20 place. After two laps, she was 28th but she conjured the fifth-quickest final lap in a determined and spirited end. Well done to her!

Four years on from London, a huge improvement from Aileen Reid
Ireland's Leona Maguire finishes tied for 21st in Olympic golf
After a disappointing first round on Wednesday, Leona Maguire produced another under-par round today to finish the women's Olympic golf tournament in a tie for 21st.
The Cavan amateur carded a two-under par round of 69 to finish on two-under par for the tournament.
Stephanie Meadow, meanwhile, finished with a 72 to sit in a tie for 31st on two-over par.
Gold went to seven-time Major winner Inbee Park, silver to Lydia Ko and bronze to Shanshan Feng.

Arthur Lanigan-O'Keefe needs a clear run in the riding round of the modern pentathlon
After three of five events in the modern pentathlon, Ireland's Arthur Lanigan-O'Keefe sits in 26th position overall. The Kilkenny native needs a big performance in the riding round ahead of tonight's running/shooting event.
The riding round begins at 7.30pm Irish time.

Brilliant from Arthur Lanigan-O'Keeffe as he goes clear in the riding event
Arthur Lanigan-O'Keeffe has given himself a chance heading into the final event of the modern pentathlon. In difficult conditions inside Deodoro Stadium, the Irish athlete goes clear in the riding round and that should see him jump considerably up the standings.
He was sitting in 26th position overall before that round with just the shooting/running event to come later this evening. He still has a lot of work to do if he is to get himself into contention but he could do no more there, recording no faults.

Arthur Lanigan-O'Keeffe produces brilliant performance to finish 8th
Starting the final event of the Men's modern pentathlon in 15th position, Ireland's Arthur Lanigan-O'Keeffe has moved up the field in the shooting/running event to finish in a superb 8th place.
That's a top ten finish for both Lanigan-O'Keefe and Natalya Coyle — a fantastic achievement!

Confirmation of Arthur Lanigan-O'Keeffe's final position
After some uncertainty over Arthur's final position, here is official confirmation.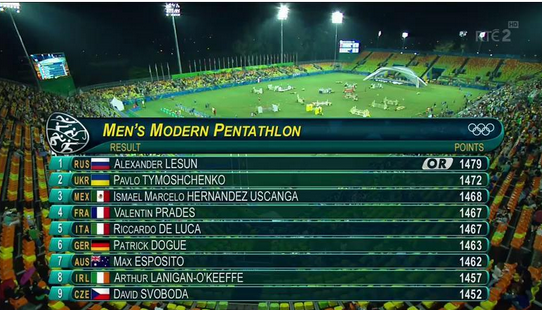 Source: RTÉ Sport/Twitter
Contribute to this story: