ROB HEFFERNAN WAS the subject of 19 doping tests last year, and with a major championship on the horizon he's fast approaching double figures in 2014.
He's become so used to the surprise knock at the door that he's willing to treat the testers more like a slightly troublesome nephew than an uninvited guest.
"They called at six in the morning," he says of one of his more recent blood and urine donations while in training camp in South Africa.
"I'd eight by three kilometres to do that day and I'd just gone to the toilet at half five so I knew they'd have to wait."
Waiting around until you need to piss again is normally what sends athletes over the edge. Heffernan, though, told them to get comfortable. He was going to sleep while nature took its course.
"There were two of them in the room, the drug tester and the nurse, and I remember at one stage looking up and the nurse was asleep on the chair snoring. The other one was going, 'this is crazy.' But I didn't do without my sleep and my training went well."
That, after all, is the most important thing in this game.
"If you're dragged out of bed at six o'clock you're shattered for the day and it can affect your training. You can get injured out of it because you're so tired and you're giving out and frustrated."
Heffernan has no gripes about being tested. It's an inconvenience, sure, but it comes with the territory. And the gold medal regions of racewalking are a treacherous place.
In a 20-minute interview in the middle of St Stephen's Green, the 34-year-old feels the need to bite his tongue just once; when posed with the negligible difference between spending on drug control and coaching development in this country.
"Well… how many medals have we won?" He said with a shrug before addressing the number of samples he has given personally:
"Obviously the mentality is: 'Irish people can't do well unless they take something'. And it's a bad mentality, because I know from being around the Spanish and the Poles and being away and watching all the different systems, it's a development thing, especially in my event.
"I believe that we can [be successful] if we put the right structures in front of people – I think I'm a product of that [but] I've made that environment for myself.
"You know, even having Marian [now retired from athletics and coaching] full-time, which is a massive, massive commitment. Every day Marian has to do my drinks, my video work, go over my planning with me and then be back and do all my food, that probably saves me 100 grand a year, you know.
"If everyone had that lifestyle you'd definitely have better results without focusing on the negative. It's definitely a factor."
Heffernan hasn't just forged an elite training structure for himself; he's also attempting to lay the tracks for the next generation. His legacy takes the form of bricks and mortar, affordable housing for the up-and-comers around Cork City.
"I'm after setting up an athletes' house there where the lads pay very little money, are set up with a gym, and I do up their programmes for the year.
"The gas thing is there is one fella who took up the sport three years ago, and raced [at the World Cup] in China at the weekend.
Smoking gun
"Is he brilliant? I don't know. But maybe if you get into an environment where you're eating, sleeping, and training…
Exclusive Six
Nations Analysis
Get Murray Kinsella's exclusive analysis of Ireland's Six Nations campaign this spring
Become a Member
"If, like me, you have a VO2 max of 80, and you develop the athlete that way, you are going to make him better, get some results out of them."
That's the thing for Heffernan. While there is plenty of suspicion around his competitors past and present, he can speak about the coincidences of shady doctors and split times that equate to little more than a smoking gun without becoming resentful. That would cloud his vision when he his attempting to focus on all of the legal factors that have gone into any given success.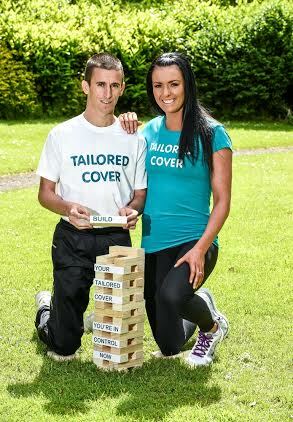 Ray McManus / SPORTSFILE Rob with his wife Marian Heffernan, who has taken control of coaching and logistical duties since retiring from athletics. Ray McManus / SPORTSFILE / SPORTSFILE
"I hope to develop that system more when I'm finished [competing]. Because I made so many mistakes when I was younger and you're branded off as crazy, but I didn't know any different.
"It's easy to be mad and enthusiastic. We've a lot of athletes like that. You will get some results, but then you will break down, and get injured.
"Again, there is no secret. If you're smart with your planning and maximise everything you do, you can get better results. We mightn't win a load of medals, but we'll get more positive results."
Rob Heffernan is an ambassador for GloHealth.ie, Ireland's newest and most innovative health insurer.