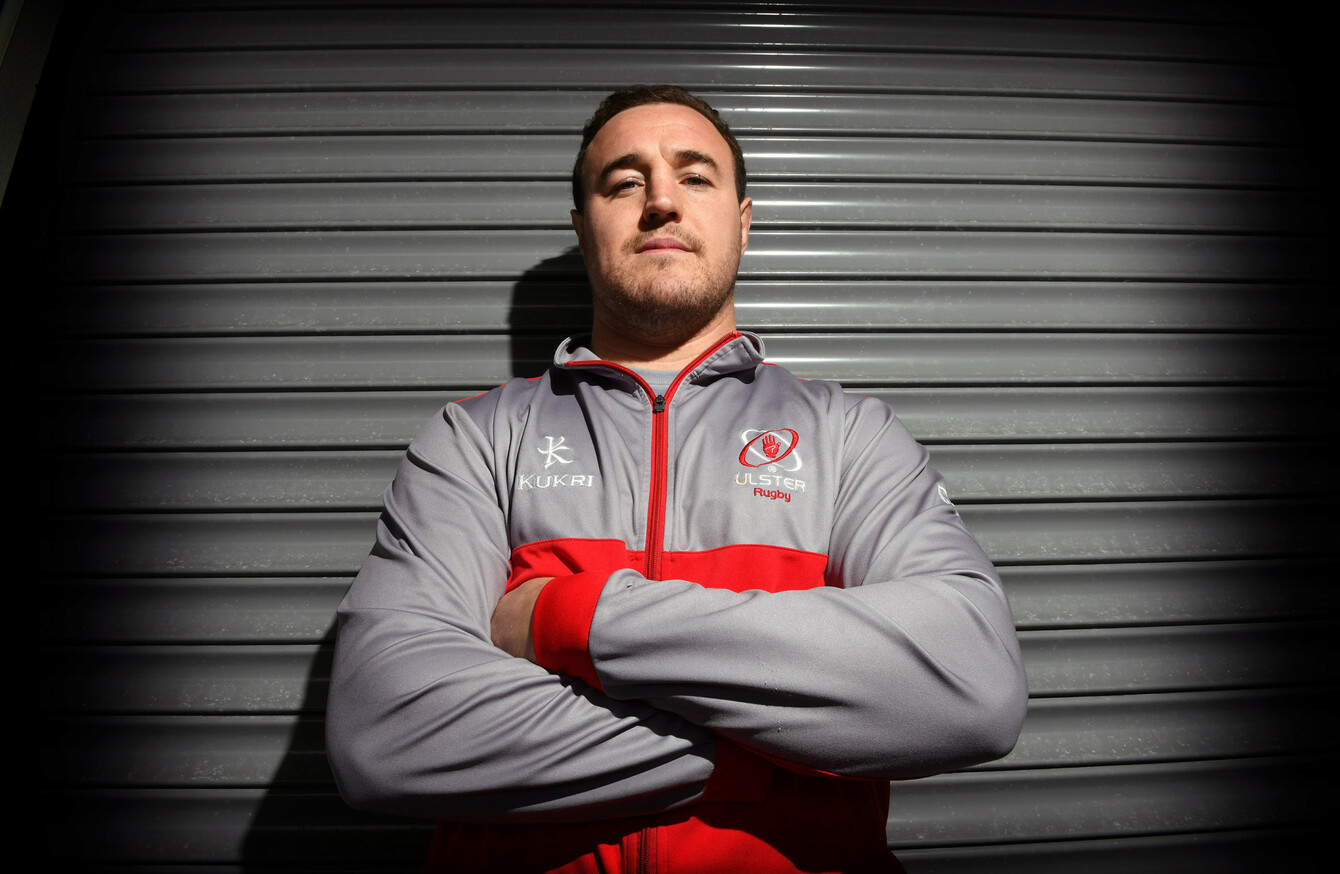 Image: Stephen Hamilton/INPHO
Image: Stephen Hamilton/INPHO
HAVING READ OUT the players' statement regarding the fallout to Paddy Jackson and Stuart Olding having their contracts revoked by Ulster and the IRFU, it was up to Rob Herring to address the media ahead of Saturday's game against Glasgow Warriors.
In fairness to the South African-born hooker, he did it well. The emotion showed, as you would expect, but behind his emotionally-charged statement was a steely determination to do the talking on the pitch, not off it.
And key to that will be the response they get from the Kingspan stands, with Herring insisting that unity within the squad and the organisation is what will get them over the line against their Scottish opponents.
"We're going to feel the support from (the crowd) this weekend, we've all got to stick together and hopefully it's going to be a big performance from us," the Ireland international told reporters.
While all the headlines have been made away from Kingspan Stadium over the last few weeks, the Ulster squad meanwhile have found themselves back on the right side of scorelines in their last two games as they aim to end the season on a high.
A stunning bonus point win at BT Murrayfield over Edinburgh was backed up by an 8-0 win over the Ospreys in Belfast last weekend, meaning Ulster have gone from anxiously looking over their shoulder at Benetton to instead dreaming of potentially still making the top three in Conference B.
A bonus point win over runaway Conference A winners Glasgow on Saturday (6:05pm kick-off) would ensure at least a place in that crucial European play-off and would keep their Guinness PRO14 playoff hopes alive – albeit only just.
In some ways they are fortunate – this game was originally scheduled to be played last month only for the 'Beast from the East' to sweep in with its own agenda. Back then, Ulster's morale was at rock bottom. Now they're back on track.
The pack are starting to look like a unit. In the Edinburgh game, and for parts of the Ospreys match, the backs really cut loose with some excellent flowing moves. They look like the team they want to be, rather than the team they have been.
You can see we're starting to perk our heads up a bit more and play with slightly more confidence.
"The great thing about the Murrayfield performance is that, away from home, we haven't had that kind of intensity which we showed."
An interesting sub-plot this week surrounds how the Warriors will approach this game given they've already won their conference and now have a semi-final to navigate in a few weeks' time.
The natural thought process would be they'll rest their entire starting squad, but with four weeks between Saturday's game and their semi-final, they won't want to risk going into that game having not played together in over a month.
It'll have an impact on Ulster's preparation, but Herring retorts that it won't impact on how he and his team-mates approach this game, which is do-or-die for the northern province regardless of how strong Glasgow are.
"It doesn't matter who they bring," he said. "They might bring a stacked international side, it doesn't bother us as we prepare the way we prepare and deliver to our standards in training and in the game and hopefully that's going to happen.
"They're really well-drilled and they've found that hard edge (up front) and they're just really clinical. They have a strong maul and scrum and it's going to be a big day at the office for us forwards.
"If we're being realistic we're going to have the same intensity again at home against a top side, that's what it's going to take to beat these boys."