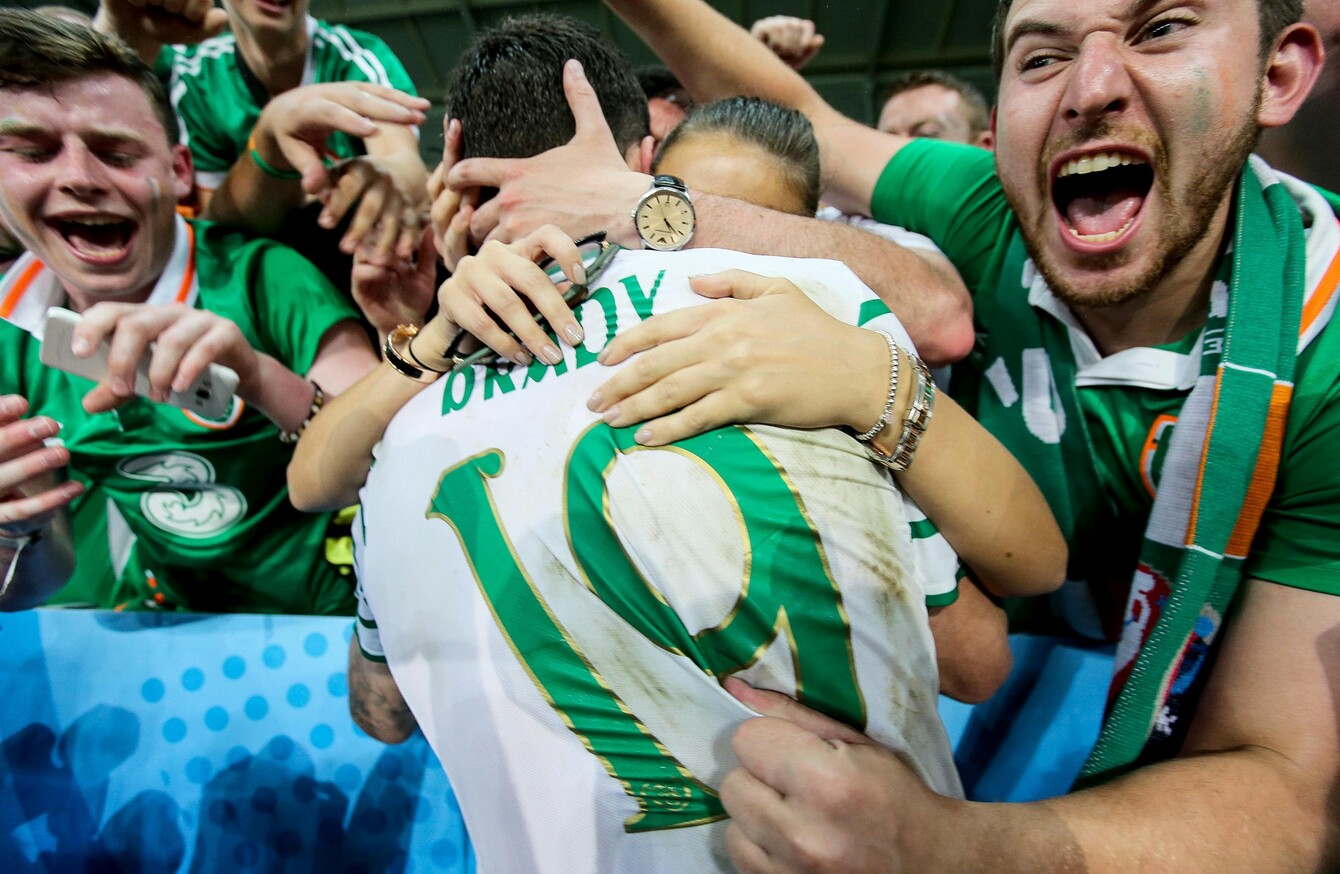 Brady is hugged by his girlfriend and brother.
Image: Donall Farmer/INPHO
Brady is hugged by his girlfriend and brother.
Image: Donall Farmer/INPHO
AS A FOOTBALLER, Robbie Brady arrived at Euro 2016.
It is one year to the day since the midfielder's iconic goal five minutes from time in Lille sent Ireland into the knockout stages of Euro 2016, spawning wild celebrations at home and abroad which marked a moment in history for Irish football that would never, ever be forgotten.
It was a summer of delirium when the delight of Euro 2016 took hold of the nation for four short weeks. Sport's cliched role to unite the masses is too often over exaggerated. However, there has always been a sense of 'happening' when Ireland gets behind its football team after qualifying for an international tournament — perhaps because it is so rare.
There is a reason why Euro 88, Italia 90 and the 1994 World Cup are all remembered so fondly and the actual football on the pitch is far from the key factor. Pessimists will always be quick to point out that Ireland scored one goal in Italy in 1990 and also failed to win a single game in normal time en route to the quarter-finals. But they are missing the point entirely.
Like it or loathe it, when Ireland show up at international competitions the chances of going all the way are unlikely and attractive football is a secondary matter. Therefore, any result should be celebrated, but more importantly, we must cherish the occasion itself and the fact that we had made it that far.
That is why there will always be homecoming celebrations for the country's football teams when arriving back in Dublin airport afterwards. We are proud of what they have achieved and thankful for the memories they've given us in a foreign country among friends and family.
A collective joy completely at odds to the utter indifference of Euro 2012 — when the party had barely begun before it was over.
Sean St Ledger's equaliser against Croatia was to be the climax of that particularly-forgettable tournament. That is, of course, if you discard the singing against Spain which earned Ireland a Michel Platini-delivered special Uefa award, and the scorn of Roy Keane.
Euro 2016, on the contrary, offered hope and optimism for two key reasons: the highs of qualifying which included securing four points out of six against world champions Germany, Shane Long's goal against Manuel Neuer, John O'Shea's late equaliser and the Jon Walters-inspired play-off wins against Bosnia-Herzegovina.
But secondly, and most importantly, what made the tournament so special was the style of progressive play on the field which Martin O'Neill had gradually ushered in since taking charge in 2013.
Unlike his predecessor Giovanni Trapattoni, O'Neill was willing to blood new young players as well as more creative outlets. Where Andy Reid, Stephen Ireland and Wes Hoolahan had been left by the wayside, O'Neill slowly brought Hoolahan, Jeff Hendrick and Brady into the starting 11.
O'Neill is facing criticism from some quarters for his refusal to draft in Cork City's Sean Maguire. However, during his four years in charge he tried something different and got the ball down on the ground, because he saw we had the players to do so, which Trapattoni either refused to believe or blatantly ignored.
Ireland's disappointing performance against Austria three weeks ago aside, the development under O'Neill has been drastic to the point where qualifying for international competitions is a likelihood and, dare we say, expected — especially when it comes to the European Championships.
Robbie Brady himself became the jewel in the crown of Euro 2016 for his heart-stopping equaliser against Italy. Ireland knew nothing but a win would see them into the last-16 and with the clock reaching 84 minutes Hoolahan redeemed his earlier miss — "that was our chance", Ronnie Whelan had cried in commentary — to swing in the most perfectly-weighted cross to ping off Brady's head and past Salvatore Sirigu 365 days ago today.
If Brady was the jewel in Ireland's crown then that goal was his own personal magnum opus, notwithstanding the nerve he demonstrated to slot a penalty past Hugo Lloris and give Ireland a shock lead in the last-16.
Brady, alongside childhood friend Jeff Hendrick, had rediscovered the lost art of passing football in Ireland's midfield during Euro 2016. Perhaps not a lost art, but a discovered art — Ireland were now swaggering alongside the top sides in European football by playing football that was not Jack Charlton route one or Trapattoni's brand of ultra-negative, hydro-Italian deathball.
Even against Belgium, a 3-0 defeat, Ireland still racked up 43% possession and a high multitude of passes before conceding three second half goals.
Brady was one of the tournament's outstanding performers, albeit playing four games out of a possible six. He scored two of Ireland's three goals in the finals and managed a 73% pass completion rate.
The competition was supposed to spell the beginning of a new period for Ireland as an international side. However, recent results against Wales and Austria and, in particular, manager O'Neill's decision to bench Hoolahan in those games has shown a reversion to times of old.
Euro 2016, too, was meant to put Robbie Brady in the shop window for the Premier League's suitors. With Norwich relegated to the Championship, some expected Brady to secure a move back to the top flight, but the transfer materialise until earlier this year.
His time at Burnley has been mixed. March saw Brady collect the FAI Goal of the Year award for his finish in Lille against Italy, as well as the 2016 the Player of the Year and Young Player of the Year awards for good measure.
For his club, a stunning free-kick against champions Chelsea in February, alongside two assists, have been the standalone highlights as the player made just 14 appearances — seven of which were off the bench for Sean Dyche's side.
Burnley were unsung heroes in 2016/17, finishing 16th and six points above the relegation zone and while it has been a slow start for Brady, many are hoping he can find his feet and establish himself alongside Hendrick, Stephen Ward and Kevin Long at Turf Moor next season.
Hendrick made 31 Premier League starts for Burnley last season, while Ward missed just a single game, amassing 37 league starts.
The player showed immense courage and determination to establish himself at Hull City and Norwich following a disappointing spell with Manchester United.
One can only hope Brady, still just 25, did not reach his pinnacle moment in football last summer with his sweeping header against Italy and that many more highs lie ahead in the years that follow – perhaps even captaining his country at a major tournament.
The42 is on Instagram! Tap the button below on your phone to follow us!