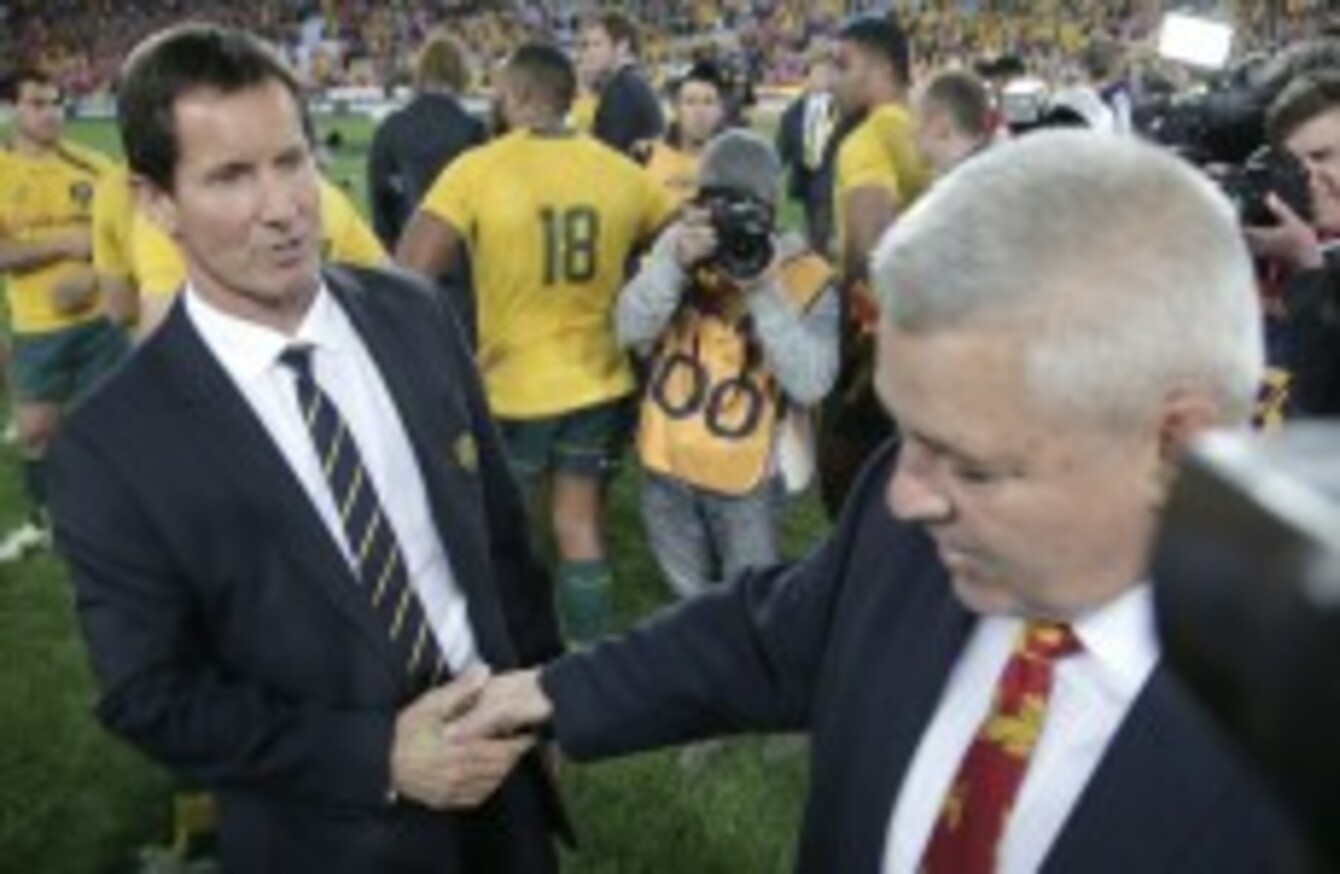 Robbie Deans shakes hands with winning Lions coach Warren Gatland.
Image: AP Photo/Rick Rycroft
Robbie Deans shakes hands with winning Lions coach Warren Gatland.
Image: AP Photo/Rick Rycroft
VARIOUS AUSTRALIAN RUGBY outlets have announced that Wallabies coach Robbie Deans has been sacked, 48 hours after his side lost the Test Series against the Lions.
Deans will be sacked six months before his contract ends, as the Australian Rugby Union (ARU) seeks to rebuild after the national team's 41-16 thrashing by the Lions in Saturday's series-deciding third Test, the Sydney Morning Herald announced.
ARU chief Bill Pulver met Deans earlier today, and reports said Queensland Reds coach Ewen McKenzie had beaten off competition from the ACT Brumbies' South African coach Jake White to take over the Wallabies. McKenzie interviewed for the Ireland head coach role earlier this year following Declan Kidney's departure.
News Limited said McKenzie would be unveiled as the new national trainer on Tuesday. An ARU spokesman would not confirm the reports. "We won't be commenting on speculation," he told AFP.
McKenzie said in March that he would quit the Reds at the end of the Super Rugby season, saying he was ready to move to "the next level". After joining in 2009, he guided the franchise to a first Super 15 championship in 2011 in addition to back-to-back Australian conference titles
McKenzie led the Reds to Super Rugby success in 2011. (Credit: RuggaMatrix)
Deans, a New Zealander, has been in charge of the Wallabies for five years and is contracted until the end of the year. But the ARU is reportedly keen for a fresh start ahead of the Rugby Championship next month.
Earlier Monday, British and Irish Lions coach Warren Gatland rallied behind his fellow Kiwi, highlighting his achievements and expressing empathy for his plight. He said:
I've got a huge amount of respect for what Robbie's achieved in rugby. I know it's been really tough for him being here. There's a lot of people split about whether he should carry on the job. There's been a lot of criticism. It's tough to have a Kiwi involved coaching an Australian side. I admire him for what he's achieved in rugby."
He added that he and Deans, the Wallabies' first foreign coach who has been in charge of a record 74-Tests since 2008, chatted after Saturday's game.
"He said he might get to see us in November," revealed Wales coach Gatland, "but that depends on what happens in the next few weeks. I do feel for him and want to wish him all the best. I hope it works out for him."
Great service
Peter McGrath, the ARU chairman when Deans was hired and re-hired in 2011, also had words of encouragement, saying he had not received enough credit for his achievements.
"I personally think Robbie is a fantastic human being and has done a great service for Australian rugby," McGrath told the Herald. "We were number five in the world when Robbie was appointed, we rose to number two and now we are number three. The board have to make a decision about how you get to number one — that is their task."
Australia's next Test is against the world champion All Blacks in Sydney on 17 August — their opening match of the Rugby Championship, which includes South Africa and Argentina.
Deans has had a chequered history with the Wallabies with a 58 percent success rate — winning 43 Tests and losing 29. The team's failure to win on Saturday in what was deemed their most important match since the 2003 World Cup final means Deans still lacks a defining moment as Wallaby coach.
His high point remains the 2011 Tri Nations triumph in the weeks before the World Cup in New Zealand. He is better remembered for being in charge of shattering defeats to Scotland (twice), Samoa at home, a 53-8 rout by South Africa in Johannesburg and an ill-fated World Cup campaign in New Zealand two years ago, when the Wallabies never recovered from a 15-6 beating by Ireland in the group stage.