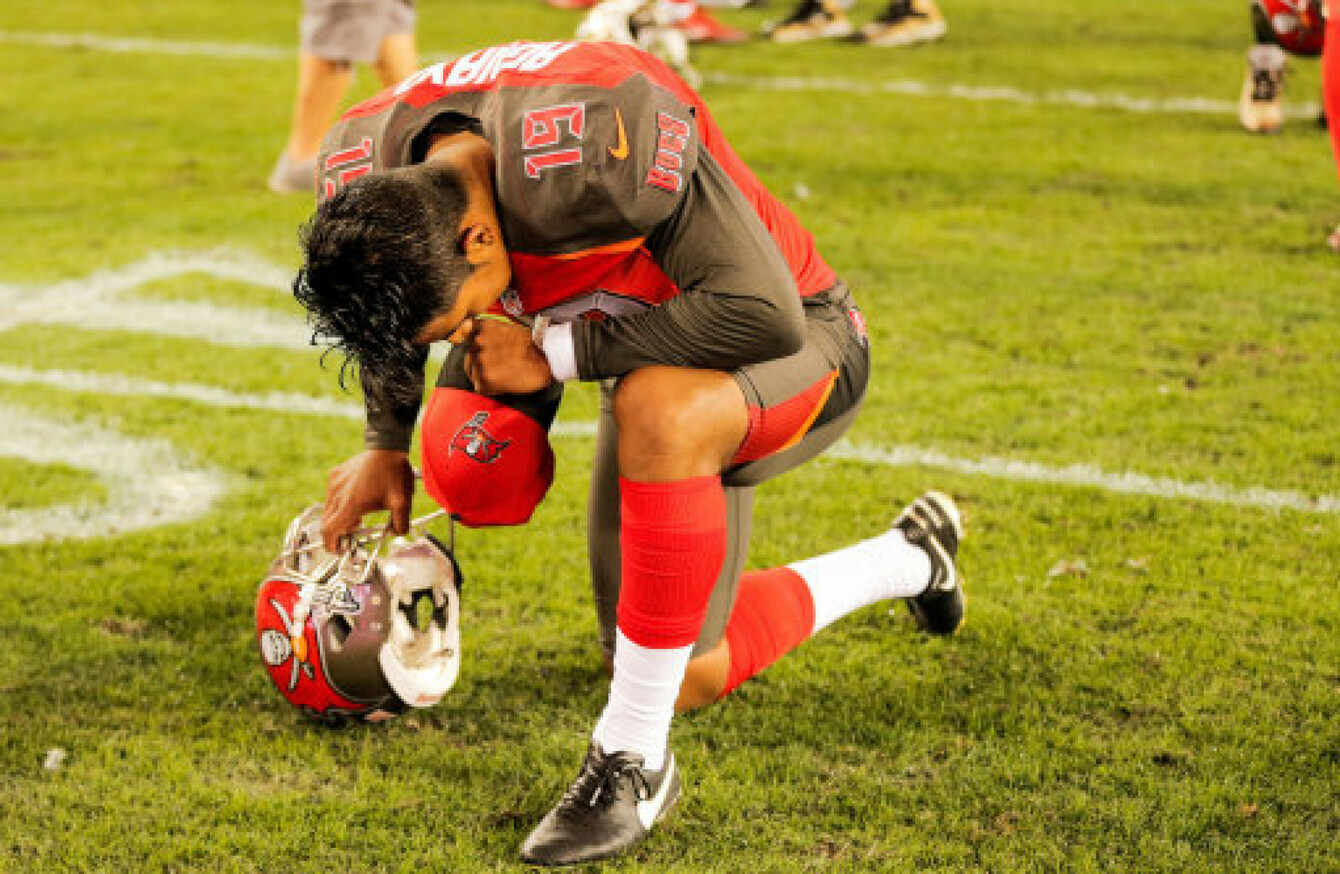 Aguayo will no longer kick for the Bucs.
Image: Scott Kelby/PA Images
Aguayo will no longer kick for the Bucs.
Image: Scott Kelby/PA Images
IF YOU'VE BEEN following this season of Hard Knocks, you'll know that the Tampa Bay Buccaneers have had something of a kicking battle with Roberto Aguayo going up against seasoned veteran Nick Folk.
Well, spoiler alert, it's a battle no more as Aguayo was cut by the team over the weekend after missing an extra point and 47-yard field goal attempt in their pre-season loss to Cincinnati Bengals.
He has since been claimed by the Bears.
If you don't know the back-story, Aguayo was drafted in the second round of the 2016 NFL Draft, when Tampa Bay traded their third and fourth round picks to take the former Florida state man.
Aguayo was very accurate in college, hitting 100% of his extra point attempts and 88% of his field goals, winning the college national title with Florida State in 2014.
The pressure of being the first kicker taken within the first two rounds of the draft in more than 10 years appeared to tell early on though, and he made just 21 of 33 field goals (71%) last season, and none from beyond 50 yards.
So it should come as no surprise that he was told his services were no longer required this weekend.
However, while the drafting of Aguayo was undoubtedly a terrible move, it's worth noting that there have been many worse NFL Draft picks over the years, with JaMarcus Russell and Ryan Leaf coming immediately to mind.
Indeed, it's worth noting that, over the past 40 years, there have been more than 15 second round picks who haven't played a single snap in the NFL and over 10% of picks in that round never make it to 20 NFL games.
Aguayo himself may not, and the Bucs did leave three Pro Bowlers — Dak Prescott (QB), Jordan Howard (RB) and Tyreek Hill (WR) — on the board while moving up to get him.
And while kickers are people, they're maybe not second round picks.
Subscribe to The42 podcasts here: