RORY BEST LAUGHS as he recalls some of the chat around Jordan Larmour in Ireland camp this week.
Yesterday, Larmour's Leinster team-mate Cian Healy showed the Ireland squad a photo from 2009 that features the two of them.
There's Healy strolling onto the pitch at the RDS before a Heineken Cup clash with Edinburgh.
And there in the background is an 11-year-old Larmour, part of the guard of honour with his Wanderers FC U12 team-mates.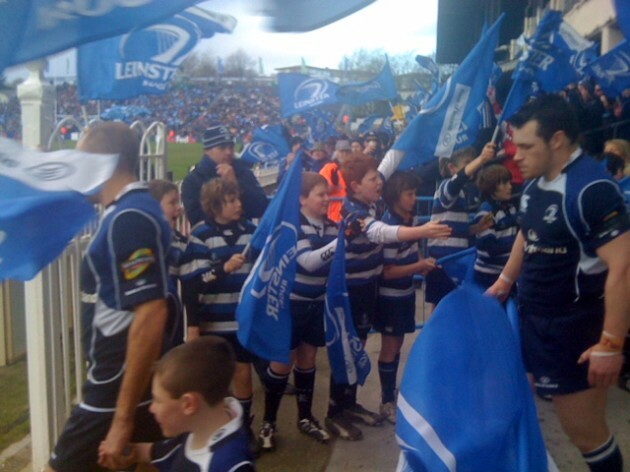 Tom McCormack Tom McCormack
Now 20-year-old Larmour has been named on Ireland's bench for tomorrow's Six Nations clash with Italy and will begin the start of what most people are predicting will be a long and successful Test career.
Italy boss Conor O'Shea compared Larmour to All Blacks legend Christian Cullen yesterday and, as the hype continues to build, Ireland captain Best is simply astonished that someone who was born in 1997 is now his team-mate.
"I'm not even sure Jordan was born whenever Christian Cullen was playing," said Best after Ireland's captain's run in Dublin this afternoon.
"I think it's frightening that Cian Healy produced a picture from somewhere in 2009 when Jordan was one of the mascots or one of the guys waving the flags before a Leinster game.
"That's frightening because I was married in 2009!"
Joe Schmidt has been a fan of Larmour's since his school days in St. Andrew's College and the Leinster back has featured in Irish camps since then, coming in as an extra training player at Carton House.
"We've seen quite a bit of him over the years, one of the academy guys to full a spot," says Best. "Now, all the other provinces in some shape or form have been affected by him over the last couple of months.
"Just to see him in training and the change of pace he has even in a walkthrough, which sounds ridiculous, but he is a very, very exciting talent.
"It's a massive day for him, to get your debut is something that every young rugby player in Ireland dreams of, pulling on that green jersey. For him to do it for the first time, and to do it in the manner he's played this season, he is massively deserving of being in the squad.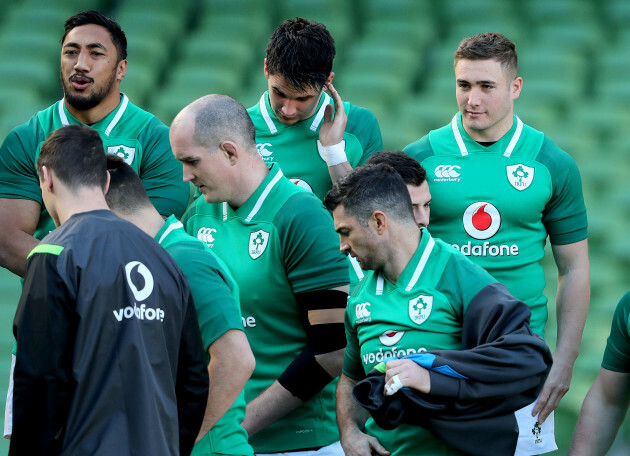 Dan Sheridan / INPHO Larmour before Ireland's squad photo today in Dublin. Dan Sheridan / INPHO / INPHO
"He's quiet but you just know somebody… we've had it over the years, there's always been at least one guy over the years that walks in and they may not fill the room with their presence in terms of how vocal they are, but when they're on the training pitch you look at them and go, 'this guy has time on the ball.'
"He makes what I would find very difficult things very easy."
Indeed, Larmour's inter-provincial form over the Christmas period was superb, with his stunning try against Munster among the highlights.
All the word from Leinster is that Larmour has the mental skills to reach the very top too, and although Larmour is inexperienced, he has impressed Best with his maturity around Ireland camp.
"The way he is around the place, he isn't someone who strikes you as getting too uptight about things. The flip side of that, he gets very little wrong in training.
"To come in like that so young and into such a pressurised environment that we try to create, to be able to do that speaks volumes about his character.
"The last point on that is that if you want to see how someone's going to react in a pressurised environment, European Cup is massive but the next step is the inter-pros. Look at the way he performed against Munster in Thomond Park and Leinster apparently resting their big guns.
"The way he played against them and then against us in the RDS, it speaks volumes for him as a player and him as a person."
- This article was updated at 2.52pm to correct 'quite' to 'quiet' in the 14th paragraph.
The 42 is on Instagram! Tap the button below on your phone to follow us!