FOUR-TIME MAJOR WINNER Rory McIlroy can't beat Novak Djokovic at his own game but he can share Olympic gold medal honours with the Serbian ace later this year in Rio de Janeiro.
That would be McIlroy's Brazil dream when golf returns to the Summer Olympics in August.
McIlroy was firstly in awe watching TV coverage last week of Djokovic's clinical four-set Australian Open semi-final defeat of Roger Federer and he gleaned further inspiration from the Serbian's three-set demolition of Andy Murray to win an 11th Grand Slam title.
It was the 28-year old Djokovic's sixth Australian Open title and his fifth in the past six years as he closes in on Federer's all-time best of 17 Grand Slam titles.
"Novak is just on another level at the moment and from where he was when he won his first 'Slam' in 2008 to where he is now, is just amazing.
So I find watching the tennis he played in Australia very inspirational given the dedication he's shown to his game along with his work ethic.
"And it would be nice in going to Rio for the Olympic Games to hopefully come away with what he more than likely should earn, and that's a gold medal."
McIlroy still has some catching-up to do having won four Majors, but he is looking forward to completing his own golfing career Grand Slam in April's Masters at Augusta National.
McIlroy said he had been introduced to Djokovic when dating former fiancée Caroline Wozniacki.
"I know Novak well and living in Monaco, as he does, I got to know him when I found myself also spending a bit of time there," said McIlroy.
"But then his performance in the Australian Open was unreal, unreal.
"For the first two sets in the semi against Federer, I've never seen tennis like it and it was just incredible."
Fond memories
McIlroy spent today on the Emirates Club practice range and putting green but without taking to the course ahead of Thursday's defence of his Dubai Desert Classic title.
He spent last week at the nearby Els Club working on his game following a third-place finish in the Abu Dhabi HSBC Championship before posting a 71 last Sunday to finish tied for fourth in the Abu Dhabi Invitational.
"The time I spent this past week at the Els Club was good but then I also took a few days off to chill a little bit, as the weather wasn't great but overall my game feels good," he said.
"But after contesting the Abu Dhabi HSBC Championship I did need to work on certain aspects of my game and I've managed to get them sorted out."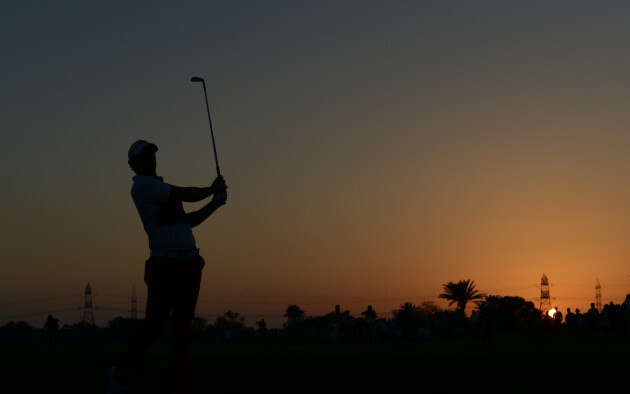 AP / Press Association Images Rory McIlroy in action in Abu Dhabi. AP / Press Association Images / Press Association Images
McIlroy will tee-up Thursday with fond memories of the Emirates Course having first contested the event in 2006 as an amateur and then, after completing his first round, being handed a long-lens camera by one of the accredited photographers to walk inside the ropes following then world number one Tiger Woods, who competed in the afternoon.
McIlroy captured a maiden pro career title winning the 2009 Dubai Desert Classic and sealed success again a year ago.
"I have so many fond memories as I basically commenced my career here, I got my first pro victory here and now I'm back this year as the defending champion, so a lot of good stuff has happened to me here," he said.
"The good thing also is I have won out at Jumeirah Resort twice before in the DP World Tour championship and it would be nice this week to win back-to-back out here in Dubai."