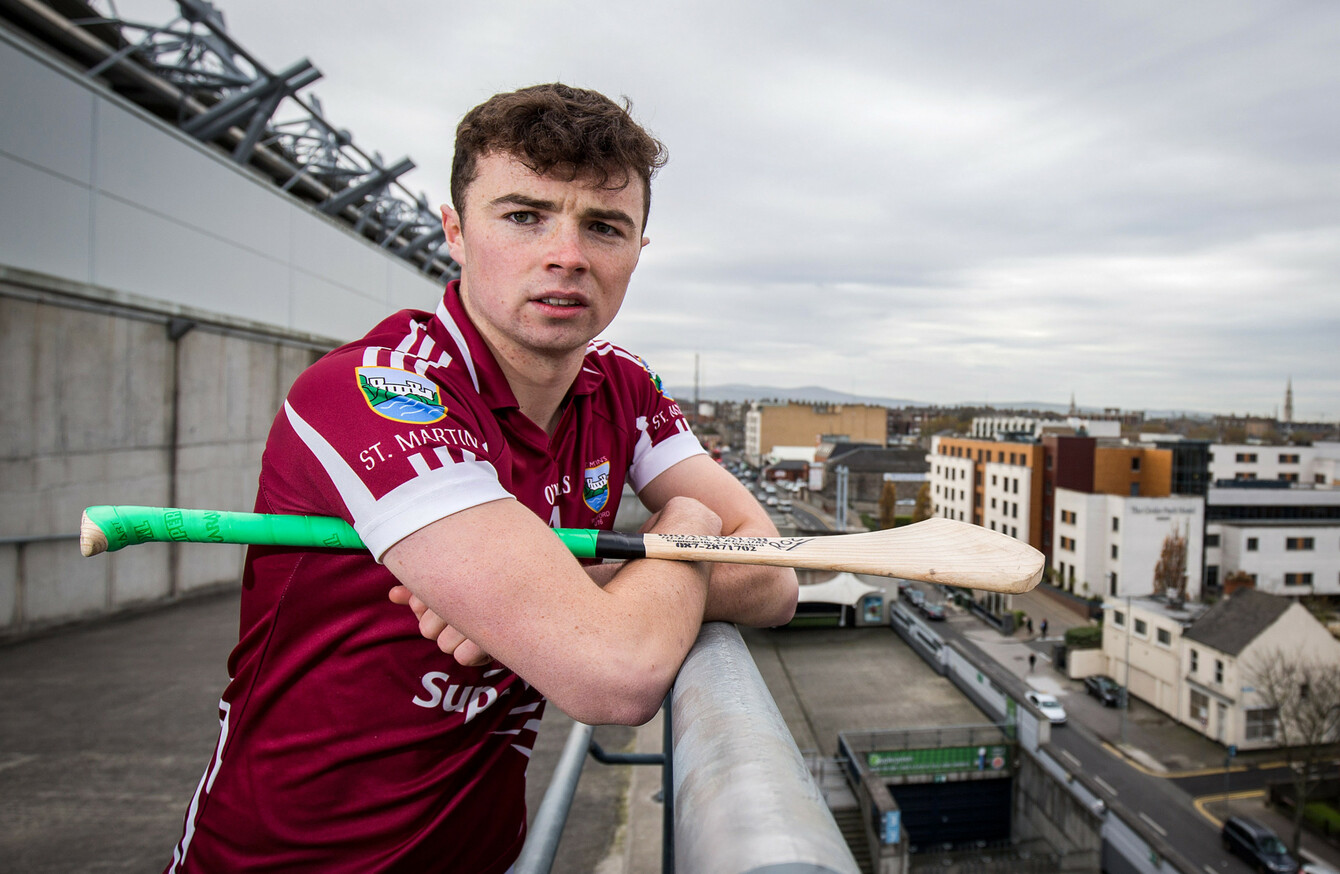 Image: Oisin Keniry/INPHO
Image: Oisin Keniry/INPHO
2017 HAS BEEN a busy year for Rory O'Connor.
Back in April he lined out at midfield for St Peter's College senior footballers as they contested the Hogan Cup final in Croke Park, where they lost to Kerry school St Brendan's.
He then completed his Leaving Cert and was on the bench for Wexford's first Leinster senior hurling final in nine years. O'Connor made his debut for Wexford in the All-Ireland quarter-final against Waterford later that month.
In September he began his business course in DCU in September, and the following month lifted his first ever senior county title with St Martin's in hurling.
A week later St Martin's lost the senior football final, but their run in the Leinster club SHC since then has kept him occupied.
"I've just been taking it step by step," he says. "I avoided the (Wexford) senior team at the start of the year. I said, 'What's the point of rushing into it?
"I was content just focusing on getting the Leaving done. There was no pressure on me to go training or anything like that. Then there was the schools and I really enjoyed that because you're playing with lads you've been in school with for the last six years.
"We hadn't won a Leinster final, we'd lost two junior Leinster finals. So when we then won a Leinster senior football final it was the best thing ever. I was called into the Wexford senior panel in May and I was eager to go in but the parents were a little bit thinking after the Leaving would be time enough.
"In fairness to Davy (Fitzgerald), he didn't pressurise me to go to training, whenever I could go I could go. Sure it was great. Most of the work was done before coming up to the Leaving so getting out to do a bit of training was that best thing that could happen.
"And once the Leaving was over I went hard at the training and squeezed into the Leinster final panel. Then there was two weeks to the Waterford game and I got the nod for that."
O'Connor says he had a hunch that Fitzgerald would throw him into action for the do-or-die clash against the Deise.
"I could kind of get the feeling he was eyeing me up, but I wasn't sure if he'd trust me or not to throw me into the deep end would playing. I got my head sorted and it was grand. There were some nerves before the game but once you get onto the pitch you forget about everything.
"I was worrying, would I last 70 minutes? Would I even last 20 minutes and have the worst day of my life? But I just took every ball as it came. The first ball and I just handed it off and did something simple."
With the 2018 campaign just around the corner, this season will quickly run into the next with Waterford competing in the top tier of the league.
"At least Davy is back as well for this year. Division 1A hurling would drive anyone to get back hurling. This year will really be the year to try to break onto the team. Get a good league under my belt, hopefully.
"And then with the new championship there's three games in a row or three weeks when there's three games, plenty of hurling, hopefully I can get on alright there."
A son of Wexford hurling legend John O'Connor and nephew of George, Rory and his brothers Jack and Harry are all key figures in the St Martin's team.
John and George won an All-Ireland hurling title with Wexford during that famous summer of 1996.
"You'd be going to matches and lads would be stopping to talk to them and I would have been tagging along," he says.
But for Rory or his two brothers, they never felt any pressure to follow in the footsteps of their famous father or uncle.
"Not at all. You only add your own pressure. You decide that yourself if you want to put pressure on yourself.
Be part
of the team
Access exclusive podcasts, interviews and analysis with a monthly or annual membership.
Become a Member
"I'd be laughing and joking on match day in the dressing-room. Why get all serious before the match?"
"In the house we'd try to avoid talking about hurling as much as we could. We'd be batin' each other most of the time and fighting!
"Sure we played everything, not just hurling. We played rugby and football obviously as well as the hurling. I'd have played tennis as well, all those sports, they contribute then when you make the decision to pick one.
"They would all help you to be the player you are when you are a hurler."
O'Connor estimates he's played 21 matches in the last 15 weeks between hurling and football, but with 13 U21s on the St Martin's panel they've avoided injury so far.
"Once we finished up the county senior we were straight onto the club scene. We were 15 weeks on the trot with both county finals and we had U-21 matches in bewteen. I think we had 21 matches done in 15 weeks, some of the younger lads.
"It's crazy stuff, but you love playing every week. As long as you can stay fit and injury-free, it's grand. The county final weekend, the whole week, the hurling came first and we won that.
"We lost the football then the following week. People say it's  tough to do both, and it is tough to stay at the top when you've completed one and are then trying to complete the other.
"Everyone is real young. We celebrated that night and were back training Wednesday. Everyone had knocks after the hurling, there was a fair bit of strapping needed for the football. It was unfortunate, we were on the brink of doing something special. Maybe we could do it again, I'm not too sure.
"We were actually really lucky (with injuries). I remember two years ago there were lads getting red cards and injuries and we were very depleted. But two years on we have a lot more depth in the panel.
"This year we only picked up one injury along the way where a lad had to miss a match. Training on Wednesdays wasn't (really) training, it was just getting together and doing a bit about how we were going to play.
"When we were on the run, then every Friday night we'd be looking at who we were playing. Looking at video footage to switch you on.
"A lot of the lads were up in Dublin, a lot of the U-21 lads are students, so there's great facilities there for recovery. Swimming pools and gyms for stretching and stuff."
He reckons those midweek journeys back home for training have made the group even tighter.
"I'm in a car from DCU, there are five of us in the car and it's great craic going down. We're training in Tinryland to save us going all the way down to Wexford, that's just off the motorway.
"In the group stages we weren't travelling down. The Dublin lads would do a bit of training in Dublin and the Wexford lads would do a bit of training down home. But there wasn't that same camaraderie there.
"Once lads started making the effort to go to training and everyone was there, then we were were all in the boat and there was great old buzz."
Subscribe to The42 podcasts here: