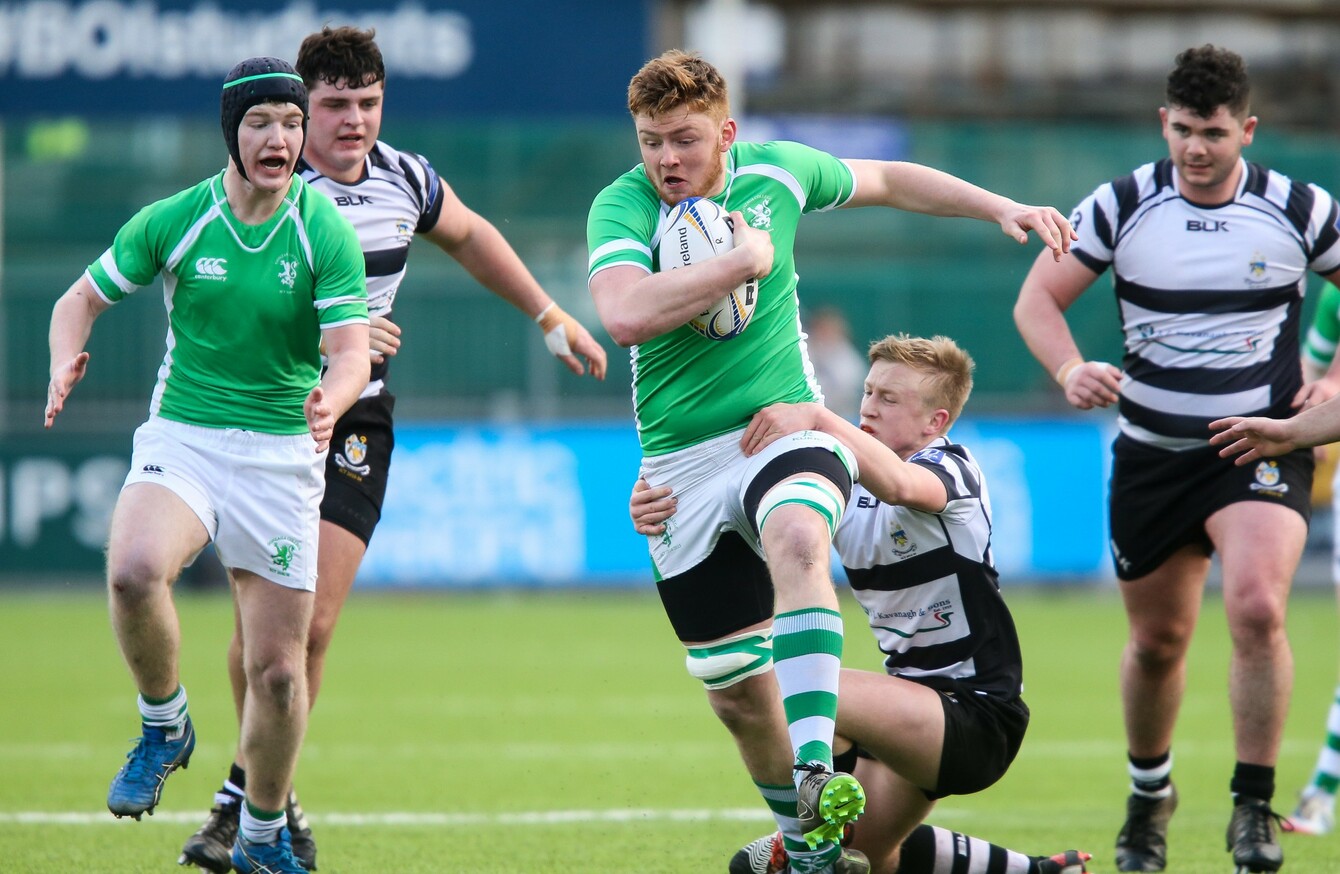 Rory Gaffney tries to bring down Gonzaga's Harry O'Grady.
Image: Gary Carr/INPHO
Rory Gaffney tries to bring down Gonzaga's Harry O'Grady.
Image: Gary Carr/INPHO
Cistercian College Roscrea 27
Gonzaga College 17
HOLDERS CISTERCIAN COLLEGE Roscrea set up a Leinster Schools Senior Cup semi-final with Clongowes Wood after a dominating 27-17 victory over Gonzaga College.
Roscrea dominated the game throughout, opening the scoring after four minutes in a sizzling early contest through Alan Tynan's penalty from underneath the posts, Dylan Murphy having been fouled in Roscrea's first attack.
Gonzaga didn't sit back and were level on the scoreboard two minutes later, out-half Micheál O'Kennedy slotting a penalty between the posts.
Three minutes later, Gonzaga were in for the game's first try, crossing the pitch from left to right, Adam Browne delivering a sweet sidestep to land the opening try.
O'Kennedy added the conversion, after a lengthy break due to Roscrea out-half Rory Gaffney receiving treatment on the pitch and being unable to continue.
The enforced switch of Alan Tynan to out-half for Roscrea paid dividends for the Offaly men, Tynan central to a number of their plays.
The scores were level again on 23 minutes, the result of a penalty try converted by Tynan, Roscrea having loitered on the Gonzaga line.
Roscrea were in control, a strong last-ditch tackle by Gonzaga's Thomas Costello preventing a 31st-minute try via Jack Canning after Brian Diffley's cute lay-off.
Roscrea led 15-10 at half-time with a richly deserved try a minute before the break, prop Michael Milne bursting over the line after further pressure.
They picked up right from where they left off after the restart, Gonzaga failing to make any gains into the opposition territory.
Second-half substitute Jack Culligan grabbed Roscrea's first try of the second period three minutes after making his introduction, lunging his long frame over the Gonzaga line.
Conor Kelly added the conversion to give the Offaly college a 12-point lead, having switched their kicker after Tynan had missed a first-half penalty and conversion.
The Ross continued to dominate in every area of the pitch, Gonzaga failing to contest the lineout in any purposeful manner.
Roscrea finally added to their tally on 62 minutes, Joe Murphy going into the corner after Gonzaga were stretched, Tynan providing the lay-off for Murphy's try.
This came just after Murphy and captain Simon Meagher were both held up on the line in two separate plays as Roscrea searched for that third try.
Gonzaga scrum-half Rob Kelly sprinted from halfway for a breakaway try with four minutes left, but it couldn't paper over the dominance of Roscrea's display.
Scorers for Roscrea: Tries: Milne, Penalty Try, Culligan, Murphy; Conversions: Tynan, Kelly; Penalty: Tynan.
Scorers for Gonzaga: Tries: Browne, Kelly; Conversions: O'Kennedy, James; Penalty: O'Kennedy
CC Roscrea: Alan Tynan , Daniel Keane, Philip O'Shea (Ben Hyland 43), Sam Hastings, Joe Murphy, Rory Gaffney (Conor Kelly 14), Keith Kavanagh (Darragh Treacy 67), Michael Mine (Finbarr Crowley 67), Eoghan Maher (Cathal Walsh 67), Dylan Murphy, Fineen Wycherley, Aaron Murphy, Brian Diffley, Jack Canning (Jack Culligan 43), Simon Meagher
Replacements not used: Ryan Lomas, Aaron Brown.
Gonzaga College: Sean Galvin, David Lynch (Alex Caslin 51), Harry Brennan, Barry Goulding (Frank McHugh 70), Adam Browne, Micheal O'Kennedy, Rob Kelly, Fiachra Keane (Simon Clear 55), Alex McEvoy, Evin Coyle, Shane Dempsey (Harry O'Grady 9) Enda Ryder, Conor Farrell, Jack MacNamara, Thomas Costello
Replacements not used: Rory O'Donnell, Conor MacMahon, Oran James, Jack Mulcahy.
Referee: Gary Glennon
Leinster SCT semi-final draw
Clongowes Wood v CC Roscrea
Blackrock College/Belvedere College v St. Michaels