IT WAS SURPRISING. It had seemed set in stone. But Roy Keane has always liked a surprise. His big-money move to Manchester United in the summer of 1993, the move that started it all, only came about after a last-minute U-turn over a game of snooker with Sir Alex. He was set for Blackburn. But he felt good in Ferguson's company. He felt good.
Throughout his career, it seemed what Keane despised most was contentment. Maybe he found it difficult to separate it from laziness. Maybe he thought of it as a sign of weakness. But rarely did he ever seem at ease. On the contrary, Keane always appeared on edge. Maybe that's why he excelled so much. But similarly, it brought about his worst moments. Even his goal celebrations were an outpouring of pent-up frustration. He scored with a snarl. Sometimes, upon lifting a trophy or two, he'd allow himself a moment of celebration. One of the most startling revelations of the excellent ITV documentary 'Keane and Vieira: Best of Enemies' was Keane's admission that he was motivated so much by fear.
A lot of my preparation would be fear – fear of losing, fear of letting people down, fear of letting my neighbourhood down, my family down. Fear played a big part in my sporting career. The enjoyment was very brief, I'm afraid. Too brief. Because before you know it, you get into another game and the fear creeps back in."
For such a strong personality, it was an illuminating development. This imposing, aggressive, relentlessly intimidating character was crippled by the prospect of failing to meet expectations. But therein lies the paradox and what makes Keane so ripe for analysis.
Keane was a fan of Eric Cantona's. They both played on the edge. They both needed to be handled with care. They both had a self-destructive streak. Keane's appreciation for the uncompromising former team-mate is evident in his autobiography.
Collar turned up, back straight, chest stuck out, he glided into the arena as if he owned the f**king place. Any arena, but nowhere more effectively than Old Trafford. This was his stage. He loved it, the crowd loved him. The players loved him too, for many reasons. Most importantly he got the job done."
Cantona retired at thirty after four league titles and two FA Cups in four and a half years at the club. He was content. He had done enough. He had lost the drive, the zeal, the ambition. Keane greatly admired him for stepping away when he saw his own standards dropping.
"I really respected Cantona when he made the decision to quit. He just knew. There were one or two games when he realised that he could have done better. He set the standard, he didn't want it to fall. I am a bit like that."
But Cantona knew when to stop. Keane carried the same mentality through his messy divorce from Manchester United. United wanted him to take his foot off the gas. His body was telling him to slow down, they said. He was taking his frustrations out on the club, they felt. Keane, crippled by fear and suspicious of contentment, pushed himself harder. He joined Celtic to live out a boyhood dream, perhaps fearing he'd let someone down if he didn't and certainly feared what he'd become if he did. His Celtic career was over after six months. His body had given up, they said.
PA WIRE PA WIRE
His spell in management was something similar. All snarl and fear. Players were frightened to be around him, when he decided to show up. His mood swings were infamous. He grew a dark beard, speckled with grey. The metaphor. Two faces. He left Sunderland in what Niall Quinn referred to as a  "deeper, darker territory". It was apt. Things got worse at Ipswich. He grew more suspicious and seemed to cut an increasingly frazzled figure. He had fingerprint scanners installed at the training ground. His Ipswich career was over after twenty months. Self-obsession, they said.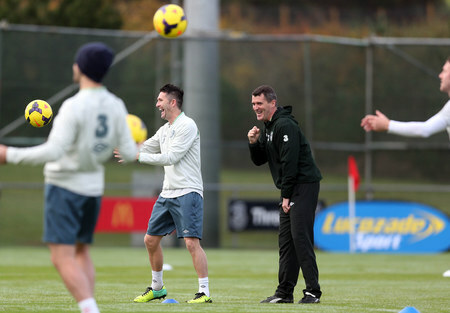 INPHO / Donall Farmer INPHO / Donall Farmer / Donall Farmer
And so here we are. Keane has decided to remain as the Republic of Ireland's assistant manager instead of taking over as Celtic boss. Why? With Keane, it's almost impossible to know. But perhaps, for the first time in a long time, he's content. Perhaps, for the first time in a long time, he feels good. Perhaps, for the first time in a long time, he's not motivated by a fear of failure. And perhaps, most importantly, he's come to realise that none of those things are signs of weakness. Perhaps he's come to realise that they're signs of strength.