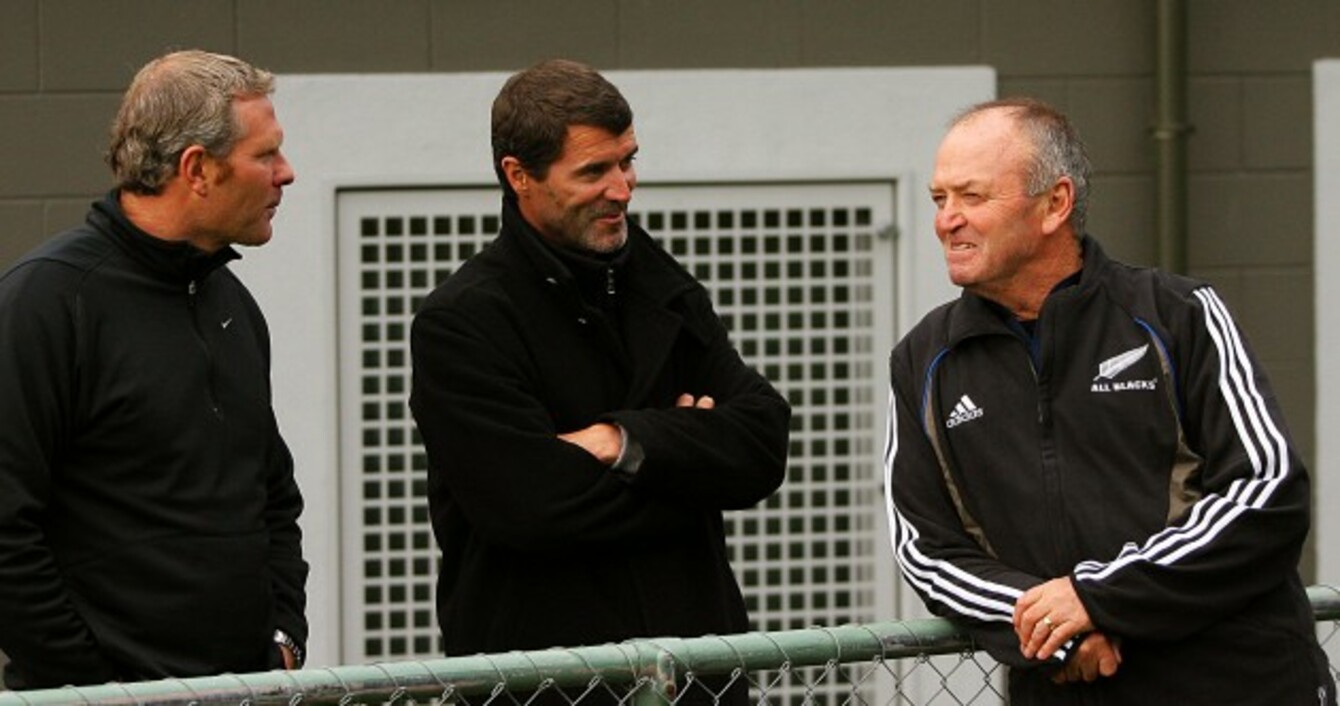 Roy Keane pictured in 2008 with All Blacks coach Graham Henry and Ricki Herbert.
Roy Keane pictured in 2008 with All Blacks coach Graham Henry and Ricki Herbert.
THE TWO BIG national sporting stories this week revolved around Roy Keane's appointment as assistant manager of the Ireland soccer team and the Irish rugby team — specifically their preparations ahead of the autumn internationals.
There may not be an obvious link between the two apart from that coincidence, but not everyone is aware that Keane is in fact a passionate rugby fan with a decent knowledge of the game.
Speaking on Second Captains earlier this week, Eddie O'Sullivan recalls a chance encounter with Keane from a few years back in which the two discussed Ireland's 2005 Six Nations clash with England.
"We were talking about that year that we played England at Lansdowne Road. It was a bruiser of a game but we came out the right side of it. I said it was 'a tight game'. He said I know it's different for you, I was watching from a distance and I could see no way England were going to beat you. I said 'how did you you know that?' He said that 'they had no penetration. Your defence was so good — you kept shutting them down and they were going nowhere. They had a lot of possession, but you made a load of tackles.'
"So even a guy with a soccer background's assessment of a rugby game was quite accurate. You're never going to be that relaxed as a manager, but from his point of view, he could see no way we were going to lose it. So it was a very interesting conversation."
(Roy Keane and John O'Shea in the crowd for Munster's semi-final against Wasps in 2004 – INPHO/Billy Stickland)
He was also a man who was less than happy when he was denied the opportunity to watch the Irish rugby team on TV, as this passage from Wayne Rooney's autobiography recalls.
"Roy's watching the rugby, but the minute he gets up to go to the loo, I swipe the controls and flip the channel so the lads can watch The X Factor on the other side.
"Then I stuff the remote in my trackie pocket.
"When Roy comes back and notices Simon Cowell's face on the telly, he's not happy. He starts shouting. 'Who's turned it over? Where's the remote?'
"I don't say a word. Nobody does.
"Everyone starts looking around the room, trying to avoid his glare.
"Well, if no one's watching this, I'll turn it off.'
"Roy walks up to the telly and yanks the plug out of the wall."
What are they
really like?
Rare insights on sport's biggest names from the writers who know them best. Listen to Behind the Lines podcast.
Become a Member
Roy Keane, of course, was also one of those present at Ronan O'Gara's testimonial dinner, and has given speeches to the Munster team ahead of some of their past big European games.
O'Gara also recalls once meeting Keane at an airport in Cardiff, with the former Irish out-half preparing for the Lions' 2005 tour of New Zealand.
Being typically honest, Keane predicted a 3-0 series win for the All Blacks. He also met the Manchester United a year later in Cork airport, telling the Daily Mail.
"I was sitting there with my wife when there was a knock on the door. One of the fellas from Aer Lingus said: 'Would you mind if someone else came in.' It was Roy. He was wearing a cap and he had a full beard because he'd have been mobbed in Cork if they'd realised it was him. I'd met him a few times before so I knew it was him all right.
"We watched the game together. He was trying to watch it but I was firing questions at him. As luck would have it, my flight had been called before Zidane got sent off. A pity because I'd love to have seen and heard Roy's reaction.
"There are always rumours about people but usually they're wide of the mark. The thing I admire most about him is that action has always spoken louder than words. He'd ranted and raved at times, but always backed it up and led from the front. He'd also lasted the test of time? 10 years and more as a top pro."