Reproduced with permission from Action81
IT STUNG. THE sheer ignorance got to me. It was pointless.
No athlete grows up looking to win Sports Person of the Year. They want gold medals, national, European, world, Olympic, titles.
They want to stand atop the rostrum on cup final day mouthing "You fucking beauty" like Mark Wright. They don't aspire to be given an award for being good at winning other awards.
Yet still, it stung.
When RTÉ opted to select Henry Shefflin over Derval O'Rourke for this honour in 2006 I was fuming. Shefflin was great, no doubt, but O'Rourke had claimed a world indoor title and European silver medal. No matter that the sprint hurdles was one of the few indoor events where all of the elite participated.
No matter that she was the first Irish track and field athlete since Sonia O'Sullivan to claim a world title of any kind. Ted Walsh said her achievements hadn't been promoted enough. George Hook made an argument that the title shouldn't go to 'second-best', conveniently ignoring she was best in the world in one discipline.
These were the great minds that denied O'Rourke. Yet it wasn't really her they were denying. The other female athlete nominated that year had also won a world title but I thought little of it at the time. Turns out the judging panel weren't the only ignorami.
Katie Taylor is going to win RTÉ Sports Person of the Year in 2012. There is no doubt; this will not be a contest. It's a coronation. Yet adding a piece of crystal to her mantelpiece after claiming the ultimate honour in the summer isn't about her. It's always been about us.
Accolade
The annual show has for the last few years has regularly seen Twitter light up with supporters of Taylor claiming her deserving this accolade. Were it not for this island producing three winners of golf's majors over that spell she likely would have. The relative lack of female success in this regard is no doubt a concern but it points to a deeper issue within the sporting make-up of Ireland. We've a shockingly bad history in female sports, the present and future are far more promising.
This is not to cast aside sexist attitudes, they exist and have been a huge issue in Ireland for our entire sporting history. Indeed it was this lack of attention to female sport that cultivated our collective failure on an international level. There were occasional exceptions.
Catherina McKiernan's three straight silvers in the World Cross Country gave us hope. O'Sullivan's peak years, from 1994 to 2000, and then there was O'Rourke. Plagued by injuries, she came good in 2006, and was within a hundredth of a second of a medal in the 2009 worlds. Yet one discredited swimmer aside, that was it for Ireland's female hopes in Olympic sports prior to Taylor.
Exclusive Six
Nations Analysis
Get Murray Kinsella's exclusive analysis of Ireland's Six Nations campaign this spring
Become a Member
The road to London changed that. Now in the pool, Ireland has promise. On the waves, Ireland has promise. In the ring, Ireland has promise. The hopes of a nation were pinned to one boxer from Bray in 2012, much like they had been to a runner from Cobh in 2000, but we knew she was not the end. Beyond Taylor, there is hope. Even at team sports, where Ireland can't hope to win major titles at adult level, there is promise with women's rugby and football teams improving on the international stage.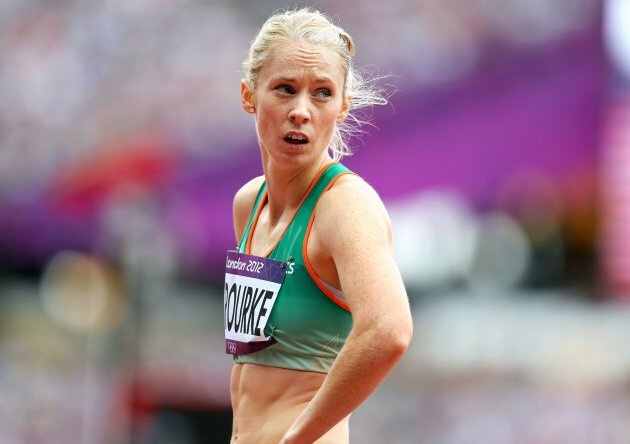 Overlooked: Derval O'Rourke. Pic: INPHO/Dan Sheridan
Yet still, there is that lack of recognition. No Irish woman has been feted by RTÉ's top sporting honour since O'Sullivan in 2000. O'Rourke looked set to break that run but ignorance denied her. Taylor picked up from the Leevale hurdler's moment in the sun by comprehensively dominating her discipline to the point of gaining it Olympic status. When we roared in the ExCeL, with thunderous yells of adulation, we weren't thinking of some polite ceremony at Christmastime.
As the closing ceremony led to Twitter being flooded with people mocking it, Rory McIlroy was busy winning the US PGA title. In December he will join Darren Clarke in a rare club of golfers to miss out on being named RTÉ Sports Person of the Year in a year where they won a major championship.
That's fine. This is not his year. 2012 belongs to Katie Taylor. It's what we want. It's what we need. We won't wait this long again.