DURING HIS 11 years with Leinster Rugby, Dan van Zyl coached many talented young players.
Tadhg Furlong, Joey Carbery, Adam Byrne, Peter Dooley and several other notable names played under van Zyl during his stints coaching Leinster underage sides and the Ireland U18 Clubs team.
Van Zyl – formerly a halfback who won a cap for the Springboks – has seen those young men go on to earn academy places and achieve higher successes.
But he has also witnessed the other side of the coin – the promising young players who narrowly miss out on being offered places in the provincial academies. Where next for those players?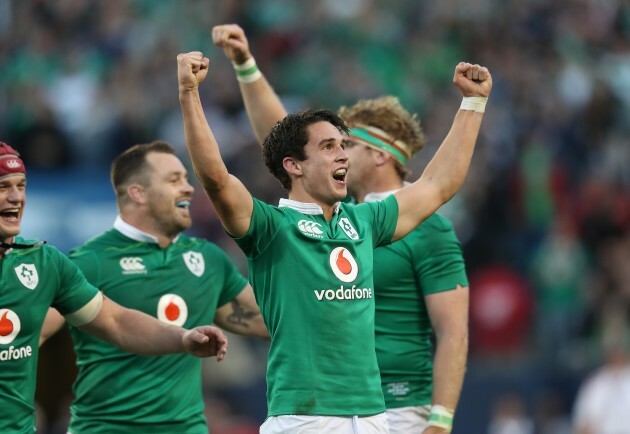 INPHO / Billy Stickland Carbery says van Zyl was 'a big influence on my underage rugby.' INPHO / Billy Stickland / Billy Stickland
Van Zyl's experiences have led to himself and fellow coach Johan Taylor founding Rugby Academy Ireland [RAI], newly set up on the grounds of Killashee Hotel in County Kildare and currently enrolling players ahead of its first season.
The independent RAI intends to provide members with the opportunity to train as a full-time academy player – either living on-site or visiting the academy each day – over the course of the eight-month season.
There are several different programmes available at RAI, allowing players to come in for shorter periods or in concentrated stints across the course of a season, but the basic premise is to offer rugby hopefuls another avenue into the game.
"Guys are missed," says van Zyl, who left his role as a coach development officer for Leinster to start RAI.
"There could be a great player at Kilkenny College or a club, for example, and he might be playing in a slightly weaker team, whereas if he was in St. Michael's he might progress. We want to give that player an opportunity.
"I've been sitting in selection rooms before and one guy doesn't get picked because he's too small. How do you know how big he's going to get in the next two years? He's 17 now, he might just be a late developer in that sense.
"It's so perception-based. I've said it to Peter Smyth in Leinster before: if I was the Leinster academy manager, there would probably be four or five different players in the academy than with him in charge. The depth charts are there around what players the provinces need but in schools and youths, the training age is vital.
"Say a guy coming from Athy, now he must compete against a guy from St. Michael's. A lot of selection takes place on the here and now, because you're the best now – not where you can be in the future. I feel that has a lot to do with training age.
"If you were coaching the Ireland U18s, you'd pick different players to who I would pick. That's got a massive influence on the player's pathway."
The full eight-month residential academy package at RAI costs €16,900 and the prices range down from there, with programmes also available for third-level students, clubs and schools players.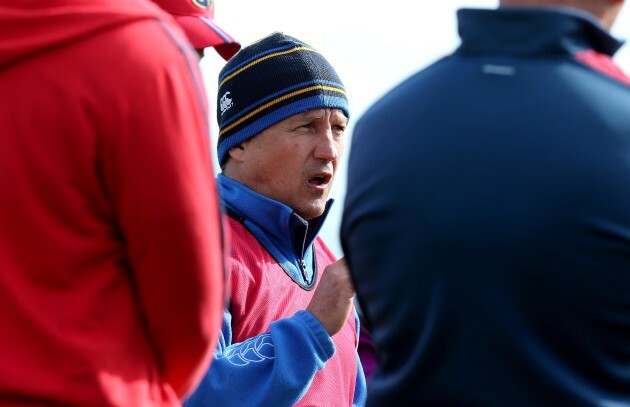 Dan Sheridan / INPHO Van Zyl spent 11 years working with Leinster Rugby. Dan Sheridan / INPHO / INPHO
RAI's facilities are comprehensive, with a new rugby pitch complemented by gyms, pools, an astroturf surface, video analysis spaces, meeting rooms, a kitted-out RAI clubhouse and everything else one would expect from a professional rugby set-up.
The accommodation, where players will share rooms, is currently in the process of being refurbished and the four-star Killashee Hotel will cater to the players' meal times.
Indeed, such is the quality of the set-up that RAI hope to host professional teams touring in Ireland.
Van Zyl and his co-founder Taylor – a former head coach of Sri Lanka with strong coaching experience in Ireland – have already linked RAI with international clubs like Northampton, the Pro14′s Dragons, French side Aurillac, and the San Diego Legion in the US, while there are talks ongoing with several others.
"We're trying to get a side in each rugby stronghold of Europe and elsewhere so that when we have a good player in the academy, those clubs could take him on a two- or three-week trial," explains van Zyl, who also coaches at the King's Hospital and Naas RFC.
"For other players who might not quite end up at that professional level, we've got links from Paraguay to the Czech Republic with amateur organisations who would take players.
"There are three young players we've sent over to South Africa at the moment who are playing for Tygerberg. They're playing for a few months over there and that's the kind of link we want to have."
Players involved in RAI will continue to play for their own clubs or be linked with local sides, the academy not having its own team.
RAI will facilitate each player's club rugby demands, as the provincial academies do, but their objective is to provide highly individualised training in the academy. Van Zyl explains that RAI aims to provide "a specialist coach in each position."
The academy's current list of coaches and tutors includes Mike Ross, Johne Murphy, Bernard Jackman, Philippe Saint-André, former Leinster lock Eoin Sheriff, ex-Springboks Bobby Skinstad and Thinus Delport, and former Leinster S&C specialist Sami Dowling.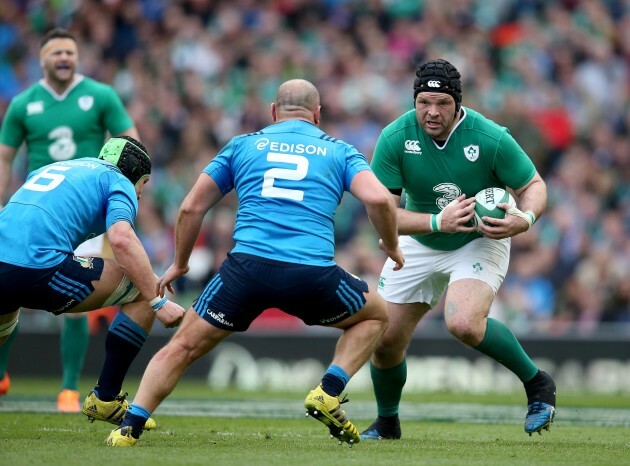 Dan Sheridan / INPHO Mike Ross is one of RAI's specialist coaches. Dan Sheridan / INPHO / INPHO
With van Zyl and Taylor operating the day-to-day programme, other coaches will visit the academy at different times for specialist focus.
UCC's head performance analyst, Len Browne, will train the players on how to code video footage of their games, while referee Gary Conway will provide workshops on rugby's laws. Nutrition, well-being modules, life skills – the elements of the programme are wide-ranging.
Van Zyl hopes to have eight players sign up for the full-time residential programme for this first season and he explains that RAI envision 20 being their maximum intake in the future in order to allow them to provide individual focus.
Among the early sign-ups is a young player from Belgium and van Zyl stresses that RAI is an international academy, explaining that he is also currently in contact with rugby folk in Georgia and Portugal about bringing players over.
"It's trying to get those unions who don't quite have the academy systems yet to send their players here for a year and we can help them to learn. What they learn in one year here might take them three years at home just because of the system."
The young Belgian player will take on a language course with the Naas-based Avanti Language Institute alongside his commitments with RAI and van Zyl says education is another major focus of their programme.
Academy members will earn qualifications in strength and conditioning, refereeing, SAQ, and SAFE Rugby as part of the course.
Every player in the academy will also begin coaching at a nearby school or club, van Zyl believing that this will also improve their own playing skills.
"You become a better player when you start coaching," says van Zyl. "I wish I had started coaching when I was younger – I would have been a much better player!"
Players can also pursue their own educational options alongside the academy, a language class or an online course, for example. While those elements are not included in course fees, RAI say they're ready to adapt their schedule to suit each player's needs.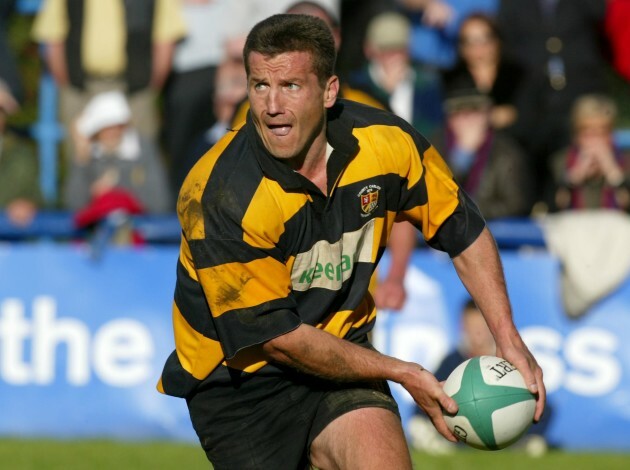 INPHO Van Zyl during his playing days with Carlow. INPHO
RAI stress that they hope to welcome female players into their set-up, particularly as professionalism grows in women's rugby.
"Not one of the provincial academies takes girls in," says van Zyl, who has coached Leinster Women in the past.
"The way the sevens programme is running, the women's game is growing. In the future, we could even have a conversation with the IRFU and say, 'We have this facility here, we can run a girls' academy programme for you.'"
RAI also plan to coach the coaches. They will run a 'coach development programme' later this month, while they're working to set up similar clinics in the US and South Africa.
Having played Super Rugby for the Bulls and Stormers before winning his Springboks cap against England, van Zyl subsequently joined Bristol and first moved to Ireland as County Carlow FC's player-coach.
Van Zyl also had spells with Clontarf, Dundalk, Old Wesley and Naas, but he takes just as much happiness from developing young players as he did from playing himself.
His hope is that RAI can allow many more players to achieve their dreams.
"I came over to Ireland to be a professional coach, I had that dream," he says. "I got involved with Leinster and I became so passionate about it. I get more satisfaction now seeing a guy five years on doing really well and remembering coaching him.
"That's something I want to do now in this academy with the late developers or the ones who get missed. We want to have this as an extra pathway for young players."
The42 is on Instagram! Tap the button below on your phone to follow us!