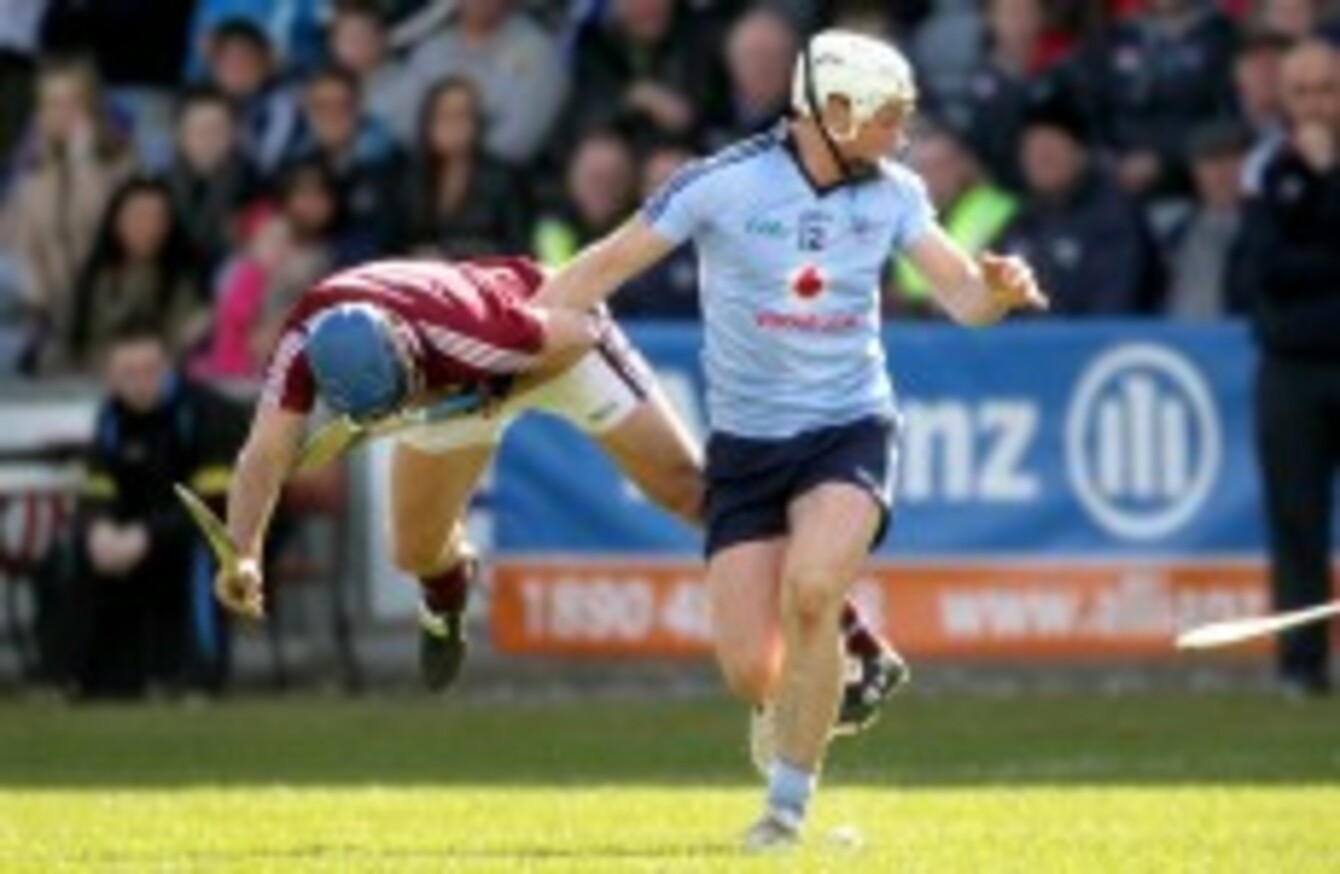 Rushe, right, in action against David Collins of Galway.
Image: ©INPHO/James Crombie
Rushe, right, in action against David Collins of Galway.
Image: ©INPHO/James Crombie
LIAM RUSHE EXPECTS his Dublin team-mates to cut out the silly red cards but to still maintain their hard-hitting style in the championship this summer.
The Dubs' supposed discipline problem came to a head in the drawn relegation play-off against Galway when Ryan O'Dwyer and Alan McCrabbe were both shown straight red cards, ruling them out of the replay which sent the league champions down to Division 1B.
O'Dwyer's red for an off-the-ball incident was his second sending-off of the campaign after he was booked twice in the defeat to Kilkenny, while Dublin also finished with 14 men against Waterford when defender Dean Curran was giving his marching orders.
Rushe accepts that incidents like O'Dwyer's in Tullamore are "silly" but the All-Star midfielder denies that there's any sort of endemic problem in the Dublin set-up.
"We play a full-blooded game, it's a physical game," Rushe told TheScore.ie at the launch of Opel's Kit for Clubs scheme this week.
"Some of them were silly off the ball incidents and stuff like that, so obviously we'll cut that out but we're not going to hold back going into challenges."
You wouldn't see Tomás Ó Sé holding back and he gets a few cards. I certainly wouldn't encourage lads not to go in full-blooded into challenges.

If you lose a few — maybe somebody got hit in the chest or this or that — sure that's life. That's championship. You can always win the game with 14 men.
Asked about Brian Cody's recent complaint that over-zealous referees are taking the physicality out of hurling, Rushe nods in agreement.
"I certainly wouldn't argue with him. [The referees] should probably ease off a little. If you look at last year, Brian Gavin did a fantastic job of reffing that final, it was probably one of the most physical I've ever seen. You don't have to blow the whistle for every foul, you can let a few go here in there.
Certainly cut out a few things, there's no point letting lads drag each other, it slows the game down. But if you've two hands on your hurley and you run into each other, this isn't soccer and let's not make soccer out of it.
One of the new faces to emerge as a star of the current Dublin squad was St Jude's forward Danny Sutcliffe, whose 2-15 in the league campaign included a mesmerising performance against Kilkenny All-Star Tommy Walsh.
Sutcliffe has already been talked up as one of the side's key men this summer but Rushe feels that there will be less pressure on him to perform than if he had broken through during the county's dark days.
"He's confident enough. It's not like a few years ago; if he'd arrived six or seven years ago, it would've all been on him. We've a few more experienced heads around, some strong players, so we're not going to rely on him 100%.
"If he doesn't perform, I'm sure some of the lads will pick up the slack. There's not too much on his shoulders hopefully."
Up first in the Leinster championship for Rushe and company are Teddy McCarthy's Laois who saw off Carlow last weekend. And while one eye might be on potential semi-final against Kilkenny, Rushe insists that Dublin are looking no further than that quarter-final on 2 June.
We certainly wouldn't underestimate Laois. Two years ago, we ran out eight point winners or something like that but at half-time, we were up by a point or two and with ten minutes to go, we were only up by two as well. We know the challenge they'll put out. They're doing the same underage work that we were and that we still are, so we certainly won't underestimate them.