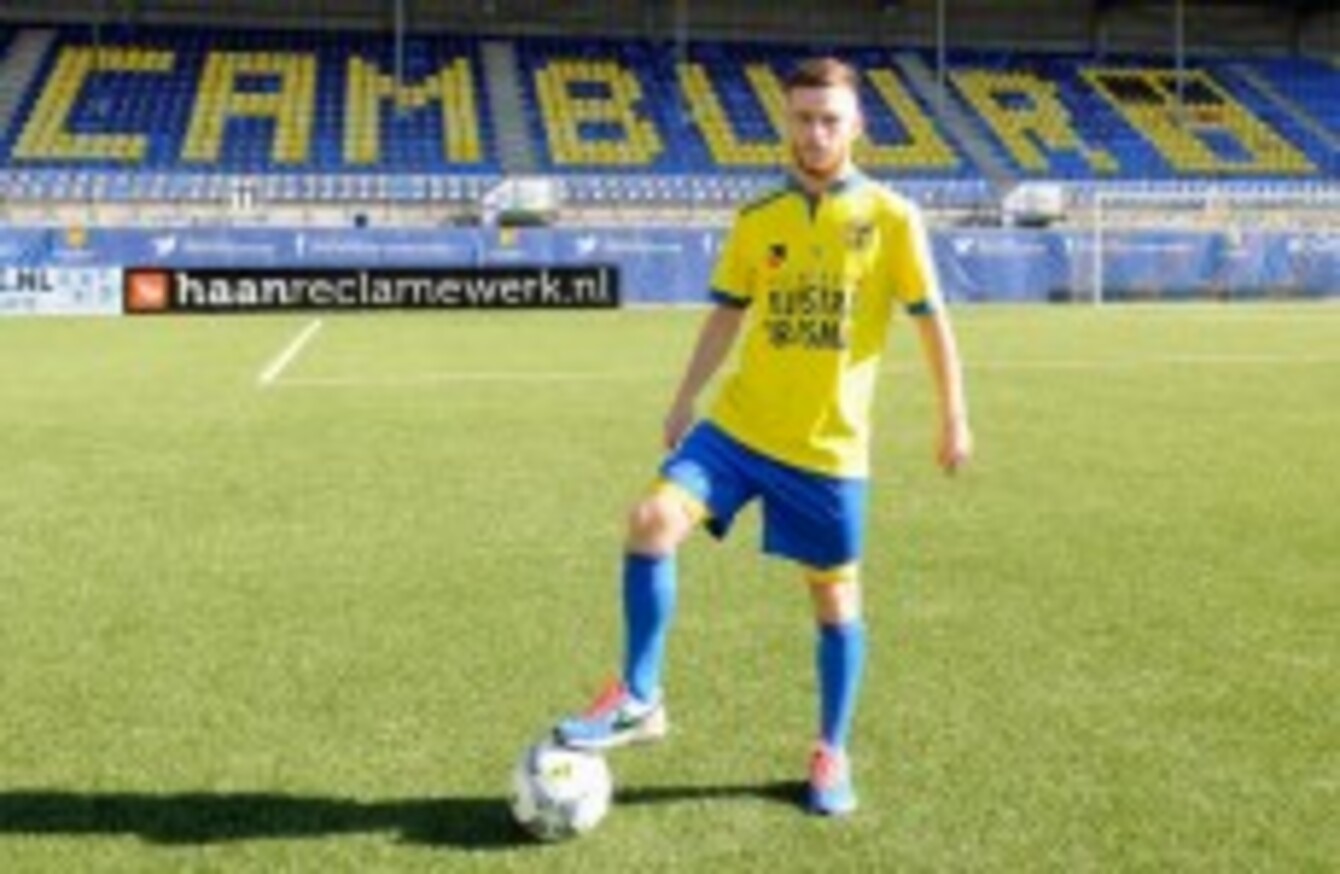 Byrne is on loan at Man City for the year.
Image: AWFotoAndre Weening
Byrne is on loan at Man City for the year.
Image: AWFotoAndre Weening
JACK BYRNE'S LOAN spell with SC Cambuur will be great for his development, according to Ballon d'Or winner Ruud Gullit.
The Ireland U21 midfielder joined the Eredivisie club on a season-long deal last month but is currently sidelined through injury.
Ex-Feyenoord, PSV Eindhoven and AC Milan star Gullit still keeps a close eye on the Dutch top flight and believes the Dubliner will gain invaluable experience once he returns to fitness.
"He is doing well but he is injured and he won't play this week," Gullit said yesterday. "He's a midfielder, Roy Keane-like, a little bit of a tough guy.
"For him, it (the experience) is fantastic because he plays in a small community, with a small club. I don't like to play on plastic turf but he has to.
"The development in Holland is good because he will get first team football and it's more open, very technical and tactical, so it will be a good experience. A lot of players started in Holland."
Despite its relatively small population of 16 million people, a world famous youth system has allowed the Netherlands compete with the top teams in international football over the years.
Both Ireland and England have dwindling numbers of players at top Premier League clubs in recent years and Gullit points to the emphasis on winning rather than development at a young age.
"The difficulty for instance is, if you compare it with England and I think it's the same here, you play mostly school football in your youth," he said.
SEE SPORT
DIFFERENTLY
Get closer to the stories that matter with exclusive analysis, insight and debate in The42 Membership.
Become a Member
"The problem is if you play for your school, what is important is winning. For us, everything until you're 14 is all about development.
"I don't care if you win, it's all about just play, play, play, play. If you play for your school, you want to win so you have a big guy up front and two big guys in the back. So all the little players don't play because they don't get a chance.
It's all about results. It's also difficult for the coaches because he wants to win as well. But the development of a kid until he is 14, you just play for fun, do new things, try develop yourself and try encourage people."
It isn't all rosy in his home country, however.  The Dutch national side currently sit third in their Euro 2016 qualifying group behind Iceland and the Czech Republic and Gullit believes there is no sense in playing possession football unless there is also an end product.
"Also in Holland, we have been too much into possession play," he added. "If ten passes was a goal, we would win every game but it's not about that. You need to score goals also. So we have to make a shift a little bit too."
Ruud Gullit was in Dublin yesterday as part of Carlsberg's Premier League trophy visit