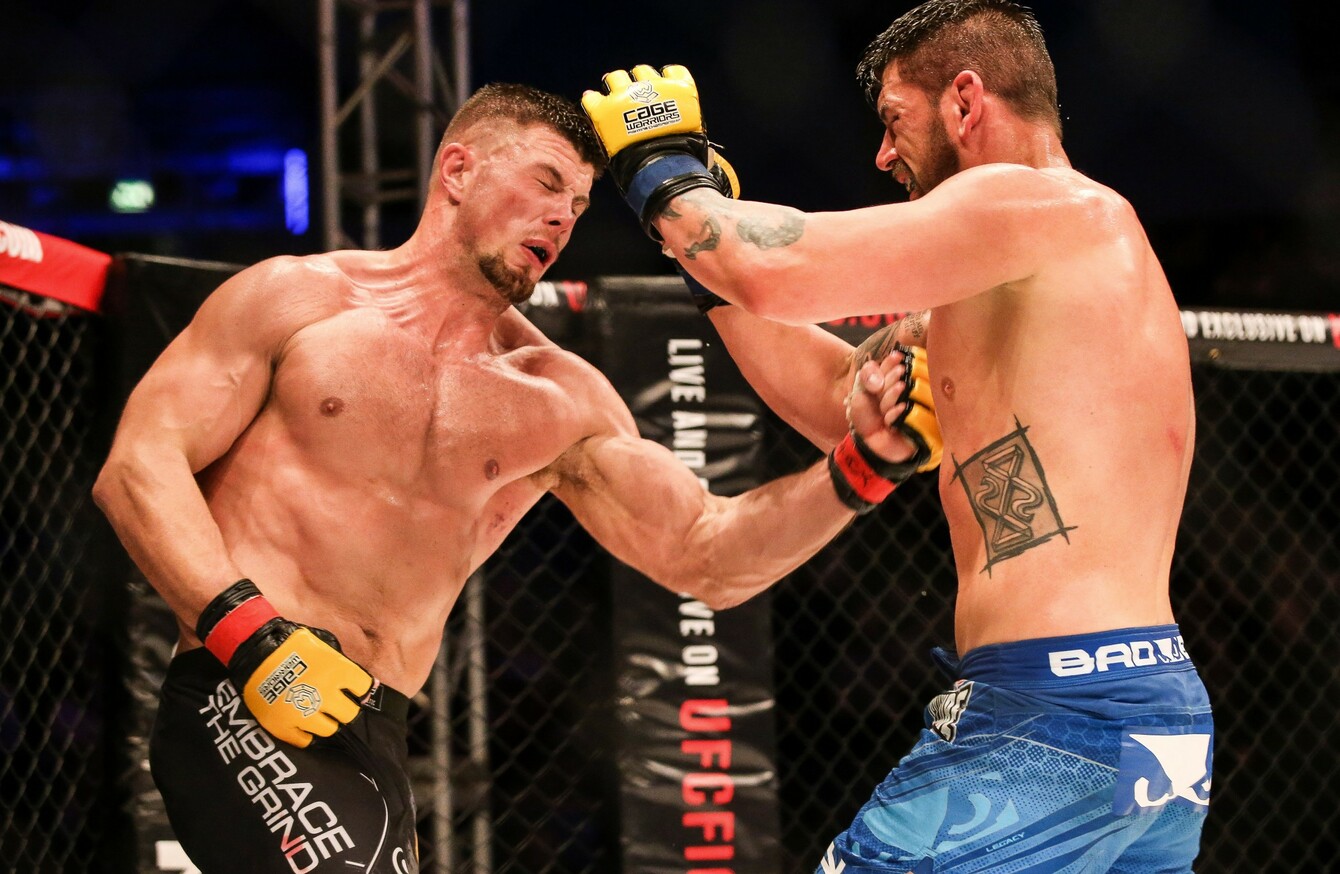 Action from Saturday's Cage Warriors 81 main event, in which Belfast's Karl Moore (left) defeated American opponent Josh Clark to win the vacant light-heavyweight title.
Image: Gary Carr/INPHO
Action from Saturday's Cage Warriors 81 main event, in which Belfast's Karl Moore (left) defeated American opponent Josh Clark to win the vacant light-heavyweight title.
Image: Gary Carr/INPHO
A PROFESSIONAL FIGHTER from England has expressed his thanks to the medical advisory body for mixed martial arts in Ireland, having been told last weekend that he'll never be able to compete in the sport again.
Craig Powell, 32, was due to fight in the third professional bout of his career against Irish opponent Hughie O'Rourke at the Cage Warriors 81 event at the 3Arena in Dublin on Saturday night.
However, when he arrived at the venue that afternoon, Powell was informed by the promotion — Cage Warriors Fighting Championship — that the fight had been removed from the card due to findings from his pre-fight MRI scan.
The scan revealed the presence of a cyst — larger than a golf ball — on Powell's brain. If such a cyst were to be ruptured by a blow to the head, it could cause a potentially fatal bleed. The results of the scan were flagged by SAFE MMA Ireland, an independent medical advisory body.
"Those people who know me well know that MMA is my life. Sparring and fighting is me. It's what I do and what I live for," Powell wrote on Facebook afterwards.
"After being told by a specialist that there is no way I can compete again or even spar, I just don't know what to do or say. It feels like a bad dream. I just need to get home to my wife and little boy. I'm so grateful that it was found by the scans from the SAFE MMA team."
Pre-fight scans — MRI and MRA for professionals, MRI only for amateurs — are now mandatory for all fighters competing in mixed martial arts events in Ireland in order for them to receive SAFE MMA approval. Non-SAFE MMA promotions haven't yet been outlawed, although it's understood that none are currently active.
Following the tragic passing of Portuguese fighter Joao Carvalho, who died from a brain injury last April, two days after a fight in Dublin, SAFE MMA and the Irish Mixed Martial Arts Association [IMMAA] recommends one-off scans as a pre-fight necessity for all fighters competing in Ireland. The IMMAA is currently working to be recognised as the Irish governing body for mixed martial arts by Sport Ireland.
These increased safety standards have been met with a degree of criticism from within the Irish MMA community, with some individuals of the opinion that the introduction of pre-fight scans is a drastic knee-jerk reaction to last year's tragedy.
Those in opposition to the measures believe it's unfair on athletes to be expected to cover the cost of their scans, given how little they earn from competing in MMA. It has also been pointed out that while amateur MMA fighters in Ireland are now expected to undergo a pre-fight scan, the same does not apply to amateur boxers.
But as Jack Mason explains, such an expense is put into perspective when you attempt to put a price on the value of a life. Mason is Craig Powell's coach, as well as an experienced fighter himself and a promoter with the BCMMA organisation in the UK.
"Now the cost to the athlete is high, between £400-£600 for MRI and MRA, £25-£50 for eye tests, £65 for blood tests, £75 for annual medicals and £135 for 12 months' registration, so that's about £700 minimum in total for a professional fighter to be SAFE MMA approved. For amateurs it's cheaper than this," Mason posted on Facebook.
"An MMA fighter in the UK may make upwards of a £300 purse per fight, so you'd need to fight three times per year to cover the cost and for this reason a lot of fighters are against this and choose to fight on other shows without these safety measures in place. For our event BCMMA, we have previously implemented SAFE MMA procedures but without the new brain scan protocol.
"Let me ask you this: is your life worth more than £700? MMA is a tough sport as it is, but why would you take the extra risk of catching HIV or being seriously or fatally injured in the cage if you had an issue with your brain and you fought without knowing this?"
Mason added: "What if Craig had fought on a different show that didn't implement the brain scans as part of their safety measures? A hard blow to the head could have been life-changing — or worse — for him and his family. This is definitely food for thought for me as a fighter, coach and promoter. This morning I am thankful for the brain scans… and to Cage Warriors and SAFE MMA for everything they did."
The medical expertise on the night at Cage Warriors 81 was provided by Code Blue. Advanced paramedic Glen Ellis explained to The42 that as a result of these new requirements, there's now nowhere safer in the world than Ireland when it comes to competing in a mixed martial arts bout, as long as it is overseen by SAFE MMA.
"It's unfortunate that we've had a death in Europe — the first death in Europe from MMA — but we've come a long way. The doctors have improved, the regulations have improved, but I'm finding that the promoters have improved," Ellis said.
"You can't just show up anymore with an ambulance and a couple of first aid bags. That has stopped and that's what's important to remember. The promoters are on board with this — BAMMA, Bellator, Cage Warriors — and they've embraced the safety standards.
"Anybody can come here and have a fight, but just remember one thing: fighter safety is number one. It's not how many people sit in the seats, it's not the show, it's the fighter safety. That's what the promoters are now taking on board."