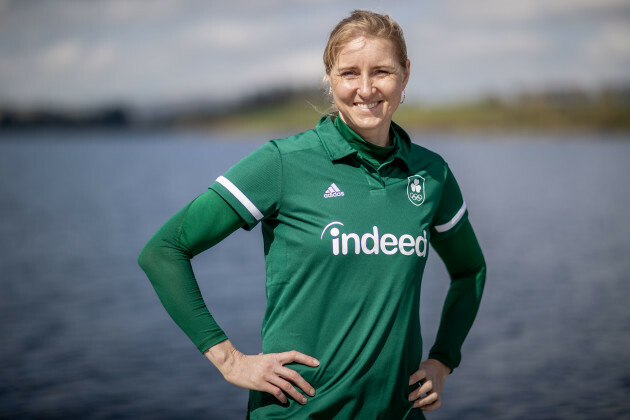 Morgan Treacy / INPHO Indeed ambassador Sanita Puspure. Morgan Treacy / INPHO / INPHO
WITH THE RESCHEDULED Tokyo Games upon us, The42 is running a new series with Indeed, proud partner of Team Ireland.
Talent Unleashed: The Series is telling the stories of three Irish athletes aiming to make a big impact in Japan, exploring how they have dealt with wins and setbacks along the way — from their humble beginnings to the Olympic Stadium in Shinjuku.
First up is 39-year-old rower Sanita Puspure, a two-time world and European champion. The42′s Ciarán Kennedy looks at her unique career path and ambitions for her third and, most likely, final appearance at the Games…
A little over a year ago, Sanita Puspure found herself considering retirement, the idea of competing at a third Olympic Games becoming harder and harder to visualise given the difficulties of life for a high-performing athlete in lockdown.
The Tokyo Games had been pushed back a year due to the pandemic. Puspure was 38 and working to a heavily restricted programme, unable to travel to her usual training facility. She was not as powerful as she knew she should be, and was wary that her technical efficiency was also suffering.
Maybe, Puspure wondered, this was the end of a career which almost never even happened.
Born in Riga, Latvia, Puspure was introduced to rowing when coaches decided her frame and fitness made her an ideal candidate for the sport. She quickly displayed her talent in the water and made her first marks on the world stage in the colours of her native Latvia, taking bronze in the single sculls at the World U23 Championships in 2003 and adding gold in the double sculls at the World Student Games a year later.
Yet the everyday demands of life soon began to take precedence over Puspure's sporting ambitions. Between shifts as a hotel receptionist on weekends and training and working as a police officer, Puspure struggled to find the hours in the week to get out on the water.
Indeed / YouTube
In 2006, at the age of 24, Puspure moved to Ireland with her husband, Kaspars, and a family outing to Dublin Zoo ended up changing her life in ways she would have never previously imagined.
"We went to the zoo and we missed the turn and we ended up right beside the river where all the rowing was happening at the time," Puspure said.
"I had no idea how rowing was going on in Dublin. I've never seen anybody row there. And that was that with my comeback."
With a small child at home and another on the way, initially Puspure returned to the boat for the first time in three years with the sole purpose of building up some fitness. But the competitive edge that made her such an exciting prospect back in Latvia soon took hold.
It didn't take too long for the thought of the Olympics to kind of brew in my head and once the seed was planted, there was nowhere else to go. I had to kind of chase my dreams then."
Puspure competed with Dublin's Commercial Rowing club and later represented Old Collegians as she worked her way back to elite form. In 2009 she won the senior single sculls title at the Irish Championships, and two years later joined Rowing Ireland's elite programme, with the young family relocating from Dublin to Ballincollig, Cork.
In 2012 she became an Olympian, Ireland's first female single sculler since the 1980 Games in Moscow. She was also Ireland's only rower at the London Games, where a 13th place finish left her determined to come back for more.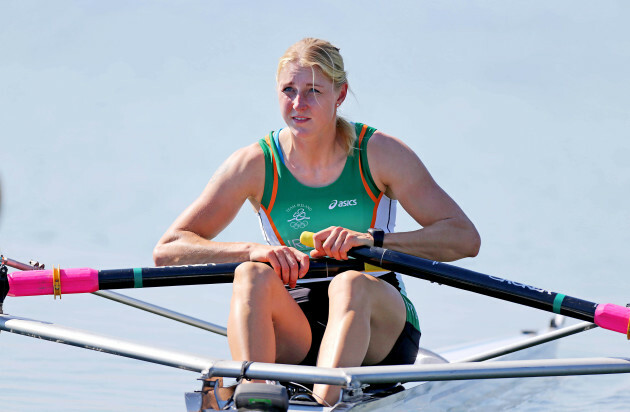 Morgan Treacy / INPHO Puspure at the London Games in 2012. Morgan Treacy / INPHO / INPHO
Puspure had high hopes for Rio four years later, but finished 13th again, voicing her unhappiness with racing conditions amid extreme weather.
In the years since, Puspure has solidified her status as one of Ireland's greatest athletes of the last decade.
She finished fourth at the World Championships in 2017 and the following year, took silver at the World Cup and went one better at the World Championships in Plovdiv, Bulgaria, to win her first gold medal for Ireland, obliterating the competition on the day.
Speaking after the race, Puspure explained that while doubting her ability on such a stage, she felt inspired by the stunning performances of lightweight double sculls pair, Paul and Gary O'Donovan, who stormed to gold the day before.
"In a way, that was the biggest fear, because I'm so used to being disappointed, and not so much to being happy after racing," Puspure said.
I found it really emotional yesterday seeing the boys (O'Donovans) win the gold. I wanted the anthem to be played for me as well and I can't believe it actually happened."
The golds kept coming in 2019, Puspure finishing first at the European Championships and defending her World Championship title – qualifying her boat for Tokyo in the process.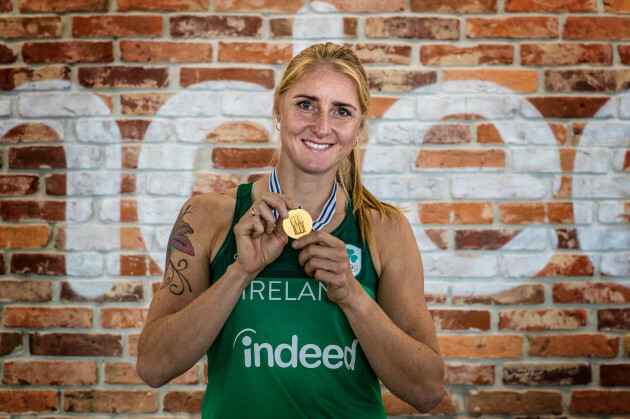 Billy Stickland / INPHO Sanita with her world championship gold medal. Billy Stickland / INPHO / INPHO
Puspure's superb 2019 on the water was all the more remarkable given the dark days which visited her family. Shortly before that year's World Championships, Puspure's sister, Inese, lost her two-year battle with cancer.
"I had countless sessions where I was thinking about my sister when she was diagnosed. She had a real battle on her hands, so I couldn't feel sorry for myself.
She did give me strength, which is kind of funny, because how do you get strength from a situation like that? I don't know. You just turn things around, I suppose."
Puspure had gold around her neck again at the Europeans last year, before the pandemic left her with the very real possibility of not getting back to the Olympic stage.
Thankfully, Puspure was able to resume a more regular training schedule, ending any thoughts about retiring and getting her Olympic ambitions back on track.
"I do have a point to prove at the Olympics. Obviously, I want to win the gold medal and put that cherry on top of the cake.
"At the Rio Olympics, I didn't reach my potential and I think I let myself down.
"I never thought I could be a world champion, but because I didn't give up and I had all the right support behind me, I'm here and I'm ready to fight for an Olympic medal."
Sanita Puspure is an ambassador for Indeed, who are proud partners of Team Ireland at the 2020 Tokyo Olympics. She is scheduled to compete in the women's single sculls heats on Friday, 23 July. Achieve your own dreams by searching millions of jobs online with Indeed, right here.