LIKE A NUMBER of the current Ireland team, Seamus Coleman's rise to the top has taken a few twists and turns along the way.
At 28, the Killybegs man is the current captain of his national side and one of the finest full-backs in the Premier League. An integral part of the Toffees first team, Coleman also sits just shy of 200 league appearances for the Merseysiders.
It will be an impressive milestone to reach in an age when Irish players coming through the ranks at top flight clubs in England is worrying low, especially when you consider the defender was bought for a measly £60,000 as a raw 20-year-old back in 2009.
Competition for places in Premier League youth academies is greater than ever, but Coleman believes there are benefits to developing elsewhere.
He had lined out over 50 times for Sligo Rovers before Everton took a punt, and he also credits a brief loan spell at Blackpool under Ian Holloway with giving him the confidence to make the step up.
"It's a different game to years ago when the Premier League was not recruiting the number of talented, foreign players that they are now," Coleman said yesterday.
"It is just so difficult for young players from any country to break into a first team now at Premier League level.
But look, there's other ways. The Scottish Premiership, the Championship, League One, the League of Ireland… they're all good leagues.
"We'd all love to see young Irish talent come through right away and play Premier League football at 18 or 19. But if it doesn't happen (by then), it doesn't mean it won't happen at some other stage."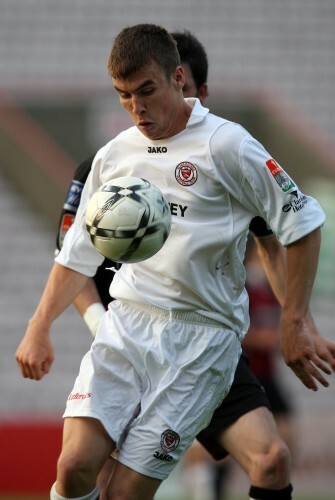 Lorraine O'Sullivan / INPHO During his Sligo Rovers days. Lorraine O'Sullivan / INPHO / INPHO
He added: "In my situation, I played 55 times for Sligo Rovers, was playing for points, learning how three points meant so much to everyone – the fans, the players, the manager. Players had bills to pay. They needed those points to help get another contract. The motivation was there.
So you had to work so very hard and I brought that attitude with me when I came across. There was a huge benefit to playing so many games in front of fans, and there are benefits for players who came a different route, whether it is the lower leagues in England, or wherever.
"My point is, you can only make the choice that is front of you. It is a tough one, because if you are a 15 or 16-year-old and a club comes in for you, say it is Manchester United or Everton. It's very difficult to say no, the better route for me might be the League of Ireland.
"I've experienced the benefits of the League of Ireland and it's great to see Daryl Horgan thrive in that environment and subsequently thrive at Preston. There are benefits to that route but there are benefits for joining a club in England at 16 as well. The training and facilities are second to none."
Seamus Coleman is pictured at the launch of the SPAR Better Choices ad campaign. The Republic of Ireland captain will feature in an ad for the new campaign, which showcases the SPAR Better Choices healthy eating initiative.  The campaign will be rolled out across TV from 1 February. For further information please visit www.spar.ie.
The42 is on Instagram! Tap the button below on your phone to follow us!