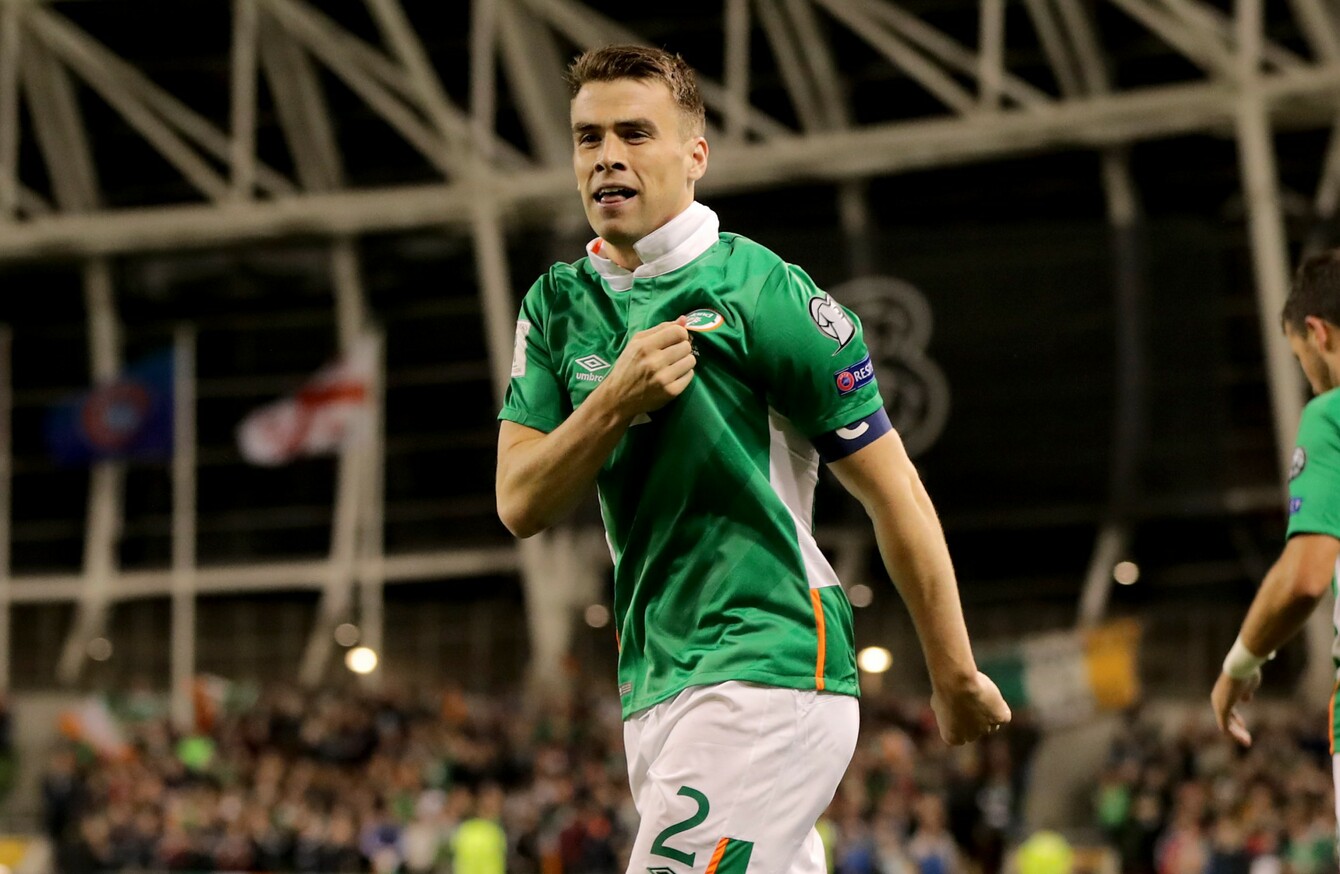 Coleman has shown real leadership qualities since taking the armband.
Coleman has shown real leadership qualities since taking the armband.
IT'S BEEN A bad week for two former symbols of British greatness.
The fortunes of sterling and Wayne Rooney have taken a plunge of late, with the pound and the England captain, both formerly among John Bull's most robust sons, struggling to cope with bewildering new realities.
Of course, it might seem as if these examples of national demoralisation are entirely unrelated, but an explanation of how Theresa May is the Gareth Southgate of prime ministers can wait for another day.
Meanwhile, as England's international captaincy was downgraded to junk status, ours continued to grow in stature. It was only six points against Georgia and Moldova, but one man's quietly redoubtable leadership shone once again. Now, with Captain Coleman at the helm, it feels like any threat to Ireland's prospects could be faced down, from Brexit economic headwinds to Wes Hoolahan being left on the bench.
Did anyone expect Coleman to become Ireland captain in the first place, never mind the sort of effective leader he is fast proving himself to be? Three games into this qualifying campaign, it seems possible that Coleman can become an Irish captain to rival Roy Keane in his influence.
Not since Keane's pomp have Ireland qualified for a World Cup, the 2002 qualifying campaign as much a monument to his great qualities as the ensuing Saipan debacle was to his tragic flaws. As Keane dragged Ireland to Korea and Japan, so too has Coleman driven his team-mates in his embryonic captaincy; against Italy in Lille, with his goal against Georgia and in times of doubt in Chisinau.
Can he drive them to Russia?
Like Keane, it's his character as much as his ability that inspires, though on the face of it they have little in common. Where Roy's drive was fuelled by anger, a desire to fight battles, to put out fires that could never be quenched, Coleman's comes from another place. I remember his earliest press conferences with the Ireland squad, carried out not with the hostile and wary demeanour of most young footballers, but his own easy-going charm, chatting amiably like a shop assistant shooting the breeze over the purchase of a litre of milk.
Everyone knows the story of unlikely lad from Killybegs who landed at Everton via Sligo Rovers for a pittance. Already 20 years old, not being schooled in the Premier League academy system left him deficient in technique, but rich in spirit.
Everton's coaching staff marvelled at Coleman's attitude and application, a determination to make up for lost time that was quickly satisfied. In 2011, just two years after his arrival in England, he was nominated for the PFA Young Player of the Year award — by 2014 he was named in the Premier League Team of the Year.
Where Roy fought to prove others wrong, Seamus only ever wanted to make the best of himself.
And now, at 28, with that character galvanised by experience, Coleman has acquired a perspective about which Keane must surely approve, as a recent interview with Ian Ladyman of the Daily Mail revealed.
"If I see a footballer with a Louis Vuitton wash bag I wonder what that does to others," said Coleman on the dangers facing young players. "If you are the only young lad in the changing room without one then you feel that pressure that you need to go out and get one. Even if you don't want one or even like one.
'That's what I think is wrong with football. It's completely wrong. Your job is to train well and play well on Saturday and do well week in, week out. That's your job…They think they need to look good on their Instagram pictures. They think they have to follow the leader but they are just kids — boys."
Now read that again, but in Roy's voice. See?
Coleman is not the player Keane was, and, from full-back, can never influence in the way Keane could. But this dogged, doughty Ireland team has acquired his image in a way the team Keane captained never quite did.
Armband thrust his way in Lille, he lay down the physical gauntlet to Italy, then hollered and bellowed his team to emotional pitch required of the night. His goal against Georgia was a metaphor for his career as a whole, characterised by persistence beyond what most would deem reasonable. Against Moldova he battled and strived and faced down the home side's momentary resistance. If this team has an identity, it is in Coleman's resilience, determination and pluck.
Where Keane's captaincy carried the whiff of sulphur, Coleman leads a with a smile and an encouraging clap. If Keane was the Mad King, ruling by fire, Coleman is Jon Snow, overcoming unpromising breeding to earn the right to lead. The King (From) the North.
As Paul O'Connell promotes his autobiography this week, we are given a chance to venerate another of our great leaders, a man adored, as Neil Francis put it last weekend, "because he is a standard-bearer for the country and someone whose principles, moral compass, ideals and heroic virtue makes us wish our children would aspire to be someone like him."
Coleman's qualities may seem on a smaller scale to what O'Connell represented, but as an example of the best of what we are, and someone worth aspiring to, you will struggle to find any better right now.
Luckily for England, national well-being is not actually connected to the struggles of the football team; more's the pity for us, with Captain Coleman on our side.
The42 is on Snapchat! Tap the button below on your phone to add!