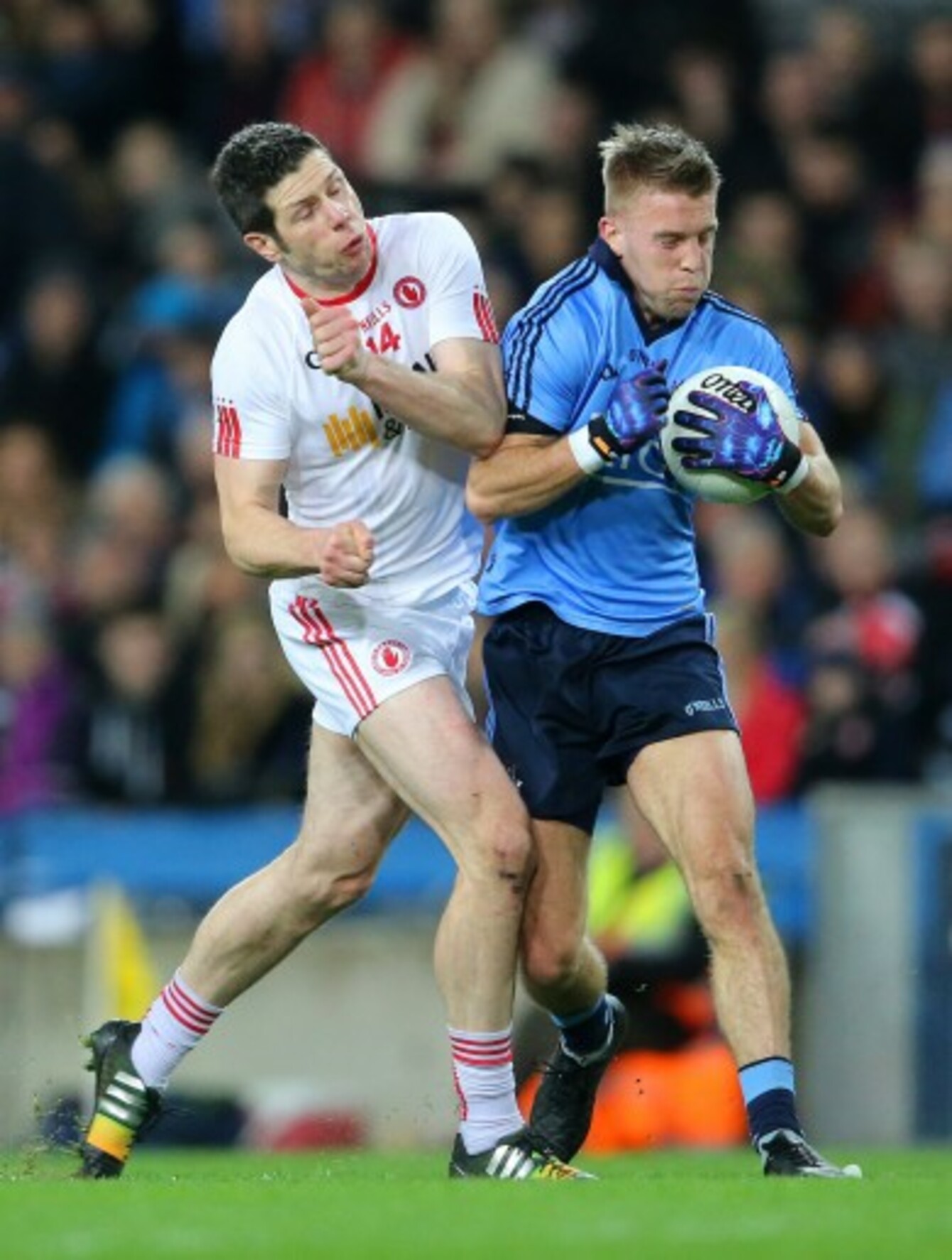 Cavanagh in action against Jonny Cooper last year.
Image: Cathal Noonan/INPHO
Cavanagh in action against Jonny Cooper last year.
Image: Cathal Noonan/INPHO
ONCE THE TYRONE celebrations had died down, Sean Cavanagh and his team-mates were promptly reminded of the unprecedented benchmark they must now strive to reach.
Mickey Harte's charges capped a fine league campaign by lifting the Division 2 title at Croke Park on Sunday before watching on as Dublin claimed a fourth straight league crown.
Jim Gavin's charges extended their unbeaten run in league and championship to 22 games as they swatted the challenge of Kerry aside with minimal fuss.
It was another ruthless showing from the Boys in Blue as they laid down the marker for the championship, which rolls into town next month.
And having enjoyed an inter-county career of 14 years and counting, Cavanagh has seen and done it all before – but he has never experienced a team of this quality before.
"It's mad like," Cavanagh says of Dublin's sustained dominance. "Obviously I've been playing Gaelic football a long time but to have that sort of dominance for a sustained period.
"It's scary how dominant they've been over the last three years but you can do nothing else but sit back and credit Jim Gavin and what he's been able to do with that group of players and put together such a strong and powerful running team.
"They do flood numbers back – I saw Bernard Brogan defending as much as Johnny Cooper  but at the same time they have that pace and power and strength to blow teams away at the other end and you could see the Kerry lads out on their feet after 50-55 minutes and that's where that games are won and that's where Dublin are experts at wearing teams down.
"You've got to give them credit because I haven't seen a team since I've been involved in football who have been so dominant."
Dublin recorded an 11-point victory over the Kingdom but most striking was their ability to pick off their nearest rivals with consummate ease without even having to get out of second gear.
For the fourth year in a row, they are the National Football League champions, an incredible ninth piece of silverware in 10 attempts since Gavin took charge.
"Yeah, there's no doubt about that," Cavanagh said when asked can they be considered as one of the best teams to play the game. "You're looking around at some of their personnel and even the likes of Paul Flynn, Diarmuid Connolly are some of the best players I've played with and against.
"Last year they had average enough seasons but still Dublin whitewashed every team so you're thinking they can afford to have off days and off seasons but they're still grinding out serious results and that's a serious thing for a team to be able to say.
"Most teams will look to three or four players but they don't seem to have that, they're just a well oiled machine and Jim Gavin has them firing on all cylinders and I just hope they have a blip somewhere along the line but it's difficult to see that coming at this stage."
Tyrone themselves head into the championship infused with the confidence that comes from a league-winning winter.
Harte's side remained unbeaten en-route to silverware and many observers believe they could be the side to give Dublin a run for their money this year.
However, Cavanagh is wary of getting carried away on the back of the league campaign and admits he isn't quite sure of where this Tyrone panel's potential can take them.
"Last year we probably had a better idea of where we are at in that we knew we had played Dublin last year and we weren't all that far away from them in the league," the 33-year-old forward added.
"We got a draw. We played Kerry in the league and got a draw. We were thinking we are reasonably well set up here to have a go at these guys if we meet them late in the championship. This year it's different.
"We are probably not sure where we are and that's a dangerous enough place to be in because we could go out in a championship with a false sense of belief and all of a sudden get knocked back.  It's something we have to be very careful of, but I suppose first things first and that's Celtic Park on 22 May and if we can progress our way through the Ulster Championship well and good.
"I suspect we will not be seeing Dublin for a while – and if we do see them it will be a good year because it will be in the latter stages of the championship."
Sean Cavanagh was speaking at the preview of the EirGrid GAA Football U21 All-Ireland final between Cork and Mayo on Saturday 30 April. 
The42 is on Snapchat! Tap the button below on your phone to add!