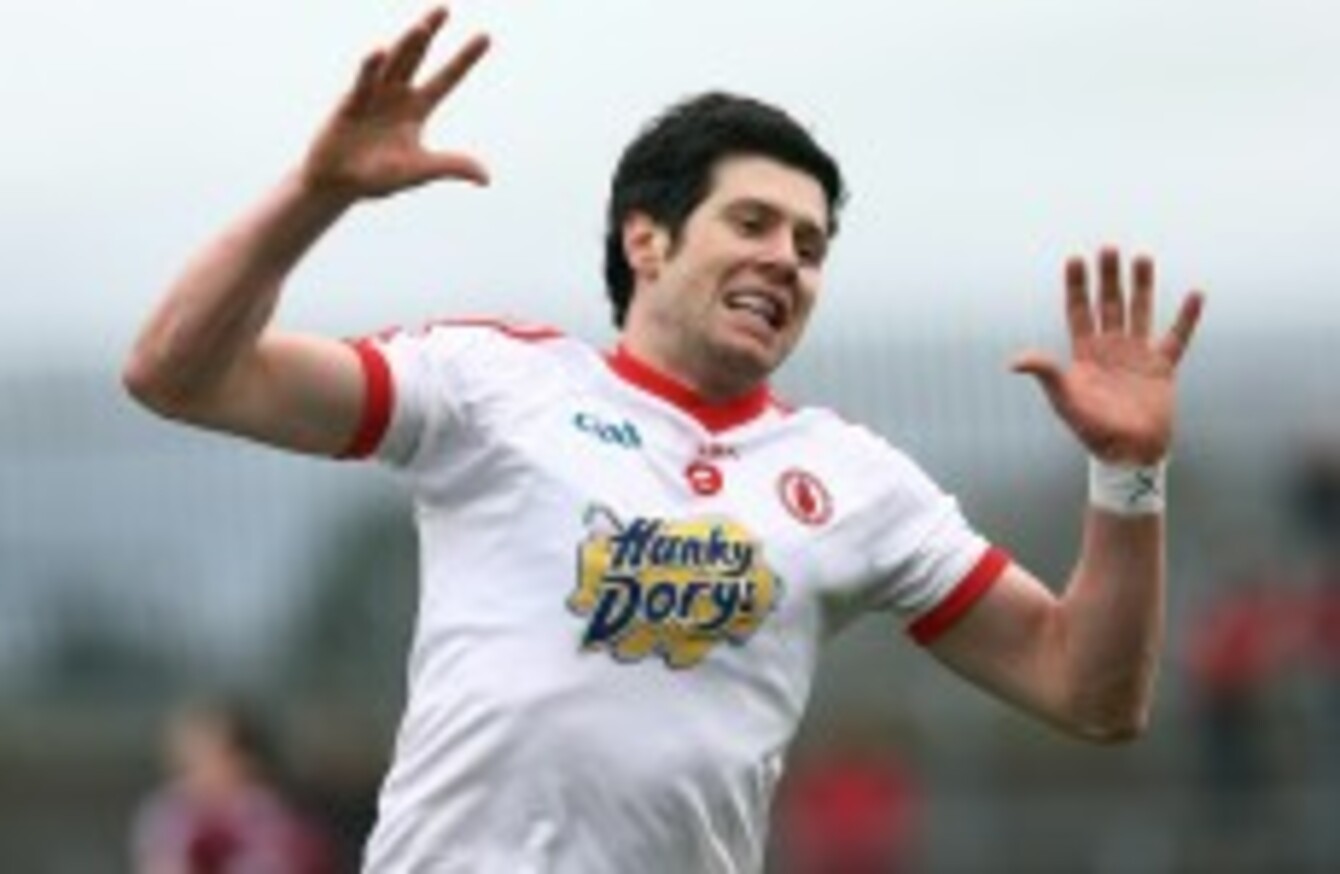 Sean Cavanagh believes teams can't afford to go toe-to-toe with Dublin.
Image: Presseye/William Cherry/INPHO
Sean Cavanagh believes teams can't afford to go toe-to-toe with Dublin.
Image: Presseye/William Cherry/INPHO
THERE'S A GLINT in Sean Cavanagh's eye when he's pressed on the issue of Dublin's seeming invincibility as we head into an All-Ireland Senior Football Championship that sees the defending champions as even money favourites after retaining their league title in such convincing fashion.
The Tyrone star knows what it's like as perceived to be unbeatable and just how much it hurts when you come crashing back to earth with defeat.
"I've been through it down through the years and I've seen ourselves as All-Ireland champions back in '04, beating Derry by 15 or 18 points or something like that and being told at that stage we were All-Ireland champions elect and Donegal coming out the next game and ripping us up by five or six points.
"I know it's not easy and you have to give Dublin credit for the way they're playing football, which is fantastic for the game and all that, but it's going to be tough for them."
As Cavanagh points out, it's easy to have confidence when you're winning so comfortably. Where Dublin's credentials will be really tested is when they suffer their first set-back in year's All-Ireland campaign.
"At some stage along the line this year they're going to come up against a team that's going to put them to the pin of their collar and it's only at that stage – first game, second game, fifth game – when they find out if they've that wee bit more oxygen left in the tank that's going to push them over the line.
"But there'll certainly be a time when that will happen from my experience and that of other teams – because it's so hard to do a back-to-back.
"They deserve all they get because they've been brilliant but at the same time they will come up against hard times.
Despite coming out on the wrong side of the result last time out – when an early Dublin blitz helped them to the narrowest of wins – the five-time All-Star admits he's enjoyed his recent encounters with Jim Gavin's men.
"Any of the games we've had with Dublin in the past couple of years have been really fun – good games of football to play because it's just attacking.
"Whenever Dublin force you to engage in playing football I think we've got plenty of talent and footballers on our team and have been able to express our abilities as well.
"If football were to continue like that it could only be good for Tyrone but I've a funny feeling we're going to see a few more negativity and blanket defences before the summer's out.
It will, for a lot of teams at least, mean they may have to restrict their attacking instincts says Cavanagh.
"There certainly will be teams that set up like that because there's a risk and fear factor that'll come into play and I think most teams will still have an eye on the back door in terms of their defence.
"I don't think anyone's silly enough to think they can go out and play 15 v 15 and go toe-to-toe all the time because they'll obviously get caught somewhere along the line on a hot summer's day.
"What Dublin has done means that teams will open up some more but I wouldn't think the era of the 10-man defence is gone at this stage. I think we'll certainly see plenty of them.
"You have to adapt and there'll be times in games when you'll be up against the tough defences and times when the game will open up and you have to adapt."