SEAN MAHER TRIED to avoid some of the online attention he was getting during the week.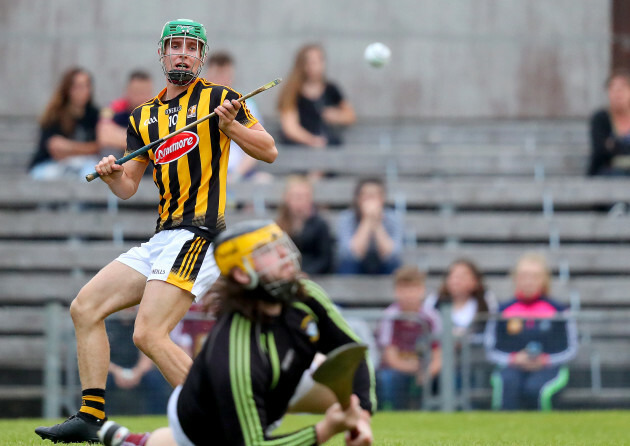 Oisin Keniry / INPHO Sean Maher in goals against Kilkenny in the Bord Gais Energy Leinster GAA Under 21 Hurling Championship. Oisin Keniry / INPHO / INPHO
He had just produced a stirring performance between the sticks for the Westmeath U21 hurlers, as they bowed out of the Leinster championship against Kilkenny.
They lost by 10 points, but a plethora of crucial saves from Maher prevented the score difference from getting any bigger before the end.
And he did it all while wearing a black coloured jumper in the sweltering conditions of a summer evening.
"It's something I kind of have to wear in goals for me to play well," he explains to The42.
"I wouldn't go into goals without it."
While he was parrying away shots in Mullingar, Maher was attracting fans on social media, who were quick to applaud him for his efforts.
He was humbled by it all.
I was surprised now. I saw Twitter and saw everyone talking about me and thought to myself, "Yeah, I probably don't look like the average U21 hurler on TG4."
"Some of the Tweets were very funny.
"I saw articles and people were tagging me in stuff. I didn't really want to look at them because I was a bit embarrassed."
In addition to dealing with the influx of internet praise, Maher also had a Leaving Cert to finish this week, with his last exam coming the day after that crunch tie against Kilkenny.
After arriving home late from the game, there wasn't much time for the Castletown Geoghegan man to review the finer points of Ag Science before going to bed.
I went home straight after the match on Wednesday night and really had no time to study so I was up early Thursday morning about an hour beforehand, trying to cram it all in."
"It was hard to manage it (all) because I was trying to concentrate on the game and obviously try and make sure I pass my exams but I think I managed it ok."
Maher was on the U21 side that first came to prominence last year, after they scored an unexpected victory over Kilkenny in the Bord Gáis Energy Leinster Championship quarter-final.
The external GAA community didn't see that win coming, but Westmeath manager Adrian Moran was quietly instilling a belief in his players that they could overthrow the hurling stronghold.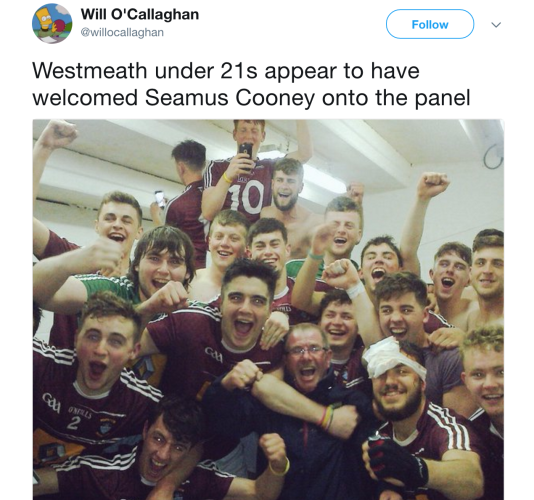 Will O'Callaghan Twitter Will O'Callaghan Twitter
That feeling of triumph in the dressing room after the game, is a memory that Maher would love to relive.
"It's hard to describe. We couldn't believe it.
"After the game, everyone was coming up to us and giving us hugs and shaking our hands.
"It was just a great feeling. I'd love to go back and feel it again.
When we went into the dressing room, we were looking at each other and we couldn't believe it. Adrian told us that if we believe in something we can go and achieve it.
"We believed and we went and achieved it. It was a great feeling, the best feeling I've had in sport."
They failed to progress beyond the semi-finals, losing out to a Dublin side who would later go on to win the Leinster title against Offaly.
It was a dignified defeat for Westmeath, and they came away from the game knowing that a place in the final was within reach.
But after reaching a second consecutive semi-final, Kilkenny atoned for the previous year's disappointment and ensured that Maher and co would have to wait a little while longer for that elusive breakthrough.
There was a distinct contrast of emotion in the dressing room compared to last year, but Maher describes how the players handled the hurt with grace.
In the dressing room, all the players were sitting down. Adrian wasn't in for another 10 minutes but you could hear a pin drop, it was just dead silence in the dressing room.
"Everyone was so disappointed because they had put so much effort in all year into the set-up, between driving from college to training and stuff like that.
"When Adrian came in, he said he was happy to see silence in the dressing-room and that no-one was snearing in the corner or laughing or getting changed.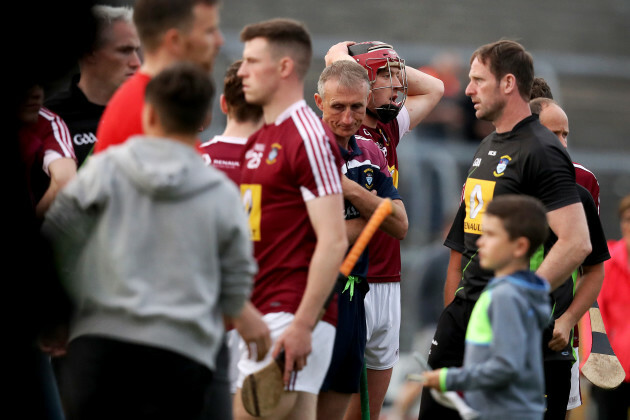 Tommy Dickson / INPHO Dejected members of the Westmeath U21 hurling panel after losing to Kilkenny. Tommy Dickson / INPHO / INPHO
"He could see that we put everything into this year and it really hurt us by losing.
"He told us that we'd done great things over the last two years and that there was no doubt that we'll be in a Leinster U21 final and push on for senior.
This bunch of players needs to stick together in Westmeath."
Hurling was always at the centre of Maher's life.
He was born into a family that adored the sport, and the local GAA club had a vibrant hurling scene.
At the age of 13, Maher linked up with the Westmeath hurling development squads and flourished through the grades.
"In the hurling emphasis of it, there was huge importance put into it. From U13 all the way up, I had great mentors.
"They were putting a huge effort into hurling in Westmeath to bring us bunch of lads who played against Kilkenny the other night the whole way up to U21 and senior.
"I think it worked very well because what we did with back-to-back Leinster semi-finals is after working wonders."
Indeed, hurling is his number one pursuit of choice, but other sports have featured in his life along the way.
He followed his father's footsteps into Gaelic Football and was a proficient boxer for a time, winning a clatter of Leinster titles and contesting a few All-Ireland finals.
Kudry Jirka / YouTube
He's also a movie and TV enthusiast, which goes some way towards explaining how he landed a small acting role a few years back.
While perusing through his Facebook newsfeed one day, Maher came across an advertisement and was curious to check it out.
The TV show Vikings was looking for extras and he decided to have a cut.
"I said for the craic I'd send away an application so I sent away pictures of myself. I didn't expect anything back.
"And then I got an email saying they wanted me to go up to Wicklow where they were shooting it.
"I'm a big fan of TV and movies, I've a big interest in it. I go to the cinema about two or three times a week.
"I seen the opportunity there and just went and jumped at it. I'm glad I did, it was a great experience."
Maher considered studying film and TV in college at one point, but eventually settled on something in the sports science field when it came to filling out his CAO form.
Now that school is out, Maher is hoping to use some of his downtime to get more involved in acting, and has a coaching gig at the Kellogg's GAA Cúl Camps to keep him ticking over until the Leaving Cert results come out later this year.
Another quick scan of Maher's Twitter timeline shows a recent post reiterating the progress that the U21 Westmeath hurlers are making, and how close they are to taking the next step.
"It's very close. There's a good few lads who are still underage for next year's U21. I am myself and most of the team are.
"I think it's only a matter of time before we do make that breakthrough because we all believe in ourselves we can do it.
"We were very close to doing it this year I think. We did put it up to Kilkenny for a lot of that game.
"This bunch of players can bring it up to senior and I think it's only a matter of time before we make that Leinster final and push on from there."
The42 is on Instagram! Tap the button below on your phone to follow us!