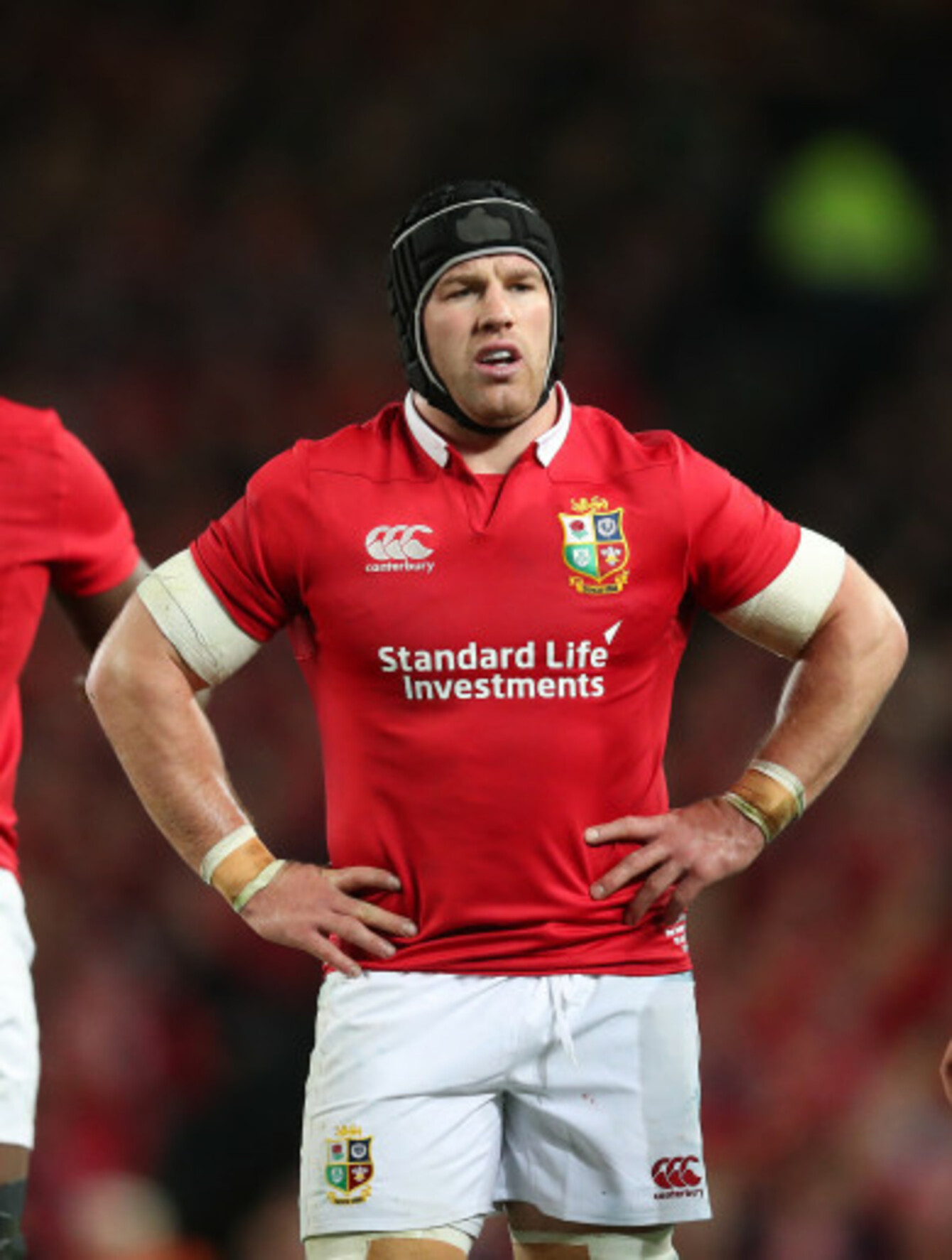 O'Brien featured in all three Tests and was one of the Lions' outstanding performers.
Image: Billy Stickland/INPHO
O'Brien featured in all three Tests and was one of the Lions' outstanding performers.
Image: Billy Stickland/INPHO
THE TULLOW RFC clubhouse is everything you'd imagine it to be, the bar essentially converted into a shrine to the club's, and town's, most famous son. Every wall has a framed Sean O'Brien jersey of some kind adorning it and his 2013 Lions one takes pride of place above the fireplace. They're proud of him around these parts, and understandably so too.
Shortly after returning from last summer's tour to New Zealand, O'Brien was back home at the end-of-season awards night and presented the club with one of his 2017 Test shirts. Another one to add to the collection, if they can find the space for it.
A little over two months have passed since that indelible third Test at Eden Park, the dust firmly settled on a thrilling tour and series as the Lions finished on level terms with the double world champions despite limited preparation time and a gruelling schedule.
The mixed feelings which greeted the anticlimactic conclusion in Auckland have slowly advanced into an altogether more satisfactory slant on the whole thing, particularly when you consider the All Blacks have ruthlessly disposed of Australia, Argentina and South Africa in the Rugby Championship in the intervening period. It is beginning to feel more and more like a moral victory for Warren Gatland's side, although that could be about to change.
O'Brien, who featured in all three Tests, doesn't exactly see it that way. He has a different perspective, one which blames mistakes and missteps by management as reasons why the Lions didn't emerge victorious from New Zealand for the first time since 1971.
Even now, when attention has turned to the new season and his return to action with Leinster, it's still on his mind. Disappointment, frustration and a sense of what could have been. There's regret there, too.
"I think I had a very good tour," O'Brien initially reflects. "Things went well over there for me but looking back now, it was really disappointing that we didn't win the tour. When you look back as a player, you're always wanting a bit more and you're a bit greedy.
"We got a few little things right and a few things went our way but if the structure of our tour was a little better, I think we would have been in a better place.
"Probably the way it was structured the coaches were doing a bit of catch-up before the first Test and the week leading into the last Test as well. They will probably take a lot of learnings from that, they will; in terms of how they structured the week for us and made sure we were as fresh as possible. But it didn't really happen in the first week or last week."
O'Brien is asked can he be a bit more specific.
He continued: "We did a triple day on the Thursday before the first Test. You can't do that. If you're playing a game with Tullow we wouldn't do that, I'd say.
"It was just to try and make sure they've all the boxes ticked as coaches. I think in the second week [the Lions won the second Test] we got it perfect. We did a lot less, kept training short and sharp, and we were fresh come the weekend. Then in the last week we probably had too many days off at the start of the week.
"We had Sunday, Monday, Tuesday off over the last week, and we probably should have trained on the Tuesday, had Wednesday off, trained Thursday and then trained light on Friday [before the final Test on the Saturday]."
Going back to the build-up to the first Test, O'Brien doesn't hold back in his criticism of head coach Gatland and the management's methods. The players were overloaded with work too close to the game in Auckland, one the Lions would lose 30-15.
O'Brien was one of a number of senior players who aired their concern and grievances over the training schedule at the time, but it was too late.
"We did [speak up] at the time, but some of the coaches wanted to get info and they wanted to tick their boxes, and we did discuss it afterwards. Friday's training was very light but it was too late at that stage. People were trying to recover all day Friday.
"It could have been avoided. The first Test was a bit different, we were definitely a bit flatter, but they'd [NZ] a very good gameplan that day, we were on the back foot, we weren't expecting that.
"Less is more sometimes on a tour like that, rather than trying to pick things up at the end of the week. There was probably no need for that but it's just the way it was managed. We had said it and they pulled back a bit.
"The last Test, looking back, probably the start of the week annoyed me a little bit the way they [coaches] didn't have us on the field, getting a little bit of info into us early in the week, then give us a bit of downtime plus it'd keep lads on the straight and narrow as well."
But coming out of the series with a draw, it was a really good achievement?
"No. No. I think we should have won 3-0 with the players we had, we should have won the series," O'Brien insists. "And, looking back, and I could be completely wrong, but if we had a little more structure during the weeks, and more of an attack game plan, as such, driven way earlier in the tour, I think we could win 3-0."
When O'Brien refers to the attacking game plan, or more specifically, a complete lack of one in the opening games of the tour, he places the blame firmly at the feet of Rob Howley, the attack coach.
"Johnny [Sexton] and Faz [Owen Farrell] were the ones running our attack shape," he says. "The coaches have a lot to answer for in terms of our attack rather than Johnny and Faz trying to drive it.
"If I was being critical of any coach it would be the fact that I think Rob struggled with the group in terms of his attributes of trying to get stuff across whereas Johnny and Owen drove everything the second week, for instance, in our attack and had a better plan in place. So I don't know if it was people were not buying into what he was about or whatever else. That's the hard thing about a Lions tour as well; getting everyone to listen to a coach that was probably set in his ways.
"They [the Lions] have to learn from it going forward. Whether I am there or not in four years is a different story. Coaching-wise they need to make sure they have the best coaches in the best positions, attack, defence, forwards, whatever it may be on a Lions tour."
O'Brien's honest appraisal and stinging criticism is as extraordinary as it is unexpected, but he would have no qualms relaying all this to Gatland in person, or indeed if the Kiwi is still in charge when the Lions tour South Africa in 2021.
"A hundred per cent," the Ireland flanker states firmly.
"I think going back a few years, I probably might not have said or had those conversations with the coaches, if you look at the chats I had with Gats, because I was playing well, he entertained me a bit more, and asked for my opinion on things, but if you're not playing well, he doesn't really talk to you. That's just the way it is. I didn't want the tour to pass by without me speaking up or saying a few messages that I thought was relevant to getting us to perform.
"It's saying things that need to be said rather than talking waffle, or speaking for the sake of it. There was some good things that we done and a lot of opportunities that we left out but going forward it can be better obviously."
Subscribe to The42 podcasts here: