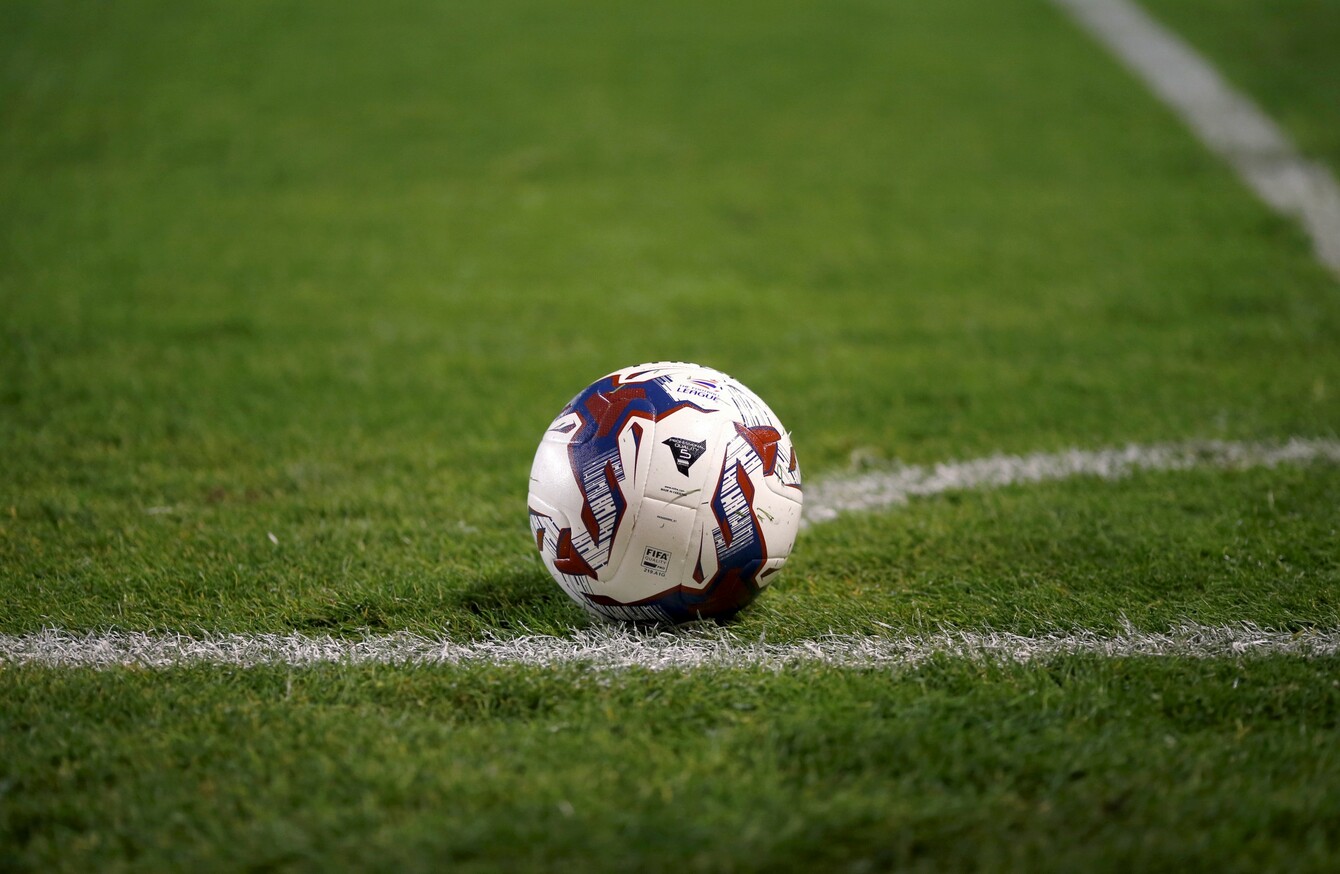 File photo.
Image: Paul Harding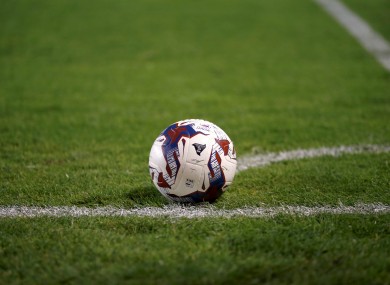 File photo.
Image: Paul Harding
THE SECRET FOOTBALLER is the pseudonym for an anonymous former Premier League footballer, who has contributed articles for The Guardian and his own official website.
The42 recently interviewed The Secret Footballer about his new book, Access All Areas, where he comes to terms with his retirement among other issues, and gives his thoughts on the state of the modern game.
What was the inspiration behind writing the book?
My books were written in real time, as it were.
That is to say that the first book dealt with the early part of my career, getting into the game and then talking about what was happening in my life at that moment — leaving a big Premier League club and all the shit that that entails.
People have no idea how political it is to just leave a football club.
The second book moved the story on and the new book chronicles the end of my career and how difficult it is to retire.
There are so many people with a vested interest in you — the club, agents, managers, people who are financially better off the longer a player keeps playing.
I talk about this and the real detail behind stories that broke during that time, such as the Ched Evans case.
Then I give a tour around all the Premier League clubs, talking about the fans, memorable anecdotes from games that I played at those grounds and inside info across the board.
Plus — and this is just my personal opinion — it's definitely the funniest book that I've written. That works really well against the really ugly stuff to be found in this game of ours.
What's it like writing about yourself and reflecting on your career? Do you learn much about yourself? Can it be therapeutic?
I found it really helpful to write specifically about depression and I learned a little bit about myself during that chapter, though I wasn't doing it for that reason.
I'd written a column about depression for The Guardian the day before Gary Speed killed himself. It gave "The Secret Footballer" enormous credibility in the most horrific way.
It demonstrated that I really did know what was happening across the board in football at a time when people were still accusing me of being a journalist in disguise.
But it was an awful moment and I struggled a little after the Speed situation. For a while, I thought he'd read the column and then convinced himself that suicide was acceptable in football.
I wrote about that in the first book. I can't say that was overly therapeutic, it was far too real.
In the foreword to this book, your wife says that there's a lot of suffering in the life of a footballer. Do you think all footballers find it very hard or are some able to handle the pressures much better than others?
She's right. She's seen it for almost 15 years. Depression, injuries, abuse, gambling addictions, alcoholism, tabloid lies.
If anybody thinks that they are going to go through a football career unscathed, then the wake-up call will probably be worse for those people.
There is a lot to be said for ignoring what is going on in the worst situations and I have actually seen players who are completely ignorant as to what happens around them, even if they are the cause of it.
Ignorance can be a wonderful saviour in the life of a footballer.
On the one hand, it must be liberating to be able to tackle issues that footballers don't normally get to discuss so frankly, on account of your anonymity. On the other, though, do you find it frustrating that you can't go into too much detail sometimes, in case you unwittingly reveal your identity?
Sometimes, the detail is integral for the column or the chapter and, when I'm not able to write it into the piece for one reason or another, I end up having to give up because the anecdote becomes non-relatable. I have discarded entire chapters because of this problem.
The good thing, though, is that there are so many stories to tell.
I sometimes get accused of hiding behind anonymity by some people. These people have read every column and bought every book.
They are getting a window into something that they have never, ever read about before.
Their frustration is borne from the fact that they don't know who the players being talked about are and that annoys them. But there's a bloody good reason for that!
Do you worry much about your identity somehow being revealed?
Couldn't honestly give a shit. In fact, it would probably take away a lot of stress in my life.
I've already said that this will be the last Secret Footballer book for a while. The last two almost killed me.
I gave away far more than I should have when I was writing carelessly and aggressively.
Ultimately, I came from fuck all and I'll one day go back to fuck all. Everything in the middle is an adventure.
Are there people out there who have tried/are trying to expose your identity?
Of course. Naively, I thought it would go away in time because the columns were so readable.
In the focus groups that were held by the publisher to find out what people wanted to read about in the next book, the feedback was generally: "I don't care who he is, I just want to read more."
But the problem is that new people discover the Secret Footballer and, while that's obviously a good thing, their first reaction is: "I've got to find out who this is!"
That said, I have had some people who have had an unhealthy obsession with trying to prove who I am definitively since day one. And they are quite threatening with it.
I don't mind that necessarily but I do sometimes think: "Jesus, get a fucking life."
Would you ever consider revealing your identity? Perhaps in 20 years' time, when you might be focusing on other career paths and when some of your revelations are less raw?
It's definitely possible, though you never know what will happen.
I'm not writing any more books for the moment, I need a break. I've written four in five years and, when you have a family to look after and a football career, believe me, that isn't an easy thing to do.
I don't know what will happen in my career. If I went back to football, I could resurrect the books at some point down the line, under a coach or a manager pseudonym.
At that point, somebody may come along and make me an offer I can't refuse. That may come at a time when I desperately need options in my life.
One of the topics that you discuss is bullying in football. How big a problem is it? Are today's youngsters perhaps more sensitive about it than they would have been 20 to 30 years ago?
With youngsters, I feel that there has been a marked shift in their attitude and the attitudes of the older pros towards them, certainly at the highest level.
If you're a talented young kid and you can help me as an older pro, then you're not going to be bullied generally.
All the young players — and by young players I mean those aged 16, 17 or maybe 18 — are going to be talked to and treated below how you would want to be treated.
The very worst older pros will still make an example of a player for his own amusement.
He may stop him in front of the squad, if he knows that he isn't overly clever, and ask him a series of topical questions, such as "Who is the prime minister?"
I saw that done not so long ago and the kid couldn't answer, much to some of the players' amusement.
I had a quiet word with the lad to tell him to avoid this player where possible, don't rise to it and for fuck's sake go and look up the name of the prime minister.
The trouble is, the ignorance of the player meant that he didn't really know what was happening or why I was talking to him.
You don't seem to have a very high opinion of the majority of football pundits. Why are so many of them so poor at their job in your opinion?
Probably jealousy. Some of those guys are paid tens of thousands of pounds a week and I just think that I'd be so much better.
But from day one, that is a belief built into footballers about most things to do with football.
Some of the pundits are very good and when you're having to talk and use technology and look up at the camera and remember names and situations and bring in others to make a point … that isn't easy at all.
You talk in the book about how footballers are particularly prone to involving themselves in dodgy deals and, as a result, losing money. Why is this? Is it down to lack of education, or would a lot of people be similarly naive in those kind of circumstances?
It comes down to two things.
One guy gets wind of something or meets a man selling something and mentions it in the changing-room because he's not really sure about it.
He thinks that "pack mentality" will somehow lessen his own personal financial burden should anything go wrong down the line. That's the mistake he makes.
The other players are petrified of missing out on something.
They cannot bear the thought of another player — maybe a bigger personality who has more clout and who, by definition, must surely know what he's talking about because he must have wonderful advisors — making a shitload of money without them. They want in.
There is one way to deal with these things.
Take the product or the "play", go to the best law firm that you can afford and get it looked at. Then get them to write a letter recommending it.
You'll never get one and that's your answer right there.
Would it be fair to say that a lot of people in football can't deal with this bullying/banter culture and perhaps it's an unspoken reason why certain young players quit the game at a young age? Or does everyone generally get used to it and accept it?
Yeah, I think there is something to be said for that theory.
I also think that it's accepted by a lot of managers because they see a kid who can't cope with that side of the game as a weakness that has no place on a football pitch when the chips are down.
And I have to say, though I in no way condone it, that I have seen some kids of that nature get a chance in the team and absolutely crumble in front of a hostile team or a hostile crowd.
Don't forget — and this goes back to the previous question – no matter how bad players are with their remarks, the stuff tumbling down from the stands is 10 times worse.
There were a handful of occasions in my career where a player said something truly awful to an opponent.
But I heard similar stuff from the crowd in probably half the games that I played — season in, season out.
There's an anecdote in the book about Neil Warnock not wanting to sign a player, primarily because he was only 18. Do you think that mentality is slowly changing because of the home-grown rule? Clubs like Tottenham Hotspur and Southampton seem increasingly willing to give young players a chance.
It depends on the player and the manager.
There are two types of managers in football. Those who build teams and those who troubleshoot for a season or less.
Warnock was never interested in the player because he wasn't ready for the first team. But I'll tell you something, I bet Crystal Palace wish they had him now.
Tottenham have a young team because they need a low wage bill while they pay for a new stadium without Champions League football.
If ever a club was building for the future, it's Spurs. And they need a manager who has already done that, which Mauricio Pochettino did at Southampton.
Sunderland don't come off well in the book. Why do players go there if they have such a poor reputation? Is it purely for the money or out of desperation?
Money. They overpay players to go there — always have done and probably always will for as long as they stay in the Premier League.
And then because they are now up there, secured on five-year deals on big money for average players and with the club stuck with them, the players start to go out when they shouldn't and take the piss.
Players don't overly want to go to Sunderland. And I get so much stick from Sunderland fans on my website.
Go on any Sunderland blog or comments site and they'll be hammering the club, the players, everything. Yet if anybody else says something, they go mad.
It reminds me of how English people always moan about England but if a foreigner says the same thing, we get all defensive.
You describe the almost infantile atmosphere in the dressing-room and how footballers struggle to outgrow it once they've left the game. Did you find this transition difficult when you retired or do you think you were better prepared than most?
What struck me is how fucking selfish the outside world really is.
I don't know if that's just directed at me. I suspect it's the result of a bad economy that has bred a "pull the ladder up, Jack" mentality. It's really noticeable.
I'll tell you one thing. We have our faults as footballers but, on the pitch, we were able to feel absolute unbridled togetherness at times that I'll always remember.
Now, for me, I will fuck off all of those people and do something on my terms and try to be a success. But there are players who can't do that, they've only ever known football.
On the outside, people wind down in life towards retirement but in football, in a big percentage of cases, players finish playing and then, the next day, they are alone.
The moment you stop playing football, your wage stops, you lose your friends in the dressing-room, you lose your lifestyle and you lose that adulation from the fans.
You lose your standing – nobody from the Press wants to talk to you — and you lose that feeling of togetherness and that feeling of winning and achievement.
It's fucking scary because you feel that your purpose is over. Everything you've ever known falls off the edge of a cliff in a second and that is hard to deal with.
Remember the stats for former footballers — one in three will get divorced, one in three will suffer a mental illness and one in three will be declared bankrupt.
Doesn't bode well for me, does it?
The Secret Footballer Access All Areas is available to order here.
You can read TSF's blog articles at www.thesecretfootballer.com or follow him on Twitter – @TSF
Helplines:
Console  1800 247 247 – (suicide prevention, self-harm, bereavement)

Aware 1890 303 302 (depression, anxiety)

Pieta House 01 601 0000 or email mary@pieta.ie - (suicide, self-harm)

Teen-Line Ireland 1800 833 634 (for ages 13 to 19)

Childline 1800 66 66 66 (for under 18s)