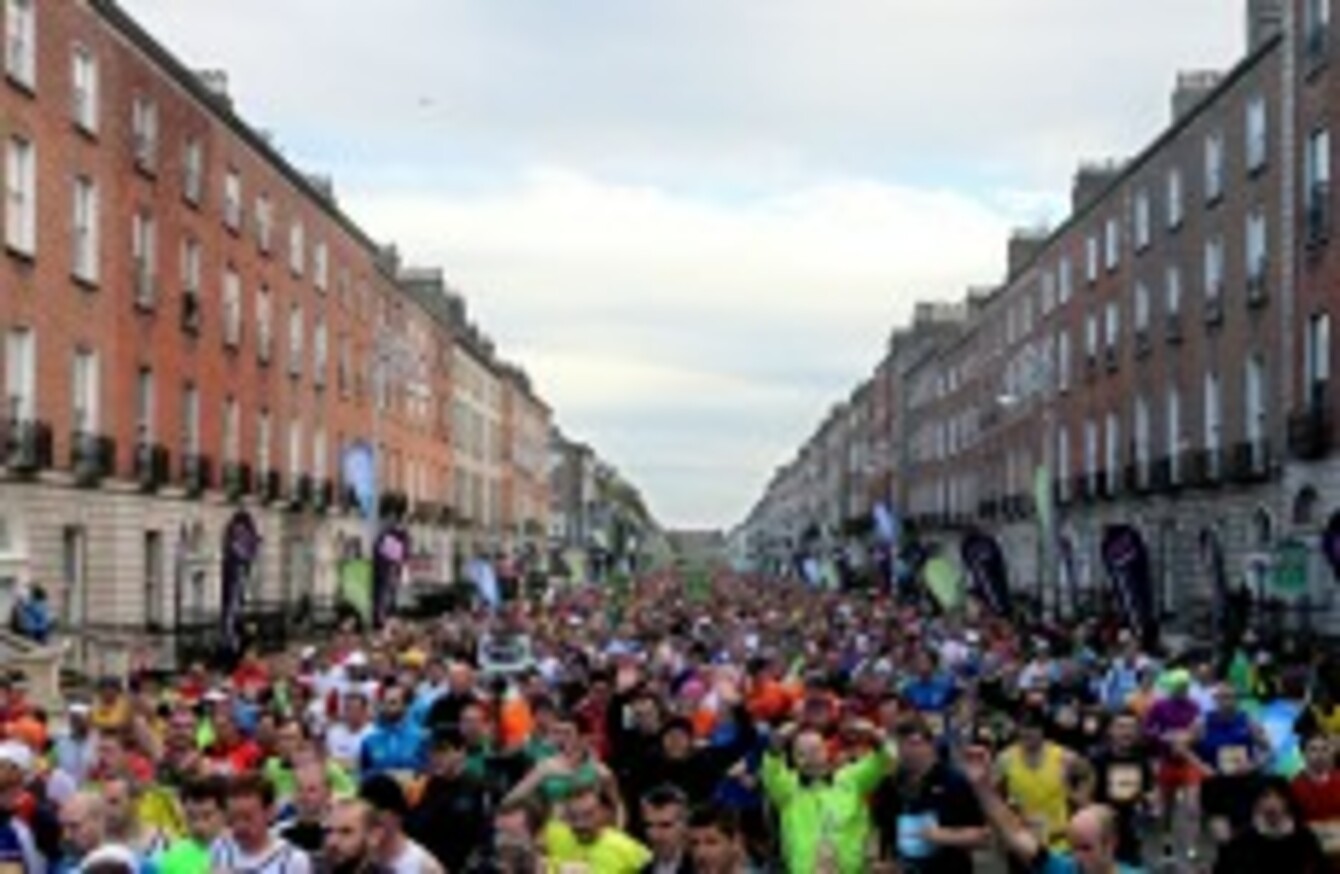 Image: James Crombie/INPHO
Image: James Crombie/INPHO
ONE OF THE county's top marathon runners, Sergiu Ciobanu, believes it is not too late to start training for the Dublin Marathon, which is now just two months away.
The Moldovan-born Irishman, who has won multiple Irish national titles over marathon and cross-country distances, said that while he'd always favour a three or four-month training programme leading into the event, it's not impossible to start now.
"It's never too late but you cannot overdo it," explains the Clonliffe Harriers man. "If someone is in shape and living a healthy lifestyle, they can do it. You need not be doing 100 miles a week but as long as you are living a healthy lifestyle and go for a jog you will be okay. Two months is never too late to put in the training," he added,
"If you put in five or six weeks of training and then two weeks to ease down and taper you can do it. However, at the same time, you cannot do too much and must listen to your body and what it is telling you. I always say three or four months is what you should take because you can stress the body and kill yourself in sessions that way. Two months, you can do a block of hard training for two weeks and then a week easy, then another two weeks, but make sure two weeks before the marathon you ease down and taper."
As regards the specifics, the 2011 Cork marathon winner says; "I can never say about how many miles to do but I always do it on time; I always do maybe two hours (70 minutes morning and 50 minutes evening) when I am training, a few times a week."
But he also warned; "When you start feeling your muscles getting tight and you feel shin splints coming on, you are doing too much. Be sensible in your training and feel your body; listen to your body. It's normal to feel tired when you train for a marathon but be sensible; make sure that you drink plenty of water, eat healthy, sleep a lot — up to eight hours a night or more, take a nap during the day if you can, this is all part of marathon training. This is why you get injured; you do not rest enough. Also, that you are not eating the right foods and drinking enough."
Amongst other things, he believes a massage is a key element in training.
"Massage is very important; I have one a week. But if you cannot afford that, maybe get one every two to three weeks. Get a good massage; 30 minutes is not enough. You need an hour or 70 minutes. Stretches, foam rolling, flexibility, this is all very important as well."
In terms of doing some events between now and the October weekend, it's imperative that these are not taken seriously, and used as training.
"I would advise someone to do some events like the preparation event on October 5th the Belfast half-marathon. There are so many running races around and people can have fun doing these. When you are training for a marathon, don't expect to perform in the lead-up events. You can train three and four days hard before a half marathon but don't expect to perform, use it as a training tempo run. It's very important to taper (ease down) for six days before the marathon. You can race every two weeks but don't expect to perform.
"The most important thing to remember, however, is to stay motivated. Another thing is 'feet on the ground'. I always say this to people; feet on the ground. Don't get too excited. Be realistic, when you do a training session and you're flying, try to remember that it was a training session, don't go drinking after. Don't think you can win an Olympic medal. Stay motivated, be realistic."
In summary…
The marathon is a very personal thing.
It's never too late to start
You cannot overdo training
Listen to your body
Stay motivated
Be realistic
Get a massage
Get your diet and sleep perfect
Drink loads of water
Don't panic if you miss a day's training
Run at your own pace