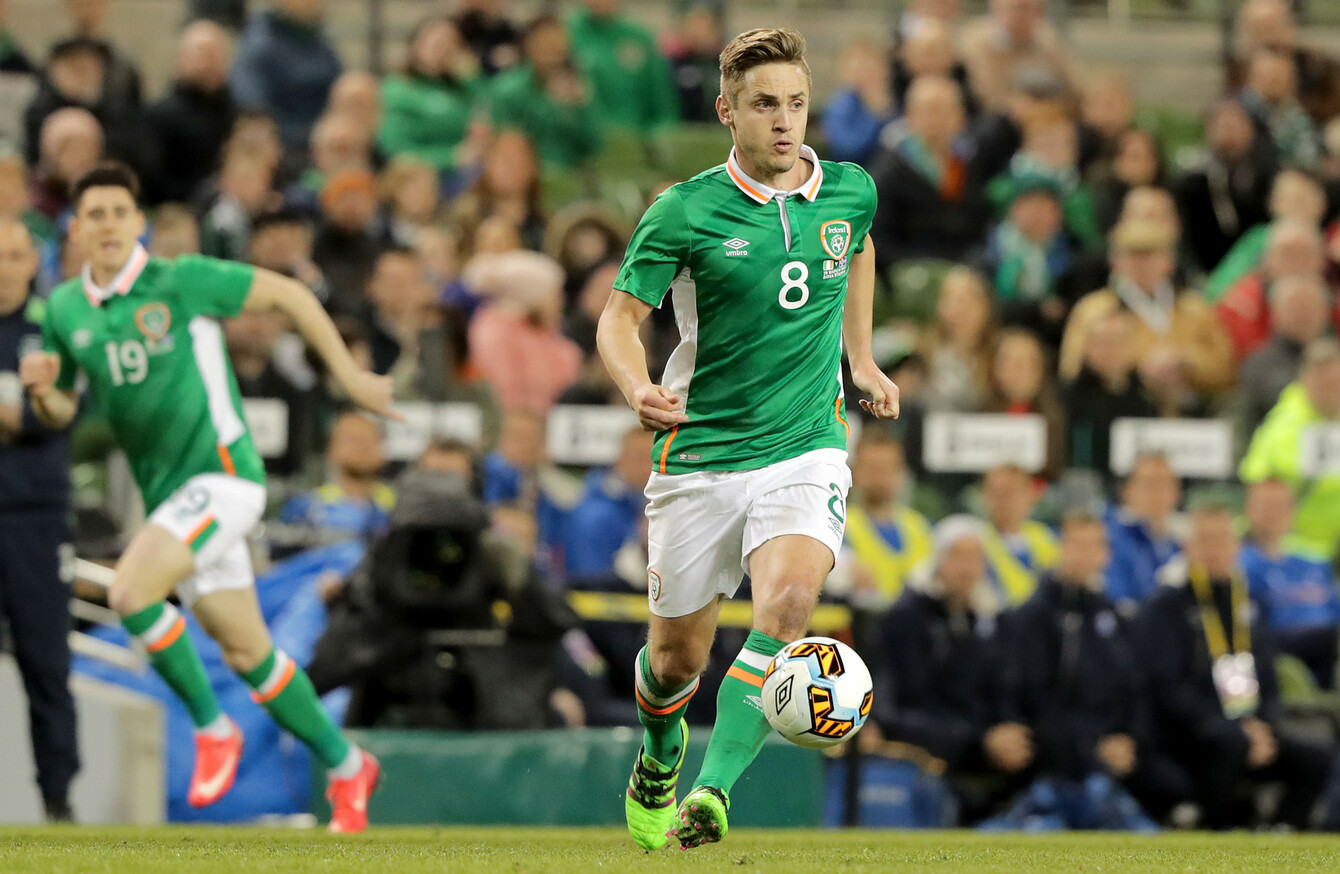 Kevin Doyle retired on the advice of doctors this week.
Image: Morgan Treacy/INPHO
Kevin Doyle retired on the advice of doctors this week.
Image: Morgan Treacy/INPHO
EARLIER THIS WEEK, Ireland striker Kevin Doyle called time on his football career on the back of medical advice.
While we're used to footballers retiring because of medical conditions, it tends to be muscle or ligament damage that is the reason.
But for Doyle, it was concussion, becoming the first footballer in this part of the world to cite brain trauma as the reason for stepping away from the game.
In his statement, the 34-year-old said he had two concussions this year and, after suffering repeated headaches, he consulted with medical experts who advised him the best course of action was to retire.
Consultant Neurologist at St James's Hospital, Dr Colin Doherty — a man at the forefront of brain trauma research in Ireland — says it's something we might see more of in the future.
"Heading the ball is coming under increasing scrutiny," he told The42 this week.
"As you know, it's been banned in some junior soccer in the US but the most compelling story is that several of the England 1966 World Cup winning squad have dementia at a higher rate than the global population.
"These guys are over 65, and at that age, 1% of the population has dementia, so you would expect one in 10 to be affected.
"Having four or five out of 15 or so players, that's a very significant increase.
"They ball was a lot heavier then, and when it got wet it was this concrete block but now that's made up for by the fact that players are a lot faster and stronger now so collisions are a lot more impactful."
Doherty says that the decision for Doyle to retire would not have been taken lightly, and he wonders what it means for other players.
"In relation to Kevin, you'd never stand between a doctor's advice and his patient. They know all the machinations that went on in that decision and I'm sure it was a very difficult one.
They've made the right decision but the most fascinating thing is what that means for other professional footballers.
"This is a sport that people weren't looking at as being a prototypical concussion sport, they way they did rugby or American football, but now we have a high-profile retirement, I think it's very interesting to see what it means for the sport."
Doherty says he and his research team have stopped talking to those in the upper echelons of sporting bodies because they have "no interest" in funding concussion research. Instead, they are focusing on dealing with the players and their representatives.
The plan is to give players a brain health exam — including scans and tests — when they retire, with follow-up tests every five years.
"If you think about professional and elite sports, you're looking at maybe 30 or 40 people who retire every year. So we'd study all of them, and then repeat it every five years.
That would be an unparalleled repository of information. We want to do it over 20 years, and there will be a constant need to fund it, but we're going to do it regardless."
Subscribe to The42 podcasts here: