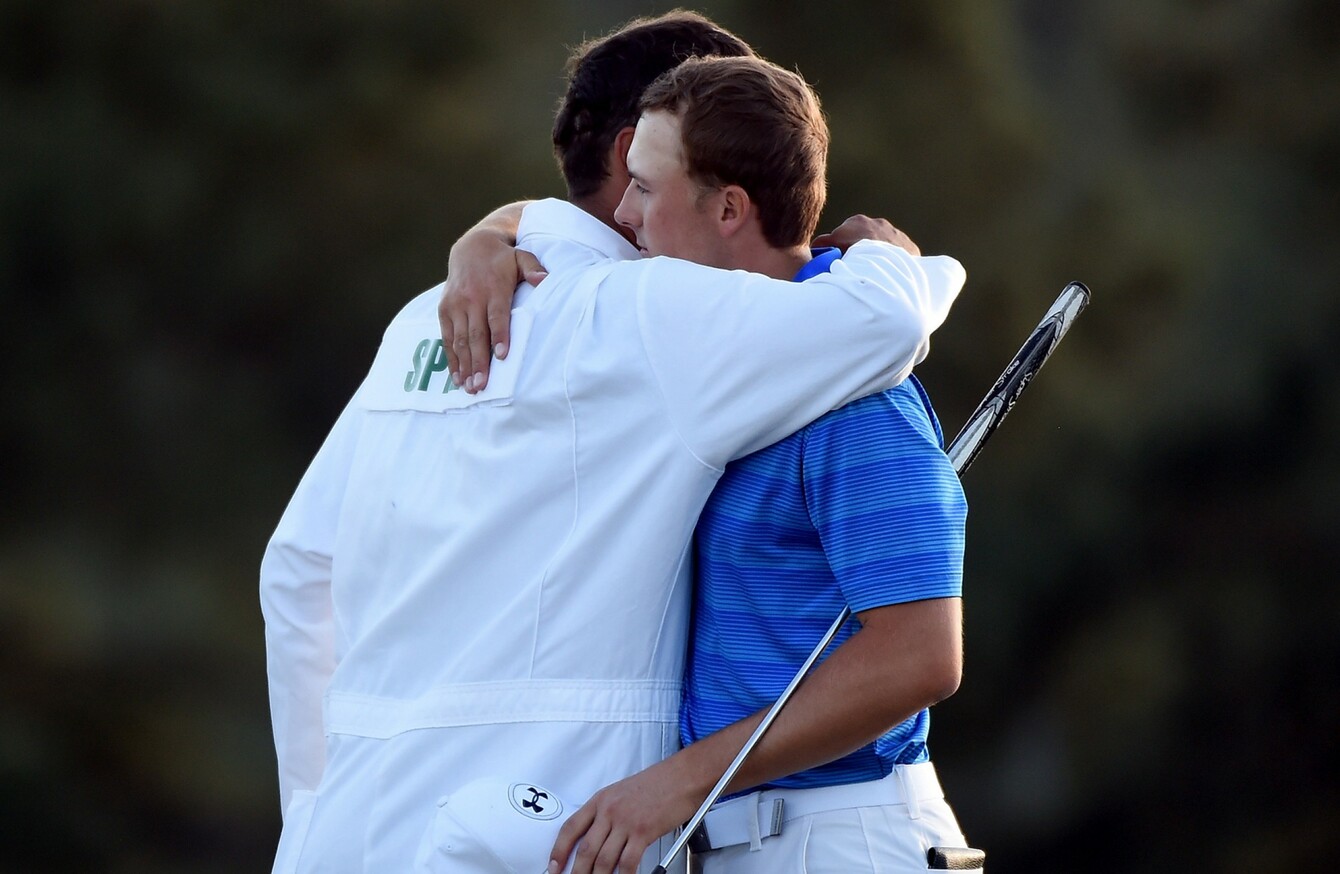 Jordan Spieth and caddie Michael Greller.
Image: Harry How
Jordan Spieth and caddie Michael Greller.
Image: Harry How
JORDAN SPIETH'S CADDIE insists there is no reason to feel sorry for the world number two after his Masters meltdown.
The American two-time Major winner was unable to defend his crown at Augusta after collapsing on the back nine, finishing three shots behind Danny Willett.
A quadruple bogey on the par-three 12th, where he twice found the water, proved particularly costly and he struggled to hide his devastation in an interview immediately after his round.
But his caddie, Michael Greller, put the tournament into perspective, saying there was no reason to feel for Spieth.
"The 2016 Masters stung. Hats off to Danny Willett for an incredible final round, and more importantly, becoming a father," he wrote on Facebook.
"We have received an outpouring of support and thoughtful messages. But don't feel sorry or sad for us. We won't get stuck in this moment, nor should you.
"We will work harder, fight harder and be better for it. We will bounce back as we have done many times.
"At the end of the day, golf is a sport. I am especially thankful to have an unconditionally loving wife Ellie Greller, family and friends who treat us the exact same regardless of wins and losses.
"This isn't life and death stuff. There are far greater struggles that exist in this world than not winning the Masters.
"We are beyond blessed to do what we do. We are grateful to work alongside the greatest golfers and caddies in the world. It is a challenge we relish."
Greller was full of praise for Spieth, who eventually composed himself on Sunday before presenting Willett with his green jacket.
"A wise coach reminded me recently, winning shows your character and losing shows ALL your character," he wrote.
"Jordan continues to model grace and humility through wins and especially losses. The student continues to teach the teacher, and now millions others, just like he did at Erin Hills.
"Jordan Spieth is the same genuine, grounded and humble person he was five years ago, in victory or defeat."