CORK MIDDLEWEIGHT GARY 'Spike' O'Sullivan is being considered as a potential opponent for divisional kingpin Gennady Golovkin should the Kazakh's feverishly anticipated rematch with Saul 'Canelo' Alvarez fall by the wayside.
Following their controversial draw in November's original humdinger, Golovkin-Alvarez II is currently scheduled for 5 May, but the World middleweight championship bout is in serious doubt after the Mexican failed two separate drug tests.
It was revealed earlier this month that Canelo, 49-1-2(34KOs), had tested positive for the banned substance clenbuterol on 17 and 20 February - findings he and his Golden Boy Promotions team have attributed to widespread meat contamination in his homeland.
Despite subsequent backing by both the WBC and WBA, the 27-year-old was on Friday provisionally suspended by the Nevada State Athletic Commission (NSAC), within whose jurisdiction his Vegas rematch with Golovkin was to take place.
The Guadalajara native will have evidence heard on 10 April – though not necessarily in person – in a bid to clear his name, but for now, his sequel with 'Triple G' is on hold; HBO has removed it completely from its scheduled programming, as have Fathom Events – the distributor of the pay-per-view in American cinemas.
Golovkin [37-0-1, 33KOs], meanwhile – in a break from his usual placidity – has lambasted his opponent at every turn, accusing Alvarez of using performance-enhancing drugs even in the lead-up to their original barnburner last September.
The Kazakh bomber remains in camp, and intends to fight on 5 May – be it versus Canelo or otherwise.
AFP / Getty Images AFP / Getty Images / Getty Images
Enter 'Spike' O'Sullivan, the Mahon middleweight who – along with his promoter Ken Casey – has recently all but confirmed longstanding rumours that there are plans in place for him to fight Canelo in September, regardless of the outcome of a now-precarious Golovkin-Canelo re-run.
In order for this clash to come to fruition, it's understood Spike would first have to win a de-facto semi-final bout in Las Vegas on 4 May.
But while an agreement for him to trade leather with the flame-haired Mexican remains tentatively in place pending the latter's hearing, The42 understands O'Sullivan is also 'in the mix' to face Golovkin should Canelo's suspension be upheld by the NSAC.
O'Sullivan is one fight into a four-fight TV deal with Golden Boy, but is not contractually bound to Oscar De La Hoya's stable. He is now being considered as a potential replacement for the Golden Boy-promoted Canelo should Golovkin find himself left without a dance partner for 5 May.
Naturally, O'Sullivan's team are interested in the proposition, which would see him challenge for the WBC, WBA and IBF World middleweight titles and earn a fortune relative to his past 29 fights.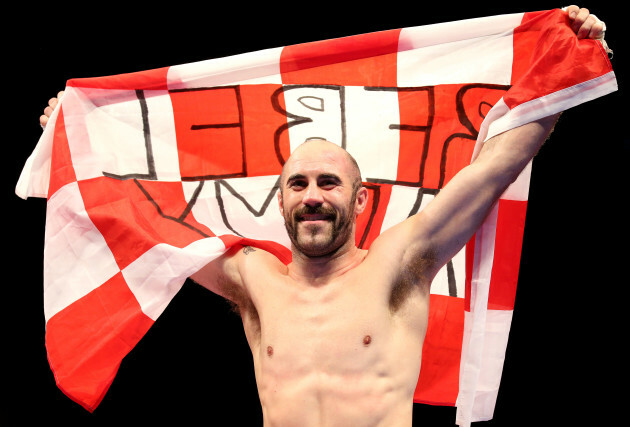 Ryan Byrne / INPHO Ryan Byrne / INPHO / INPHO
The world top 10-ranked Irish puncher has buckled down over the past 12 months, and is enjoying a long-awaited career peak as a result: last September, O'Sullivan stopped Liverpudlian Nick Quigley live on ESPN, and followed it in December with another career-best performance and victory versus US prospect Antoine Douglas – an enthralling triumph also broadcast live by the self-proclaimed Worldwide Leader.
American southpaw Demetrius Andrade [25-0, 16KOs] is also a contingency option for Golovkin, but unsurprisingly the Kazakh's representatives remain hopeful that Canelo will ultimately lace up as planned for the pair's megabucks rematch on Cinco de Mayo.
Should Canelo be cleared to fight in Vegas, O'Sullivan should at the very least take to the ring in the same city a day earlier – versus a so-far unnamed contender – with the carrot-topped Mexican being dangled thusly ahead of a prospective September encounter which too would yield life-changing rewards for the Cork man.