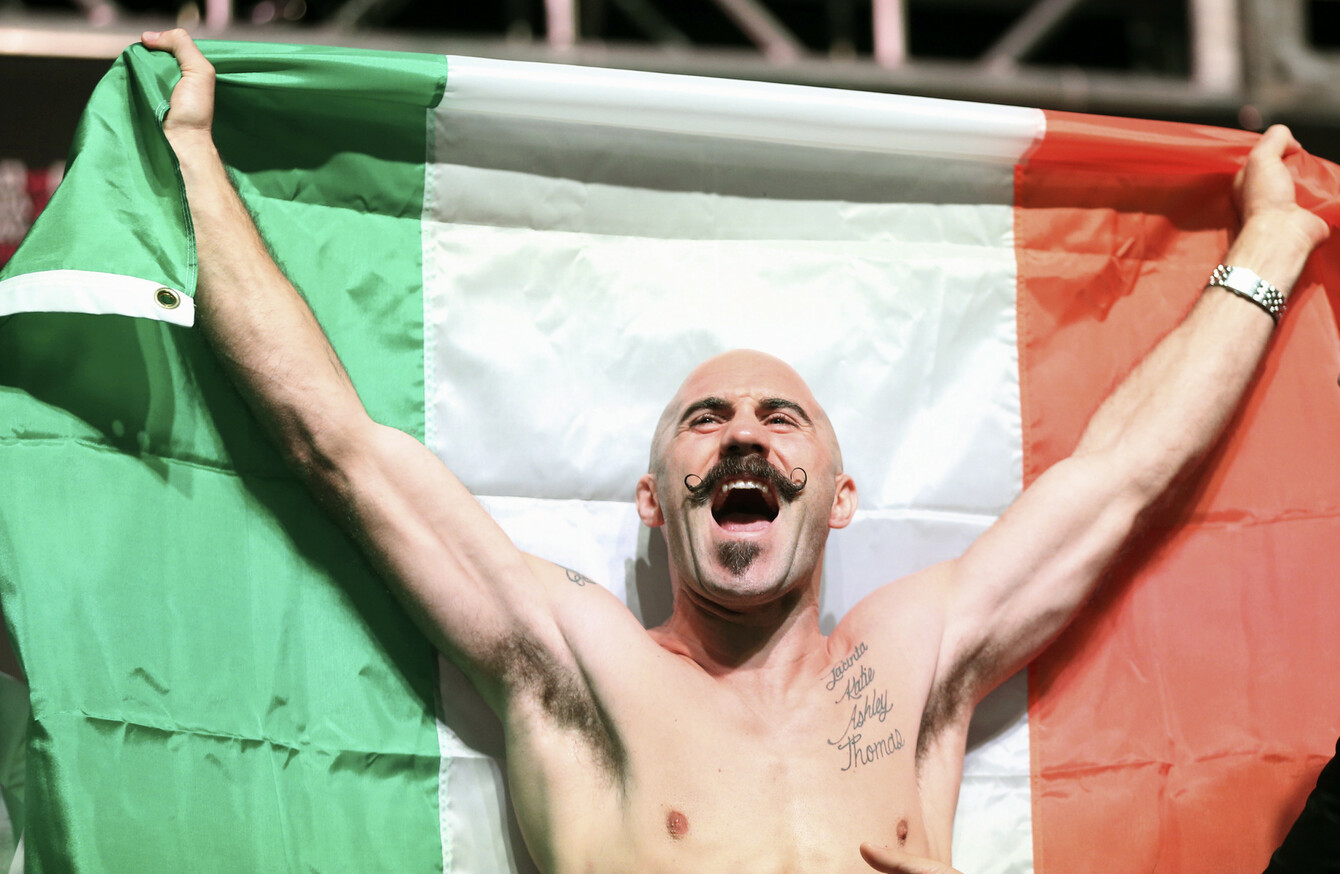 Image: Erik Verduzco
Image: Erik Verduzco
A FORMER BUTCHER with a qualification in tree surgery. A trainee pilot who has taken Premier League champion Vincent Kompany on the mitts. Even in the weird and wonderful world of Las Vegas, Gary 'Spike' O'Sullivan stands out from the crowd.
His Sin City debut has been a long time coming, but with 10 years as a professional, 28 victories and two numbing defeats under his belt, the 34-year-old believes he has arrived in the desert at the perfect time.
"I feel like my stars have aligned," he tells The42. "People talk about destiny a lot but that's how I'm feeling about this fight."
Spike faces the fearsome puncher David Lemieux, a former world champion, as part of the televised undercard for Gennady Golovkin's highly anticipated rematch with Saul 'Canelo' Alvarez at the T-Mobile Arena.
Victory is likely to set up a shot at the winner, and it is not out of the question that the fight could take place before 2018 is out.
Lemieux, however, insists he is in a different league to Spike and has told anyone who will listen this week that he is out to seriously hurt his opponent. The Mahon puncher has also been vocal during a volatile build-up, peppering the French Canadian with insults ranging from 'greasy piece of shit' all the way to 'fucking asshole'.
But while he has been happy to play the mouthpiece in front of the cameras, O'Sullivan and his trainer Paschal Collins have maintained a steely focus behind the scenes.
And, sitting down in a quiet room away from the media glare, the former Irish champion opened up on his recent decision to quit drinking as he bids to ensure his fighting career ends as world champion.
"When I step into the ring it will be 28 weeks to the day since the last time I had a drink," he says.
"I never touched drugs but I loved drinking – having the laugh, hanging around with the lads and getting drunk. I'm a bad messer, you know? I could do 16 pints in a session, easily.
"And we're here in Las Vegas, which is all about partying. But to tell you the truth, all of this doesn't impress me. I'm here to do a job.
"I really do think that's me done with drinking for good. I certainly hope so.
I'm not in Alcoholics Anonymous but I know a lot of guys who are and they tell me to take it day by day — don't try and commit to it forever because the thought of that is too daunting. Then you want to have a drink because you think, 'Jeez, I'm never allowed a drink again.'
"But you know what, it's a fool's game anyway."
Not only does Spike believe he is now physically primed for a fight, he says winning his battle with the booze has also made him a better father to his four children.
He adds: "If I had a few cans and my daughter wanted me to read her a story maybe I wouldn't feel like it – 'Daddy's having a can.'
But what's more important? Reading your daughter a book or having a can on a Saturday night? I said 'fuck it – I'm done.'
"Now I've gone totally the other way, especially here in Vegas, when I see it, it revolts me. That's how I'm feeling now.
I used to have a few cans on a Sunday but now I can drive I take my six-year-old daughter Ashleigh out for some chocolate cake. It feels so good. I can't describe how happy the experience makes me. I'd take it over a few cans every day of the week.
See Sport
Differently
Get closer to the stories that matter with exclusive analysis, insight and debate in The42 Membership
Become a Member
"I think my body is reaping the benefits too. Mental clarity, everything is more in tune. I'm a better dad, a better human and definitely a better fighter."
O'Sullivan openly admits he nearly turned his back on the sport altogether when he was beaten by Chris Eubank Jr in a world title eliminator back in 2015.
That night, Collins made the decision to pull his man out at the end of the seventh round after Spike had shipped some heavy punishment at the hands of the rising Brighton star.
Like this showdown with Lemieux, the build-up to O'Sullivan's clash with Eubank had turned personal and Collins believes the Corkonian was far too 'emotionally involved'.
But the Celtic Warrior boss says lessons were learned that night which will stand him in good stead during another career-defining fight three years on.
"You've got to keep a lid on it," Collins said. "When he fought Chris Eubank Jr it was very personal and he got very emotionally involved.
"In the first couple of rounds he was throwing bombs and exerting a lot of energy.
That fight was good for Spike to realise you can't do it like that – you're not going to sustain 12 rounds like that. When you get emotionally involved your breathing goes, you waste a lot punches.
"Now he's better prepared to handle a fight like this," Collins continues. "It's his 31st fight so I don't worry about him.
When he fought Chris Eubank he thought he was living the life but he wasn't. With a loss like that, you can either retire or change how you live, sacrifice parts of your life and do everything right.
"Since his debut back in 2008 we have taken it one fight at a time and there have been some real hard, tough times.
"But we're like family, I have helped him through his bad times, been there for his good times and been around his family.
Oh my God, he has been through some really, really dark times in his life, too, but it's like the old saying: whatever doesn't kill you makes you stronger.
"He's mentally strong, he's had issues outside his life which he carried into the ring but now, like he says, he believes his stars have aligned.
"Spike believes he can beat absolutely anybody – that includes Triple G or Canelo."
The42 is on Instagram! Tap the button below on your phone to follow us!