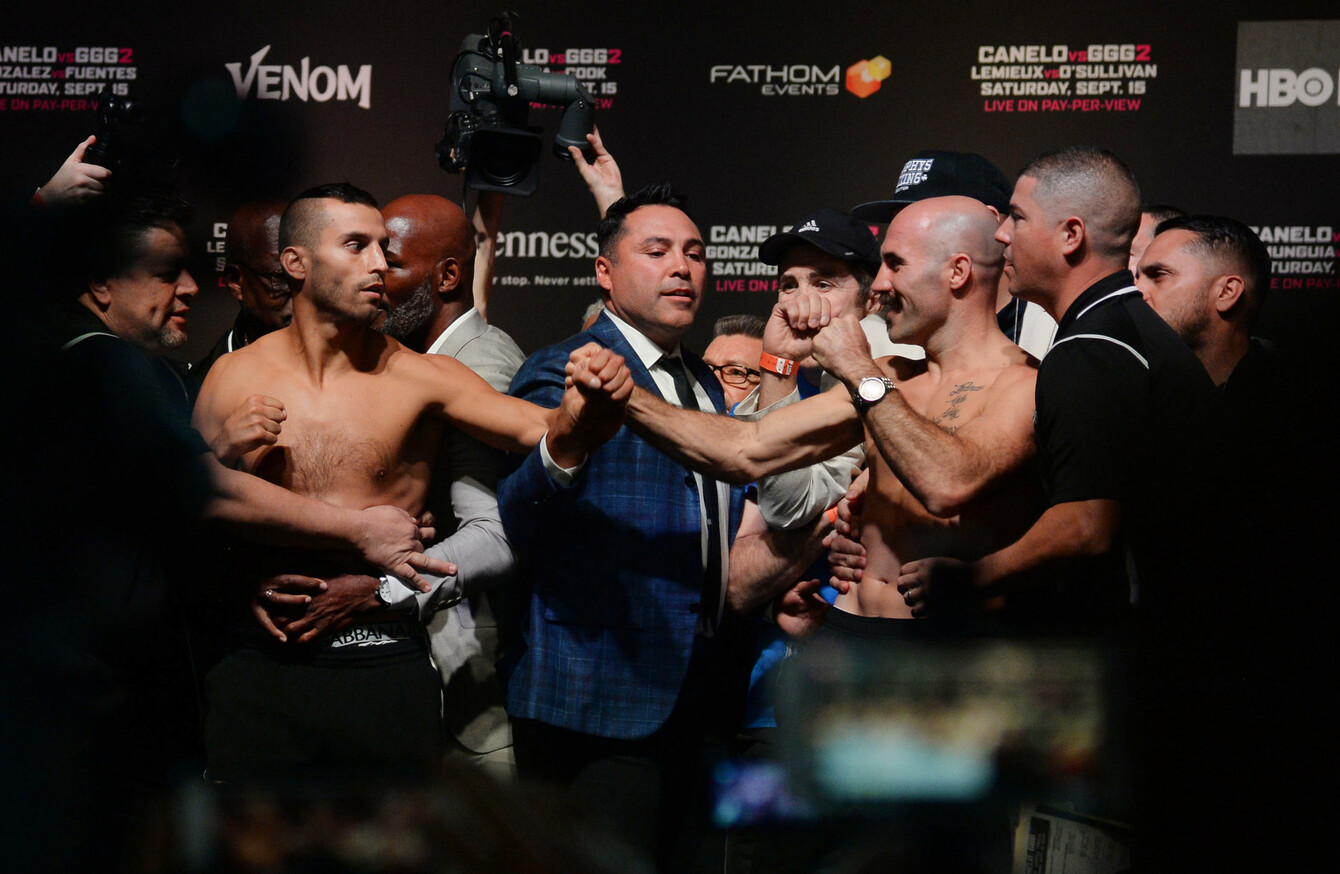 Image: SIPA USA/PA Images
Image: SIPA USA/PA Images
GOLDEN BOY PROMOTIONS president Eric Gomez says victory for Spike O'Sullivan tonight will see the Cork man become the leading contender to face not only the winner of Canelo Alvarez and Gennady Golovkin's feverishly anticipated rematch, but the winner of Billy Joe Saunders' WBO title defence against Demetrius Andrade, too.
Gomez also told The42 that Golden Boy have had several "conversations" about hosting a card in Ireland, and have promised Jason Quigley a "special occasion" fight night on home soil once he becomes one of the foremost figures in the middleweight division.
O'Sullivan, 34, faces fearsome puncher and former titlist David Lemieux on the undercard of Canelo-GGG II at the T-Mobile Arena in Las Vegas tonight.
Some of the Canadian's trash talk has strayed well south of the belt, with Lemieux claiming on Thursday that he wants to 'damage Spike for life' when they square off at centre-ring — comments the Mahon man described as "terrible."
Tensions rose further at Thursday's press conference, with O'Sullivan twice labelling Lemieux a "little greasy piece of shit" and causing a minor skirmish as he got up close and personal during the fighters' staredown.
It kicked off again during Friday's weigh-in, with Lemieux taking umbrage as Spike broke into a bareknuckle pose during another faceoff, pointing his right fist in the dirfection of the former champion's chin.
Oscar De La Hoya was forced to intervene, and not merely for show.
Como se preveía, el peleonero irlandés Spike O'Sullivan puso el show en el cara a cara con David Lemieux. "Vi el miedo en sus ojos y podía oír su corazón", dijo O'Sullivan, el de los bigotes con puntas

Vía: @PepeCamarillo pic.twitter.com/WQpGa2rSbp

— Esto en Línea (@estoenlinea) September 14, 2018
All of which makes Spike-Lemieux a promoter's dream, and Golden Boy president Gomez is of the belief — probably rightly — that the fans, too, will be satisfied by what's bound to be high-octane, explosive action in the lead-up to the main event.
That leaves only the two combatants in question, and Gomez insists that the winner of tonight's crossroads battle will have propelled themselves to the top of the queue as far as world title contention is concerned.
"If Spike wins this fight, I think he becomes the frontrunner to face the winner of Canelo and Golovkin," Gomez tells The42.
"And that's what he wants — he wants nothing more than to fight the winner of those two. And beating a name like David Lemieux will get him that much closer.
Whoever wins between Spike and David Lemieux is definitely going to be the best contender for any of the champions at 160 pounds — any of them. That's a great position to be in.
"It's a very, very tough fight, but at the same time I think that Gary — Spike — has been getting better with every fight [recently].
"The styles are going to dictate what kind of fight we're going to get: both guys are very aggressive. David Lemieux is not the 'boxing' type of fighter who moves around — he's going to be right in front of Gary.
"And Gary, as well, comes forward and uses different angles, he mixes up his punches very nicely.
It's a can't-miss fight. To be honest, it could very well steal the night — it could be the fight of the night.
O'Sullivan will pocket an undercard-topping sum of €350,000 for his troubles, and granted, there could be plenty of them when he steps in the squared circle with the concrete-fisted Canadian.
But should he have his hand raised tonight, the potential spoils for the Cork man could reach the millions — particularly if Canelo Alvarez follows suit an hour or so later.
Spike was tentatively scheduled to meet the flame-haired Mexican this autumn until two failed drug tests and a backdated six-month suspension for the lineal champion put the kibosh on everything, including the original Canelo-Golovkin rematch date in May.
Gomez confirmed that Canelo vs Spike was indeed on the table along with a couple of other routes towards world titles, and believes that if the latter can see off Lemieux as promised, it could be only a matter of time before it's back in play.
"We talked about different scenarios, and that was certainly one of the scenarios — a Canelo vs O'Sullivan fight in the fall or the winter," he says.
"Things changed ever since we lost the [Canelo-GGG II] fight in May — obviously we're now doing it this Saturday.
"But we had two or three different scenarios that we spoke to Packie [Collins] about, and Packie and Spike were both on board with all of them.
In our conversations with Spike, there's only one name that he has mentioned to us that he wants, and that's Canelo. He wants to fight Canelo. Obviously, if Golovkin was to win the fight, Gary is open to fighting Golovkin as well, but the fight he really wants is Canelo.
"I think that right now, Gary's focus is on David Lemieux — and that's what it should be on — and if he puts in an impressive performance and wins, he's definitely going to be the frontrunner for any champion."
What are they
really like?
Rare insights on sport's biggest names from the writers who know them best. Listen to Behind the Lines podcast.
Become a Member
"He fought for us in Boston [vs Nick Quigley] on ESPN, and he caught our attention," Gomez explains of the Golden Boy-O'Sullivan link-up. Oscar De La Hoya's outfit currently co-promote the Irish contender along with Murphys Boxing.
"He had a very good performance, and that's what brought us to working with him towards the Antoine Douglas fight.
We knew the Antoine Douglas fight was going to be a very dangerous fight — it was a tough fight — and Gary proved everybody wrong when he won that fight. He put in a great performance, the ratings were very good, and that's what really started the relationship [between Golden Boy and Spike].
O'Sullivan joined Donegal middleweight Jason Quigley and welterweight prospect Aaron McKenna of Monaghan in Golden Boy's promotional stable, but he did so having laid the foundations of his career in this neck of the woods.
Quigley and McKenna have fought their entire careers on U.S. soil, with the former — who headlines on ESPN on 18 October — especially persistent in his vows to bring big-time boxing back to his homeland.
Gomez confirmed that a Golden Boy show in Ireland has been discussed in-house and remains a distinct possibility for the not-too-distant future.
But either Quigley [14-0, 11KOs] or McKenna [5-0, 3KOs] will need to reach the summit of their division firstly, he says, in order for a titanic transatlantic event to come to fruition on these shores.
"Oh, it's definitely possible. We've had conversations about that — we're open to it.
"The key is to make these guys household names not just in Ireland, but also here in the United States.
But we've had conversations with Jason Quigley, and that's one of his wishes — to fight at home in Ireland — and we told him that we're going to make that happen. What better place to maybe fight for the world title or defend it?
"And the same goes for McKenna, who is progressing very nicely.
We're open to it. It has to be the right situation: we don't want to just go and have a fight in Ireland — we want it to be a special occasion.
"Either a world title fight or some sort of world title defence as soon as one of those guys wins a title — that's a big possibility."
The42 is on Instagram! Tap the button below on your phone to follow us!