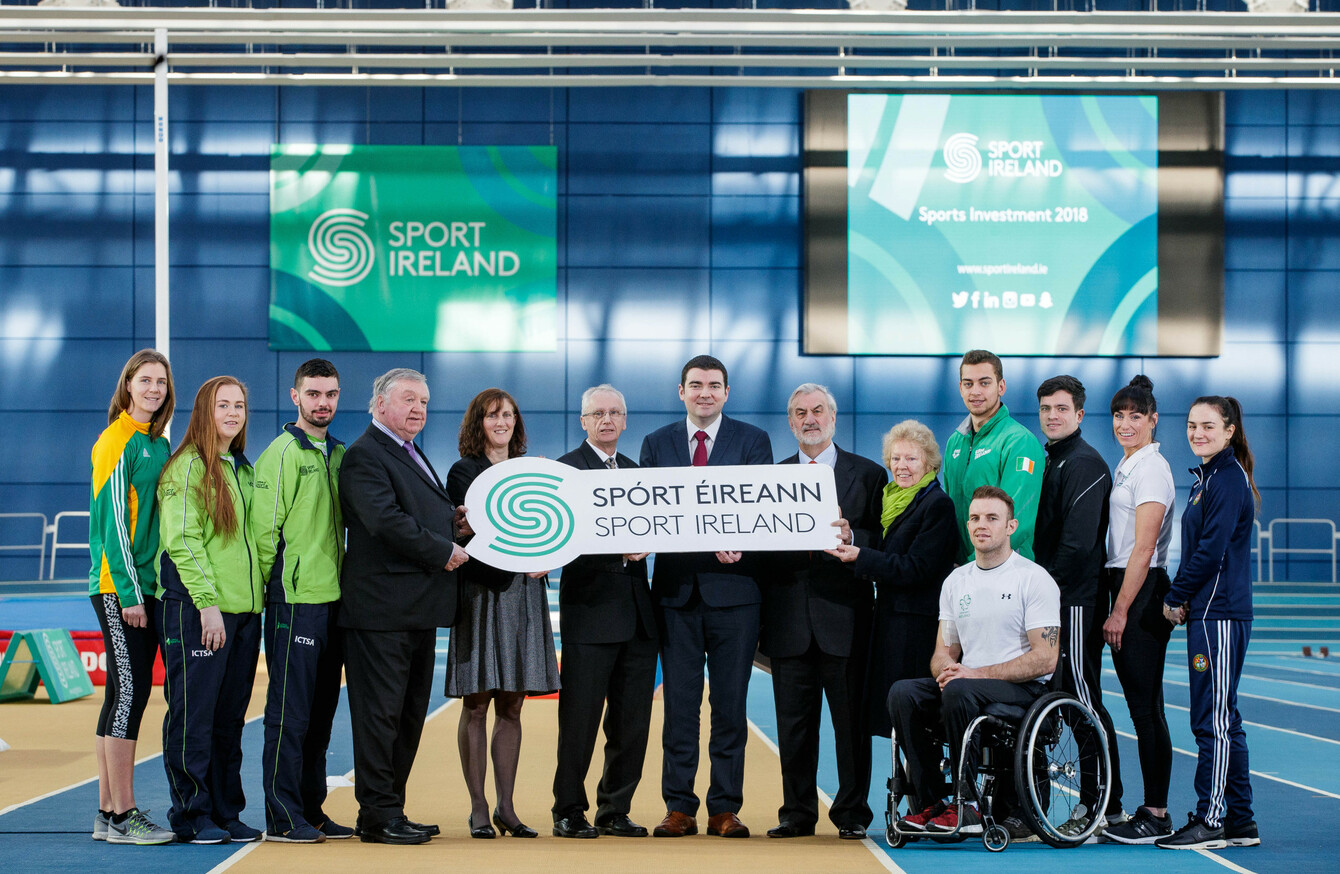 This morning's announcement took place at the National Indoor Arena in Abbotstown.
Image: Ryan Byrne/INPHO
This morning's announcement took place at the National Indoor Arena in Abbotstown.
Image: Ryan Byrne/INPHO
SPORT IRELAND HAS today announced its investment package for National Governing Bodies (NGBs) and High Performance Programmes for 2018.
In no change from last year, total Government funding for the next 12 months amounts to €20.7 million, which includes €10.8 million to be invested in the core activity of NGBs, €600,000 to the Women in Sport programmes and €7 million in High Performance programmes.
In announcing the investment, Minister of State for Tourism and Sport, Brendan Griffin TD, also confirmed €380,000 in targeted funding for High Performance projects have been allocated to five NGBs to assist with their preparation for key events in 2018.
Sport Ireland also confirmed that in 2018 the International Carding Scheme is tracking for €1.9 million and athletes who will be in receipt of individual grants for the year will be announced in the coming weeks.
"Sport Ireland places National Governing Bodies at the very centre of our work," John Treacy, Chief Executive of Sport Ireland, said.
"This investment through the Core Allocations increase the input of resources into National Governing Bodies' operations and ongoing development and we have confidence that there will be a significant return on that investment, with more people being given the opportunity to take part in sport.
"The investment through the Women in Sport Programme will continue to assist National Governing Bodies in providing opportunities for women to get involved in physical activity and supports women's roles within sporting organisations."
With funding levels pretty much static across the board, the one NGB to receive a notable cut was Athletics Ireland, whose High Performance allocation was reduced from €835,000 to €790,000.
In addition, Sport Ireland secured additional funding to support the NGBs who are hosting or participating in events over the next year, with these one-off grants provided by the Department of Transport, Tourism and Sport.
Events being supported include Ireland's participation in the World Equestrian Games, the hosting of the World Amateur Team Golf Championships, Ireland men and women at the Hockey World Cups, the IPC European Para Swimming Championships which will be hosted in the National Aquatic Centre and the Special Olympics Ireland Games.
Minister Griffin commented: "I am pleased to announce the 2018 funding for National Governing Bodies of sport through Sport Ireland Core Grant Funding, the Sport Ireland Women in Sport programme 2018, and our High Performance programmes 2018.
"The valuable work of our national governing bodies in providing opportunities for people of all ages, backgrounds and abilities to get involved in sport cannot be underestimated.
"The funding announced today will support this vital work, as well as furthering Ireland's ambitions at the highest level on the international stage. 2017 was a fantastic year for Irish teams and athletes and we look forward to that success continuing into 2018 with this funding enhancing our programmes and assisting our athletes to reach their potential."
The42 is on Instagram! Tap the button below on your phone to follow us!