BEFORE LAST YEAR'S U21 All-Ireland final, Tyrone conducted detailed analysis of the Tipperary goalkeeper's kickouts and the Premier County's defensive system.
Tyrone's analyst found that the goalkeeper's routine indicated which direction he was going to give to ball and whether the delivery would be short or long. The research also revealed that the goalkeeper's long ball always went to his left.
Tyrone also discovered that Tipperary were very difficult to penetrate from central areas but were vulnerable out wide.
The use of this intelligence helped Tyrone to turn over a Tipp kickout, break down the wing and claim the game's only goal; the crucial score in a 1-11 to 0-13 victory.
It is those fine margins that are now making the difference in Gaelic games. That win gave the entire county an incredible lift, as Peter Canavan recently explained in an interview with The42. It was the county's first All-Ireland title at that grade since 2001, just two years before the Red Hand County claimed their first senior All-Ireland.
Professional sports, of course, have led the way with regards performance analysis but the GAA, at club and inter-county level, is starting to catch up.
Canavan was a selector for that Tyrone U21 team, so it's easy to understand why he is a big advocate of this sports science.
When asked about performance analysis, a relaxed Canavan leans forward and sparks to life like a corner forward who sees the ball coming his way two moves ahead.
The Tyrone legend sees the use of video technology, which has developed exponentially in its level of detail, as an essential tool for a modern coach who wants to be successful.
"Performance analysis has changed the game," Canavan told The42.
Coaches would be foolish not to take on board any information they can get regarding a game and regarding players.
"I think the Irish Sports Council carried out a recent survey of Irish coaches and something like 94 per cent of Irish coaches are using performance analysis and they would like to get more training on it."
Coaches in Gaelic games, of course, are tight for time as it is. But Canavan believes they must make room for this kind of research, and have an expert in the field as part of their management team. The proof is in the pudding.
"The dilemma facing a lot of coaches, in Gaelic games anyway, is getting the time to go through the game in detail and get the time to speak to players individually. In terms of moving the game forward I think it's a must for young coaches now.
"Some counties have embraced performance analysis over the past number of years more than others. And I think those counties that have done that are at the leading edge."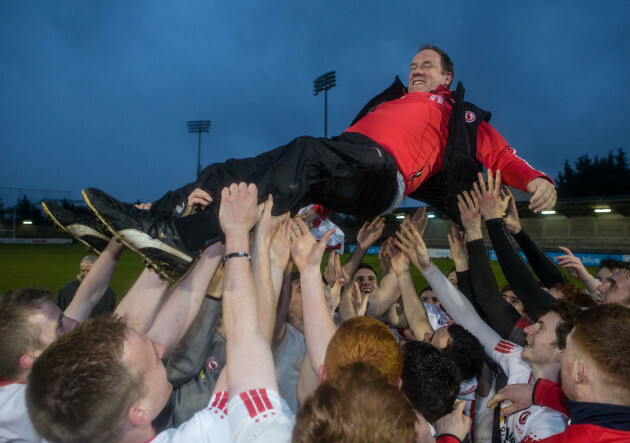 Cathal Noonan / INPHO Tyrone's U21s hold manager Feargal Logan aloft after their All-Ireland win. Cathal Noonan / INPHO / INPHO
With 30 players on the field at any given time, the tactical permutations can be overwhelming for coaches. And no matter how competent the coach may be, everyone can learn from performance analysis, Canavan insists. Although some can be difficult to convince.
"As it's 15-a-side you have so many players to work with and so many different styles of football and hurling. These are exciting times in terms of watching the game evolve and performance analysis is a crucial part of that.
"There's so much movement on a Gaelic pitch now that it's impossible to see everything.
"A lot of managers and coaches are old school and they have two eyes that tell them what's going on. And they think they don't need to be watching video footage.
But it's amazing when you watch a game again how many things that you pick up that you didn't realise at the time.
"Gaelic games has undergone a major sea change in terms of tactical nuances and in this past three or four years in particular. You can attribute a large portion of that to the Jim McGuinness methodology."
The performance analysis program that Tyrone's U21s used, Performa Sports, has also been taken on board with the school teams at Canavan's workplace, Holy Trinity College in Cookstown.
Video analysis has existed for a number of years in GAA but this kind of program is player-focused, and using a cloud-based system allows the players to view the clips that are relevant to them on their tablets or smartphones at their leisure.
Canavan admits that he would have loved to have such a learning tool during his inter-county career, one that saw him claim two All-Ireland medals and cement his status as one of the best footballers of the past 30 years.
"What player wouldn't want to analyse their performance after a game?" Canavan asks.
"Any player who is playing at county level is ambitious and they're obviously talented and they want to improve. And if they don't want to improve, they should want to improve.
"When I was a player I would have loved to have been given a highlights package at the end of every game of my contribution to the game. In terms of with the ball and maybe without it. It would certainly make you think.
"I think the majority of young players now want to improve and learn. They're great with technology at the minute between phones or iPads or whatever. It's not a problem. So much information can be delivered at the push of a button. And that's going to lead to player, and team, improvement."
Player's perspective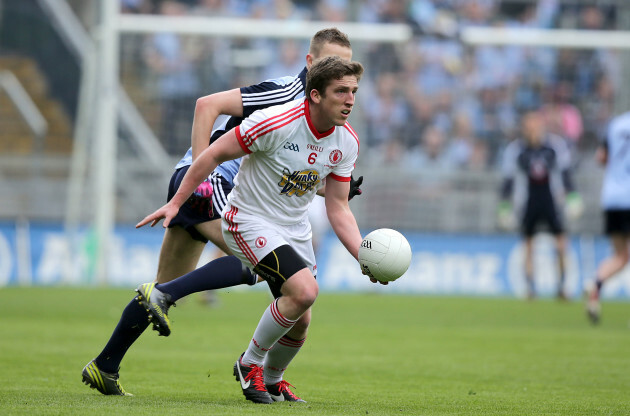 Morgan Treacy / INPHO Dermot Carlin has seen the benefits of performance analysis first-hand. Morgan Treacy / INPHO / INPHO
Double All-Ireland winner Dermot Carlin admits that player-focused footage has been much more effective than the traditional team video sessions.
Carlin, who retired from inter-county football with Tyrone last year, finds that players respond better to clips of themselves and enjoy being able to access the information on their own time, often ahead of the next training session.
"We have used video analysis before but it was always as a team," Carlin said.
"We were looking at clips from team play and often the clips were all about somebody else. Now it has been brought to a player level.
"You'd be sitting in meetings for Tyrone and none of the clips would be of you. And sometimes some of the guys would switch off.
"The ease of access to use it yourself and look at it at home yourself, that's the huge advantage. Even if you're not getting on you can look and see why you're not getting on, it's all about self-improvement."
Killyclogher clubman Carlin, 31, is another who clearly believes the technology leads to obvious improvement on the field.
His club have made giant strides since they started using performance analysis, and he sees that as no coincidence.
"We've been using Performa Sports for two years now in our own club, and we were fighting relegation for years and years.
"The first year we used this system we won the league and the second year we got to the county final and were beaten by a point (against Trillick).
It has definitely helped us. It has given us a focus. Yes, we've worked hard before but we could never actually see it. And that is a boost for players.
Exclusive Six
Nations Analysis
Get Murray Kinsella's exclusive analysis of Ireland's Six Nations campaign this spring
Become a Member
Carlin knows some other clubs in the county are using similar programs and believes it's only a matter of time before it becomes commonplace across the country.
"Hopefully the other clubs don't invest in the software because that means we'll still be ahead of the game. I'd imagine they will. There are clubs using different things.
"It's something that I think will become more and more common as people start to see its benefits."
Coaching coaches
Professor Chris Cushion of England's world-renowned Loughborough University has been studying the behaviour of coaches for about 15 years. And he argues that if the camera is watching and analysing everything a player does, surely the coach's behaviour is equally, if not more, important.
"I've been arguing that we put the camera on the players a lot and do a lot of analysis on what the players are doing. And I've been arguing for about a decade that if it's good for the players then why are we not doing the same kind of analysis with the coaches," Cushion reasons.
The professor believes that coaches, like players, do things that they don't even realise. And their behaviour is another variable that can affect the outcome of a game.
He considers it similar to an amateur golfer seeing their swing captured on camera for the first time. The flaws are obvious once you have the equipment to reflect on it.
"It's about putting the camera on the coach in training and in games. Then you have software that codes and breaks up coaching activity which produces data. You can then sit down with the coach and say 'this is your behaviour' and question how that is linked to what you are trying to achieve with the players."
But Cushion admits that some coaches are less receptive to the information than others, as many find it difficult being on the other end of the analysis.
It's a bit hypocritical isn't it? If they're happy to put the camera on the players but not happy to put it on themselves.
"The issue is coach self-awareness. A coach will very often think they are doing something and behaving a certain way and they are actually not. And that can be quite challenging to change.
"It's body language, it's the way that they speak. It's the assumptions they make around the messages they think they are putting across. The nasty habits they have, that kind of thing.
"When they see it, they often say, 'I can't believe I do that!'".
Cushion's software, an iPad application that he developed in tandem with Performa Sports, is already being used by analysts at a number of football clubs in England including Chelsea, Southampton, Wigan and Plymouth Argyle.
Another of those clubs is Leicester City, where Dubliner Sean Rooney works with the Foxes' academy coaches on their behaviour and how it affects their teams.
"I have taken Chris' software and adapted it and used it in the context of Leicester," Rooney said. "I work with all of their coaches from under-9s to under-21s.
"I generate a coach profile after analysing the statistics from three or four sessions and I sit down with the assistant coaches and chat about the coach I'm analysing.
"We sit down and talk about the statistics. They're often surprised by what you find. By and large we're starting to get some positive results and get some really positive feedback on it."