1. ELEVEN YEARS HAVE passed since the Open at Carnoustie when Harrington became the first Irishman in 60 years to win a Major, and McIlroy served notice of his prodigious talent as the leading amateur. A few weeks later, Rory had travelled to Dublin and spent some time with Pádraig at his home but had they shared anything since?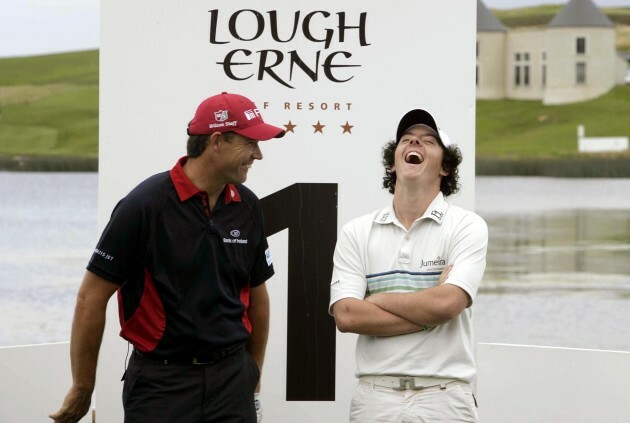 Presseye / Darren Kidd/INPHO Harrington and McIlroy back in 2009. Presseye / Darren Kidd/INPHO / Darren Kidd/INPHO
A plane ride? Dinner? A tee time? Lunch? A practice round? Coffee? A text message? The evidence was scant. They played the same game and shared the same world but lived on different planets: Pádraig was from Mars, Rory was from Venus.
What if we brought them together?
Rory McIlroy and Padraig Harrington sat down with Paul Kimmage of the Irish Independent for an in-depth and wide-ranging conversation.
2. PSG can keep beating Madrid and Barcelona in the transfer market, at least for players whose agents prioritise money over football. But even if the signings of 2018 prove to be as stunning as those of 2017, it's hard to see how they can reach the level of those clubs on the field while they don't stand for anything more than the idea of delivering the Champions League for Qatar.
A great coach could give them a sense of mission, but PSG have Unai Emery, who gives the impression he doesn't believe he still has the confidence of the club.
Ken Early delved deeper into PSG as a club for The Irish Times on Monday.
3. Just past noon Monday (Sunday night in the U.S.), Lindsey Vonn was laughing. Not just laughing, but cackling. A little while earlier she had completed the second of three official training runs in advance of Wednesday's downhill, finishing third despite largely experimenting with her potential racing line and only occasionally punching the gas pedal. She is 33 years old, the best women's ski racer in history and a major threat to win a medal—possibly gold—in the downhill. She would become the second woman to win the Olympic downhill twice (Vonn took gold in 2010 in Vancouver, and Katja Seizinger of Germany won in 1994 and '98).
But that's only part of the story of the moment because well, because: 2018. On Dec. 7, Vonn did an interview with CNN.
'Lindsey Vonn is successful and famous and happy. And laughing at her trolls,' Sports Illustrated's Tim Layden writes.
4. But in decades past, antagonism between journalists and the GAA was all too common, much of it stemming from that organisation's desire that reporters turn a blind eye to the more 'physical' aspects of its games – with repercussions for those who reported on the spats and fouls that characterised the intense competition between teams.
Oisin Keniry / INPHO Oisin Keniry / INPHO / INPHO
Boycotts, blacklisting and libel writs were, unfortunately, all too common.
Mark O'Brien explores decades of boycotts, blacklisting and libel and the relationship between the GAA and the media for The Irish Times.
5. If nonalcoholic beer helped athletes recover more quickly from grueling workouts, then it could allow them to train harder. Scherr credits the nonalcoholic beer's salubrious effects to its high concentration of polyphenols, immune-boosting chemicals from the plants with which its brewed.
"After that, we really had the proof: It's really healthy and not only a marketing gag," said Holger Eichele, the chief executive of the German Brewers Association. 
Ben Crair and Andrew Kesh teamed up for The New York Times to write about German Olympians' success and their love for nonalcoholic beer 
6. This is basic stuff. A study in the US late last year found that 70% of adults in America regularly use a second screen while watching TV. People don't just expect updates now, they take it for granted that they will be notified of a goal or a try or a point, even as the team responsible is celebrating and the referee is noting the player responsible.
The @SSEAirtricityLg account didn't even run a list of full-time scores this day last week. A good hour had passed after the final whistle in Inchicore, the Waterford Regional Sports Centre and Oriel Park before the first of the match reports popped up on screen. Some Cork fans would have been bypassing Portlaoise by then.
'League of Ireland blackout a relic of days past,' writes Brendan O'Brien for the Irish Examiner.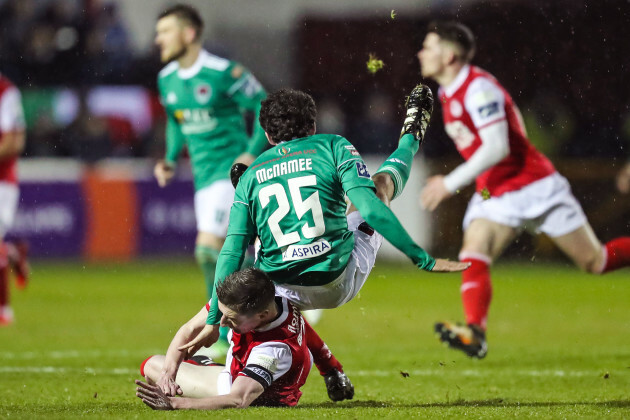 Laszlo Geczo / INPHO Laszlo Geczo / INPHO / INPHO
7. The Olympics are not exclusively for the world's best athletes. If they were, the opening ceremony would be a lot sadder and smaller. The Olympics are for the world's best athletes and a bunch of comparatively regular people who compete against the world's best athletes and allow host stadiums to fly more flags.
Those other people, strangely enough, often stick in our memories longer than legitimate medal contenders. Team USA has won gold in bobsled at the Olympics seven times, but most Americans' first association with the sport comes from the 1993 movie Cool Runnings, which immortalizes the 1988 Jamaican bobsled team that finished in last place. 20th Century Fox made a 2016 movie about Eddie the Eagle, not any Olympic ski jumping champions. On a more personal level, I will never forget Eric Moussambani, the athlete from Equatorial Guinea who I feared might drown in his attempt to swim 100 meters during the 2000 Sydney Games.
A Brief History of Underqualified Wealthy Athletes Competing at the Winter Olympics – Rodger Sherman for The Ringer
8. Formed in 2004 with two principal directors and a chairman, Trevor East, who is a former BSkyB executive – then taken over in 2009 by an investor who has never been publicly identified – Pitch has rapidly risen to become a significant agency in English football TV rights.
Pitch sells the rights around the world. For the Middle East and North Africa region, where the Gulf is the richest territory, it has consistently sold its English football rights to beIN Sports, the Qatari broadcaster. Formerly the sports arm of Al Jazeera, beIN has become the dominant broadcaster in the region having had huge, sustained investment from Qatar state funds. In the new "transformational" deal for FA rights, Pitch is understood to have again sold on the rights for the Middle East and North Africa to beIN.
David Conn of The Guardian explores why a TV rights company pouring millions into English football won't reveal its owners.
The42 is on Instagram! Tap the button below on your phone to follow us!