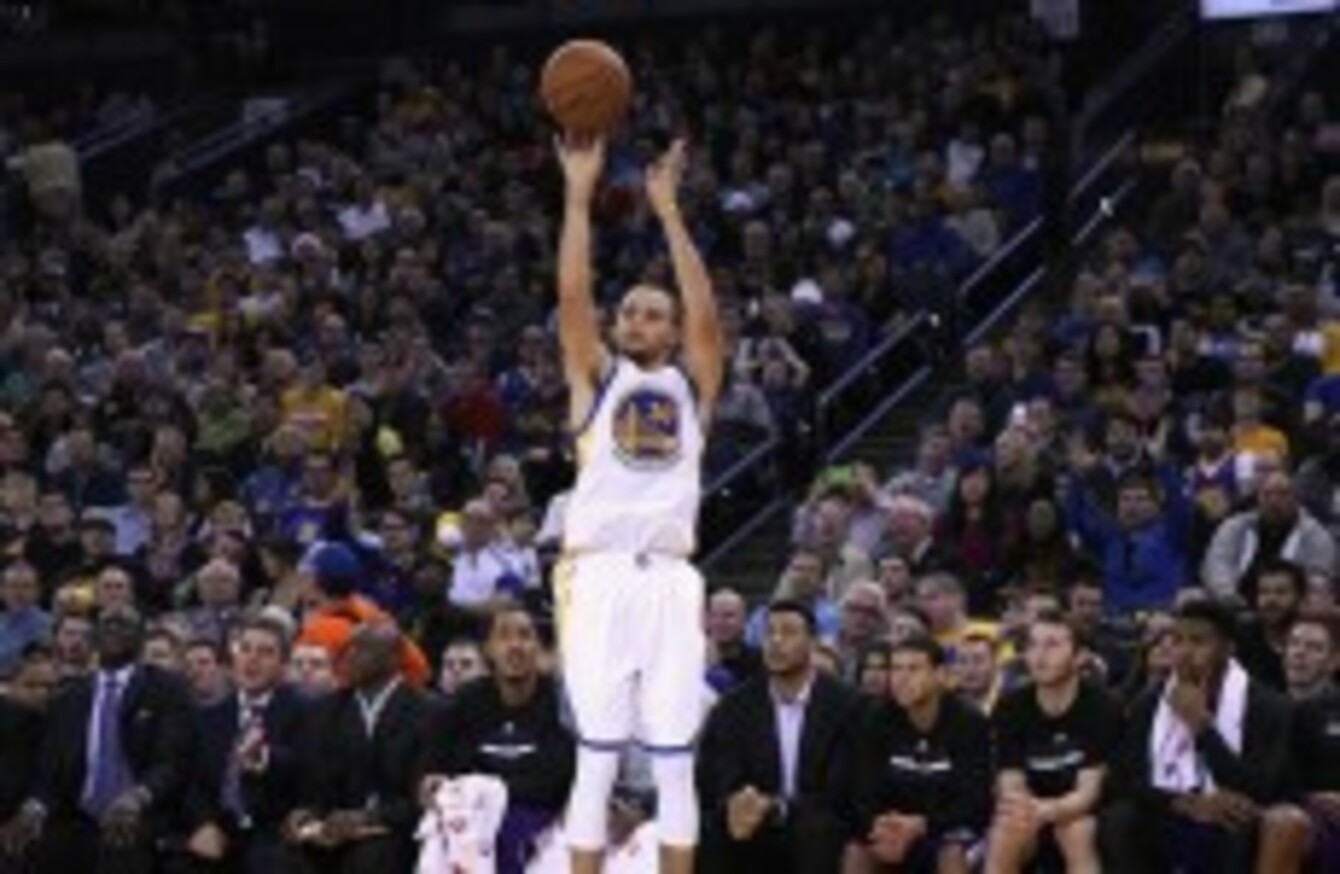 STEPHEN CURRY, THE NBA's MVP, broke his own record for most three-pointers in a season this year.
As a 44% career three-point shooter who's made an average of nearly 200 three-pointers per season, he's on pace to crush the record for most all-time three-pointers.
Between a smooth stroke and deft ball-handling ability, Curry is practically unguardable, a threat 30 feet from the basket that can single-handedly change defensive schemes.
Curry's rise to becoming the best shooter in the NBA, and perhaps all-time, comes from a pattern of hard work and intense preparation that has paid off immensely.
Here's some of how he did it.
1. His father, Dell, played 16 seasons in the NBA and shot 40% from three for his career
So maybe some of of Steph's skill comes from genetics. His father, Dell, was widely considered one of the best shooters in the NBA when he played.
Curry was apparently a great shooter from the beginning. ESPN's Tom Friend wrote a great profile detailing Steph and Dell's relationship (along with Klay Thompson and his father, Mychal, who played in the NBA). Dell told Friend that when he played for the Bucks, he and 11-year-old Steph would regularly compete against other NBA players in H-O-R-S-E competitions during practice and the two would consistently win.
2. He's hard-working and fiercely competitive
These are, of course, common traits in professional athletes, but it takes an exceptionally competitive and determined person to become, perhaps literally, the best at any one skill. This is also comes with a sort of killer instinct.
According to Sports Illustrated's Lee Jenkins, Curry was torching people on the court before he was even in high school. Dell told Jenkins that he once left one of Curry's eighth grade games early because he was beating the other team so badly. "I had to get out of there," Dell said. "I felt bad for the other team. I couldn't watch what he was doing to those kids."
Curry's college coach, Bob McKillop, said Curry was consistently the hardest-working player at Davidson and told Cory Collins of Sporting News that Curry had a "fire that raged within him."
3. He re-taught himself how to shoot in high school to adapt to bigger, better players
Though Curry is now 6'3″, he was a late-bloomer and before he grew he reportedly used to shoot a sort of flick shot that he released from his chest. As his competition got bigger and better, Dell helped Curry change his shooting form so that his release point was above his head. He had to re-learn how to shoot the ball.
Curry told SI's Chris Ballard it was "the most frustrating summer," saying:
"I really couldn't shoot outside the paint for like the first three weeks. All summer when I was at camps people were like, 'Who are you, why are you playing basketball?' I was really that bad for a month and a half [before] I finally figured it out."
4. He uses an insane "flashing lights" test to work on his ball-handling while improving his reflexes and focus
Curry told Ron Kroichick of the San Francisco Chronicle:
"The lights mimic what's happening on the court. If there's a defender in front of me, then I've got to know where he is and still be ready to initiate whatever move I'm going to make."
The test looks dizzying:
See Sport
Differently
Get closer to the stories that matter with exclusive analysis, insight and debate in The42 Membership
Become a Member
Curry works diligently on his ball-handling, not just because he has the ball most as the Warriors point guard, but he also can use his dribbling to create shots for himself. When he gets open, he can quickly seize the opportunity:
Warriors coach Steve Kerr told Kroichick, "[Curry] has the best skill set I've ever seen in terms of the combination of shooting and ball-handling, along with speed and quickness."
5. He practices a combination of fundamental and extremely detailed footwork that allows him to move, get into rhythm, and be ready to shoot easily and quickly
The idea is that if Curry can master the actual physical movements he needs, the rest can come naturally. SI's Rob Mahoney profiled some of Curry's behind-the-scenes work, with Curry telling him:
"We do a warm-up drill every day that we practice where we literally work on just pivoting, stepping through, and pick-and-roll footwork. Just break it down, step by step. Those things happen so many times in a game that you might take it for granted; just the coordination it takes to be explosive in certain situations on the floor. So we work on that in practice. Outside of that, I just kind of work on footwork in moves that I normally will make in a game, whether it's dribble moves into shots or the footwork coming off a screen, things like that. You drill that while you're getting shots up so that you'll obviously be efficient and make your workouts tough. But staying on top of that simple fundamental makes you a little bit faster, a little bit more creative, a little bit more efficient on the floor."
Warriors assistant Bruce Fraser added, "He's always constantly pushing himself to make shots challenging so that when he gets in the game he's done that a lot."
Curry puts so much work into his craft that he's able to get away with some of the most ridiculous shots in the NBA. Few players can even pull off this move, let alone make the shot and make it look good:
6. Finally, Curry gets up plenty of shots.
Lee Jenkins describes a shooting drill that Curry does in which he takes 10 shots from five different locations on the three-point line, going back and forth until he takes 100. According to Jenkins, former Warriors assistant coach Brian Scalabrine told Curry that Kyle Korver does the drill, calling Korver the best spot-up shooter in the NBA.
Curry took offense to the title and now does the drill regularly. Jenkins describes the scene as Curry does it:
Curry sets up in the right corner and splashes nine of 10. "Good," says special assistant Nick U'Ren, rebounding for him. Curry moves to the right wing and cans 10 of 10. "Better," U'Ren nods. Curry skips to the top of the circle and drains 10 of 10 again. U'Ren turns to a couple of spectators under the basket. "Wow," he mouths. Here it is, the Curry Zone. He starts 48 of 50...He sweeps back across the perimeter, hitting 10 of 10 from the left corner, 10 of 10 from the left wing. Teammates are watching. Cameras are filming. "Don't get giddy," Curry tells himself. He's made 77 in a row, and when he finally misfires from the top of the circle, he grabs Green's jersey and screams. He finishes 94 of 100.
Fraser also told Jenkins that Curry will occasionally get "bored" with the drill and become less accurate. That's when coaches and staff challenge him other drills and shooting competitions, which Fraser says, "He needs the action. And when he gets it, he just snaps on."