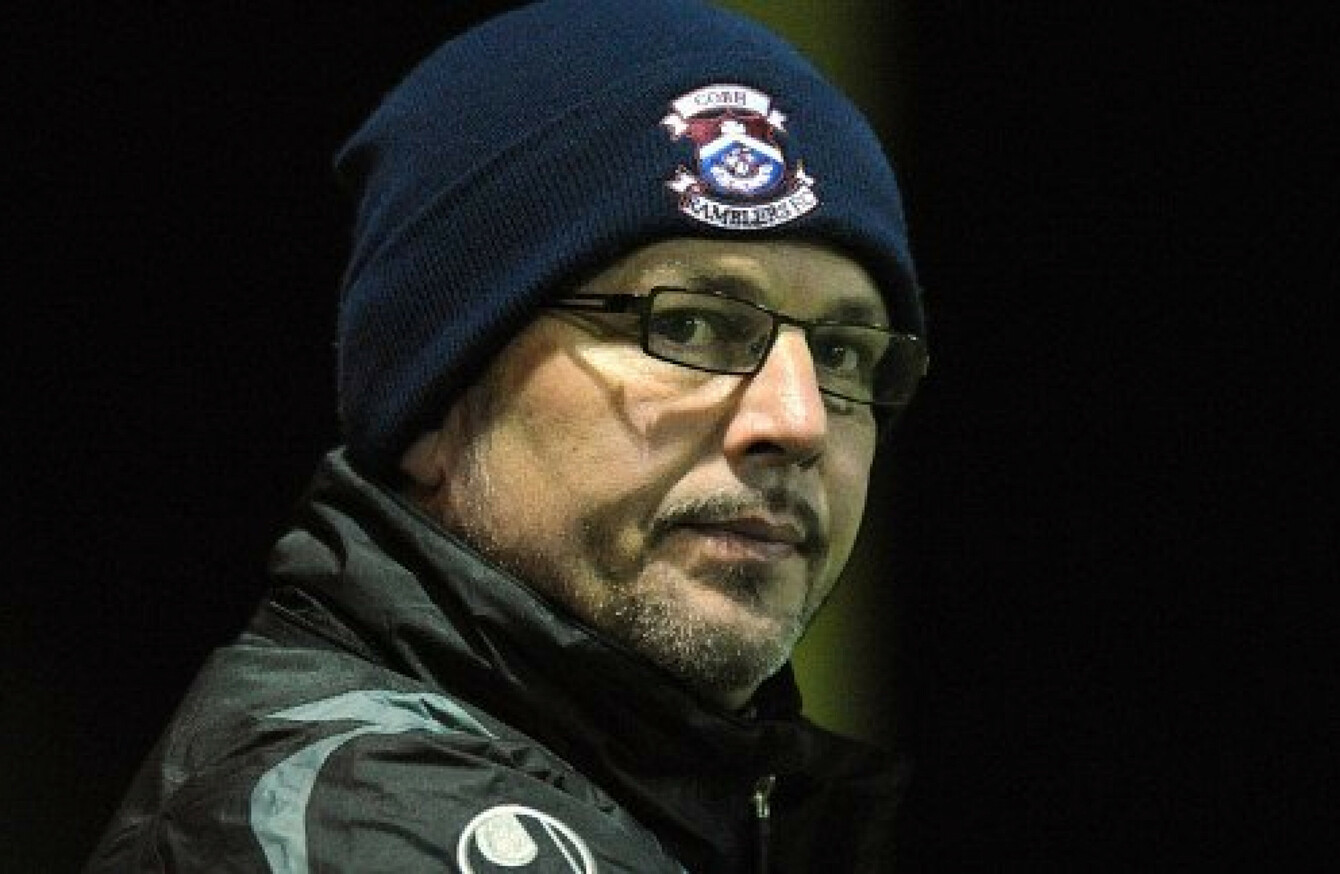 Cobh Ramblers manager Stephen Henderson.
Image: Cobh Ramblers
Cobh Ramblers manager Stephen Henderson.
Image: Cobh Ramblers
THERE IS A contradiction in the time-honoured League of Ireland tradition of referring to the First Division as a 'graveyard'.
Graveyards are where the deceased are brought to be buried, not where they come to die.
They say the opposite is true of the domestic league's second tier because it is where teams suffer a slow and painful death as they slowly slip from stability into obscurity and eventually into extinction.
If it can happen to Shelbourne, one of Ireland's most decorated and successful clubs who recorded its lowest-ever league position in 2016, surely it can happen to anyone. That mentality is why many fear the new restructuring of the League of Ireland.
Two 10-team divisions will be established from next season onwards, meaning three from 12 Premier Divisions teams face automatic relegation to ensure the 10/10 balance.
The lack of investment, media coverage and attention from the FAI, as well as low attendances and poor facilities mean the second tier often goes ignored and isolated from the Premier Division.
Results are tacked on at the end of articles and news bulletins, and the scores are simply read out at the end of highlights programmes, if it's lucky. Some believe that if a team is relegated to the First Division, it may not come back.
Despite trying to give Stephen Henderson a chance to agree with these sentiments and vent his frustrations at the league's setbacks, he is having absolutely none of it.
He radiates positivity and only sees the bright side of the new restructuring — it means the Premier Division is undergoing its most competitive season in years and it weeds out weak teams ahead of next season. Plus, attendances are up on this time twelve months ago.
"I think it will work out provided that it's done properly," the Cobh Ramblers manager said, speaking to The42 this week.
"If you look at it in terms of the three clubs coming down, it's probably the most competitive we've seen the Premier Division in a long, long time. I think when you make these structural changes you have to look at what you can learn from them.
"First of all, the crowds are up in the Premier Division this year, and the reason for that is there is something to play for each week, whether it's relegation or Europe or to go and win the title. Even though not everyone can win the league there's something to play for.
But we have to remember the most important people in this, which is the supporters.
"The supporters want to win trophies but they also want to go to a match and see potential and excitement. There's ups and downs in football and that's why we love it. That 10-team league will provide all of that."
But what about the First Division? With no play-off this season, just one team will gain promotion. One goes up, seven remain below. With Waterford nine points adrift and odds-on favourites to take the title, does it not leave the rest with nothing to play for?
"When you're in League of Ireland football and there are so many changes happening you just become immune to it," says Henderson of the elimination of the play-off.
"You just don't know from season-to-season what's happening. We found out four or five weeks before the season started that there wasn't going to be a play-off.
"I was going around trying to get sponsors for the football club, telling them that we've a really good chance at getting promotion to the Premier Division through the play-offs. Then all of a sudden they aren't there.
"Even now, here we are with six games left and I don't know what the league structure is for next year. All I know is that there will be 10 teams in each league.
"I don't know if there will be play-offs, if one team is going up, if two teams are going up. I think that's unfortunate and it's really disappointing because we do have a fantastic product here."
Henderson is almost evangelical about that 'product' he mentions.
His Cobh side are enjoying an outstanding campaign in 2017. With virtually no investment and remaining with an amateur, part-time set-up this year, they have battled Waterford for top spot admirably.
The Cork club have worked hard, won over half their games and will likely finish second, battling Waterford until the very last minute for the title. But despite their efforts they could conceivably face no reward come October.
Henderson accepted this long ago and has the club's own internal goals slowly ticking over. It's all about a long-term project at Cobh.
While this may sound a given and a cliche for any and all football teams to have a project in motion, Cobh chose against investment this season because they knew they would see no return with just one team gaining promotion.
Instead, they opted for a youth policy which has seen them blow their own expectations to pieces this season. With key players like Shane O'Connor and Garry Comerford leaving, no investment and playing a team with an average age in their early 20s, Cobh are still second.
If this is just the early stages and an indication of things to come, it is easy to believe Henderson when he says bigger and better things await in years to come.
"I think for us it's been about continuity and down to the players we have at the club. It's a very difficult process when you're an amateur club because you have a certain way of playing and need certain players to fit into that.
"When you don't have any money it's a process of elimination as to which players you can bring in. We have about 20 lads that have been with us over the last two seasons — and it's about that continuity. They know how the club works, they understand how I work and the management works.
"We're disappointed in the context that if we kept Shane and Garry I genuinely believe we would be sitting a lot closer, if not above Waterford.
"We haven't thrown our hat at this league by any stretch of the imagination. We want to continue and want to be competitive. But we've said to the players as well that we have to continue to move forward.
"If we look at our situation and compare it to Shelbourne, Longford and Cabinteely where good investment went in — a lot of teams put money into it this year — we didn't want that because we were aware that the play-offs were gone.
"So we stayed where we were, stayed amateur and yet here we are with six games to go in second place."
Despite believing that the new league structure will pay off in years to come if executed correctly, it has not had a positive effect on the First Division this season, with crowds noticeably plummeting as at least four teams no longer have any hope of the single promotion place.
They have nothing to play for and have had nothing to strive towards almost since day one this season.
"The crowds are miles down, and don't let anyone tell you any different. If there is some way crowds are up it's because they're all going to Waterford matches," Henderson jokes.
People at clubs in the First Division took a look at the first series of games, knew there was nobody winning this league and just abandoned it. And that's really sad because there are still some really good teams in the First Division.
"My lads will be 100% whether we are top of the table, or bottom. That needs to be rewarded and when I say rewarded, I mean supported.
"These players represent Cobh Ramblers, they represent Cork — they go out and sweat blood, they run their hearts into the ground for these people. The fans are paying a tenner, and we need to give them their tenner's worth. That's what we do and that's what I think every player in the League of Ireland does."
Even with all of this positive energy, the Cobh boss has experienced the lows this season has brought to bear.
"They always called the First Division a graveyard and I never felt that. But this year has chipped away at that belief with the low atmosphere at games."
He joined the club for a second spell as manager in 2015, having gained promotion with Cobh in 2008 during his first four-year reign. Henderson this week signed a new three-year contract, which will keep him at St Colman's Park until 2020.
Despite offers to manage other Premier Division clubs in recent years, he has remained loyal to the Cobh cause and wants to see his masterplan out to its full fruition.
"I've been fortunate that I was approached once or twice by other clubs. I always think you are fortunate when clubs come and ask about you joining them. But there was never a doubt that I wanted to stay with Cobh Ramblers.
See Sport
Differently
Get closer to the stories that matter with exclusive analysis, insight and debate in The42 Membership
Become a Member
"There are more hard days than easy ones… and it is so tough. It is, it's hard work. It genuinely is. You do wonder why you do it at times, but then you go training and you see the players and you see the commitment they give.
"You look at the volunteers that are at our football club, the time that they give up. You look at all of that and think I can't leave here solely because it means I won't see those people again.
"Now listen, they could get fed up with me and sack me tomorrow — that's football, I understand that. But there was never a question of leaving. The fact that the club went out of business and it came to the point where we were crawling on our bellies makes me want to push it on further.
"Gradually year-by-year we got onto one knee, two knees, and now we are standing on our two feet. We have our centenary coming up in a couple of years and we want to stride into that in a confident manner and be proud of what we have."
Henderson looks at the situation at a club like Bray Wanderers and is reaffirmed in his belief in hard work, even if it is at times thankless. Because going into training each day he hopes and perhaps knows it will pay off in the not-too-distant future.
"One of the nicest people you'll meet in football is Harry Kenny and he probably hates being called that — a nice man," he laughs.
"But you would genuinely hurt for Harry because of the work that he has put in there, the quality of the team he has put on the pitch. Some of the recent statements have been hugely embarrassing for the league.
"They need to sit down and put a bit of thought behind what they are saying. They are obviously frustrated that they are not getting the backing of the council, but we all feel that way when we don't get the support structures we need.
"You'd be embarrassed because of all of the work you put into League of Ireland trying to promote it. As much as you love it and as much positivity you have for it, when these kind of people throw statements like that out it kind of knocks us back.
"The investment was good and Harry was flying. But I think you need people who come into football that have a genuine love for the game. You also have to have respect for your manager and you've got to have respect for your players. I don't think that has happened at Bray.
The way I am with Ramblers — I know I've nothing. I know that my priority is the club and my players."
Henderson plans to establish the most elite player pathway in League of Ireland football at Cobh.
It may sound simplistic, but because they have no money, he says, they must invest in youth, and with that comes a style of play, a philosophy about the club and no need to spend money that simply isn't there.
"It's no secret that the club nearly went out of business. We've been crawling around ever since and what we've been trying to do since is put some form of stability into the club. If we go back to the budget, we have made a clear and conscious decision that the way to go forward for Cobh Ramblers is through a youth policy, with the introduction of the U15s and U13s leagues.
"What we are hoping to do is make our U19 team into our reserve team. That's where we want to be — we want to be in a situation where we have a core of 18 players in the senior squad and leave the rest open to players coming through the U19s.
"So, for our U19s to be good enough for that we have to get it right, right down at the base where it starts at U13 and U15 level. If we can nail that down and put the proper structures in place it means investment into the senior team will be minimal."
While promotion this season is unlikely, Cobh remain just nine points behind leaders Waterford. Playing Alan Reynolds' side on the last day of the season in St Colman's Park could prove to be an incredible decider were the Blues to choke between now and October.
But even if Cobh don't take top spot, they have made remarkable progress already. With his new deal Henderson will still be at the helm in 2020 and he is excitedly waiting for the day Cork City and Cobh reignite a fierce rivalry in the top tier.
"We want to get Cobh Ramblers into the Premier Division and stay there. We want to do that in a constructive manner, do it by living within our means and do it by having one of the best player pathways in the country."
Led by a manager with a crazed passion and burning determination, exciting times are coming down the line for the Rams. For the time being they are happy, alive and kicking in the 'graveyard'.
The42 is on Instagram! Tap the button below on your phone to follow us!