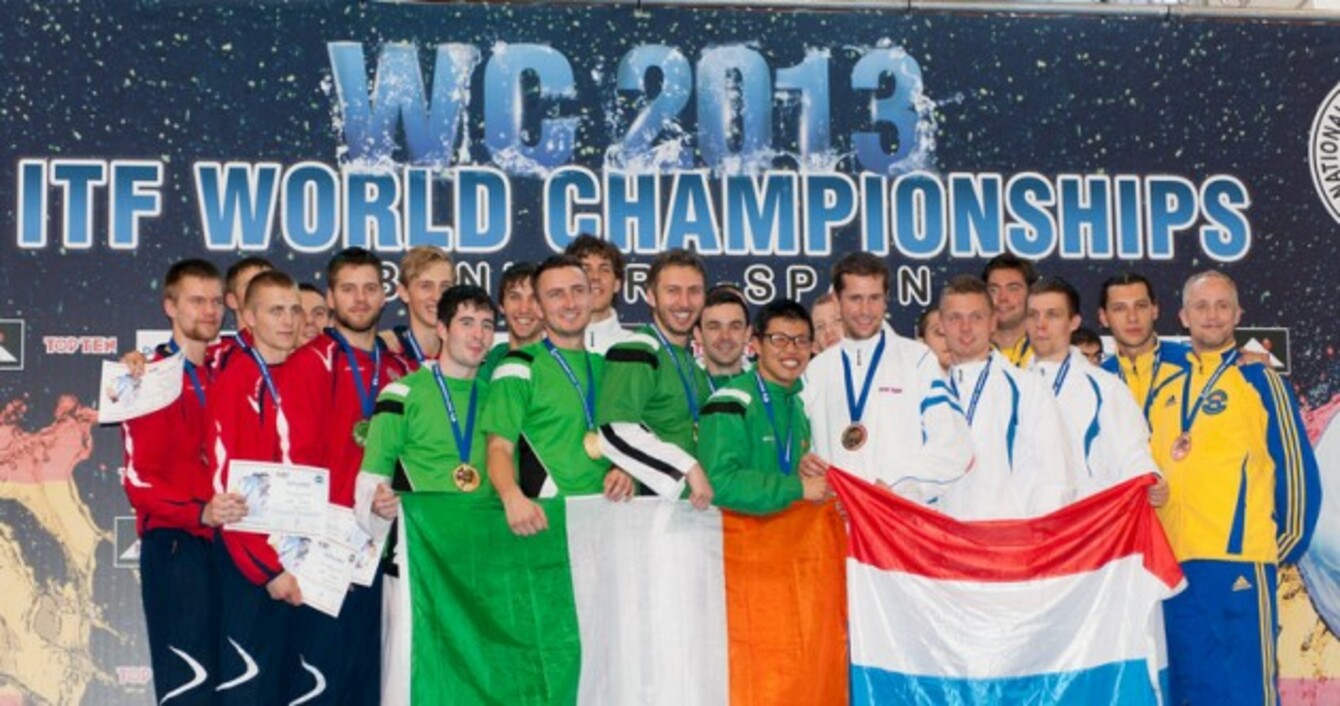 The Irish team celebrate their recent success at the World Championships.
Image: Stephen Ryan
The Irish team celebrate their recent success at the World Championships.
Image: Stephen Ryan
Updated at 13.24
IS TAEKWON-DO IRELAND'S most successful but least talked-about sport?
Certainly, it has enjoyed considerable success of late in this country.
At the recent International Taekwon-Do Federation (ITF) World Championships in Benidorm, Spain, the Irish side placed second overall out of 58 countries. After securing 10 Gold, six Silver and 11 Bronze medals, Team Ireland were narrowly beaten into second place by Poland (13 Gold, six Silver and eight Bronze).
Six individual world titles were won over the course of the competition, with Ellen Ince (sparring and 1st Dan Patterns), Louise McCagh, Dylan Fitzgibbon, Dylan Murphy and Denise O'Brien all triumphing.
While the 48 Irish athletes deserve enormous credit for their phenomenal achievements, the role of the seven coaches (Stephen Cooley, Adrian Byrne, Paul King, Darren Smith, Jack Sheehan, Laura Ryan  and Stephen Ryan) who travelled must not be overlooked either.
It was a fitting reward too for Stephen Ryan, Secretary General of the Irish Taekwon-Do Association. Ryan has an obvious passion for the sport when he discusses it, and he's been competing himself for over 20 years, having originally become interested from "watching movies on the TV with people like Bruce Lee".
Ryan was on the team that won two golds back at the World Championships in Poland in 2003 — a time when the sport was not at such an advanced level as it is now in Ireland, while he also won a 2011 individual silver at the same competition.
However, he readily admits that the new generation of athletes are on their way towards surpassing anything their predecessors ever achieved.

"It's the biggest medal haul we've ever had at the World Championships and the biggest individual haul we've had at a Championships as well," Ryan tells TheScore.ie. "It's a massive thing for us but it's a pity that people in the general community and across the country don't know about it. The amount of training these athletes are putting in, two or three sessions a day and six or seven days a week.
"They are training at the top level — the same as everyone would in every other international sport — so for us, it's an amazing achievement and the reaction within the Taekwon-Do community has been superb. The younger kids coming through can see what's possible and there are so many world champions going back into the Taekwon-Do clubs around the country and the kids are looking at the medals around their neck and it's something to aspire towards.
"It surpassed our expectations, but since the current crop of coaches took over in 2009, we have been coming back with more and more medals from each championship. If you can compare it to the last World Championships in New Zealand, we've got so many more medals. We are dealing with a bigger squad. We don't receive funding from the sports council even though we're recognised by them. So we couldn't afford to send that many athletes to New Zealand. The World Championships before that were Argentina and we did really well — there was plenty of medals won.
"With the amount of training they've been putting in and the amount of medals they've been winning, especially at junior level, we've had fantastic success. What's happening now is that a good crop of juniors are turning senior. Not that the people before weren't any good, but the talent is getting better all the time."
(Taekwondo has grown increasingly popular in Ireland in recent years)
Their prowess is particularly incredible and a testament to the work that figures such as Ryan have put in when you consider that the sport was only introduced in Ireland in the late 1960s, after originating in the Korean army in 1950.
"One Korean who was living in Scotland had come over," Ryan explains. "Aidan Walsh,  Robert Howard and people like this then started to spread Taekwon-Do around the country. The first World Championships that the Irish team competed in was Oklahoma in 1978 and we've been building from there.
"I've been competing for a number of years on the national team, but the most recent era of us having success was just the last 10 years really. I was on the national team that won two gold medals in Poland in 2003 and from that point forward, we've started to properly develop the sporting side of it. It's come on in the last ten years so much. Then even from 2009 on to today, in the last few years we've come on leaps and bounds."
Ryan attributes part of the reason for their growing success to an increased level of professionalism that has entered into the sport in recent years. He says there is consequently now more competition for places than ever among their ranks.
"Everybody is hungry for success and everybody is pushing you on and I suppose we're getting a little bit more educated in how we train. We've gotten nutritionists in and people are doing not just their Taekwon-Do work but their gym and their physical conditioning an awful lot more. It's similar with a lot of other sports. If you look at Irish sport in general, that seems to be something that has changed a lot. They're looking at the bigger picture — not just specific training in that sport, but the whole athlete and their lifestyle and what they're eating.
"We don't get the money, we don't get the funding and it actually costs the athletes money to go to these championships. Some of them are lucky enough to get some sponsorship. They're relying on their local clubs to do fundraising. So an awful lot of hard work goes into it on that side as well. That just shows how much they love their sport — that they're willing to make such sacrifices.
"And there is a responsibility on us — with that amount of world champions coming back, there's pressure on us as coaches to up our game every time and come up with new training measures."
(The Irish Women's team celebrate alongside fellow medal winners)
Yet a sense of dissatisfaction remains palpable in Ryan's tone. He feels that, for all their success, the sport is still too often overlooked, both when it comes to government funding and media coverage.
"The success isn't going to do us any harm. Our profile is building. Our recognition is through the Irish martial arts. But the amount of funding martial arts gets compared to other funding is quite miniscule. I know we're a minority sport but the government have five or six target sports that they're pumping money into, but they need to start looking at what's going on in these other sports as well, because we've got so much talent coming through. For Ireland to have a squad of 48 people go away and come back with 27 medals is incredible.
"I find it a little bit frustrating that people hear an awful lot about GAA, rugby and soccer and I'm a fan of those sports as well, but we need sports like Taekwon-Do to get a little bit more coverage because there is so much success going on there. The quality is very good, it's not as if we're bringing back medals because the standard is low. To see the talent that we have is fantastic. If the general public can see what Taekwon-Do is all about, I'm sure we can get more and more people supporting us.
"We're dealing with countries who receive funding from their government every time they win a medal, so in a way, we're punching above our weight. We're dealing with completely unfunded athletes who are doing it for the love of their sport. There's pressure on us as coaches to keep them motivated and set them new goals, so they can push on to a new level. It's a big challenge, but it's something that I love."
Taekwon-Do is hardly the only sport in which Ireland has been highly successful of late. Boxing and kickboxing are two other areas where the country has thrived in recent times. So, just what is it about Irish people that makes them seemingly so adept at combat sports?
"Is it part of the Irish spirit?" he asks. "We do seem to have a natural talent for combat sports. The success of Katie Taylor and all the other guys at Olympic level has been superb, whereas the kickboxers, especially the organisation under Roy Baker — they've had massive success as well and Taekwon-Do is well up there with them.
"I just think that the Irish have a natural ability for these sports. What the reason is I'm not sure. It's great to see the boxers get that level of coverage. But the level of training we're doing and our professionalism is equivalent to these Olympic athletes. Obviously, they're Olympic athletes and they've had massive success but we're not that different."
Part of the reason for the sport's development is undoubtedly the solid structure put in place, which attracts prospective athletes from a very young age.
"They start at six or seven years of age," he says. "The Irish Taekwon-Do society has almost 100 clubs across the country — it's 96 at the moment. And you'll find that the majority of the members of those clubs would start at a younger age in their local club and a lot of those would then be brought through at 14 years of age onto the international team. It's from that age on that they'll be going to the World Championships.
"There's lots of divisions and an awful lot of talent at the younger ages. They've been competing at quite a high level in their own country and it's at 13 and 14 years of age that we start to bring them to International Opens. And from there, they start to qualify for the national team.
"The majority would be coming from Dublin, Cork and Clare — Clare is particularly strong at the moment. We do have clubs in a lot of other counties but a lot of them are much younger clubs and it's going to take them maybe 10 years before they have athletes at that level. They're quite young clubs and the Dublin, Cork and Clare-based clubs are around quite a long time. They developed to be able to bring people through to the black-belt level."
While the coaching, facilities and numbers are all improving, there is still one drawback of being involved in Taekwon-Do — it's not an Olympic sport, or at least, the version in which Ireland excel isn't.
"One of the problems with Taekwon-Do and it's like the boxing in a way is that there's a split," Ryan explains. "There are different codes and different divisions in the boxing. There was a split back in the 1970s in Korea in Taekwon-Do. It goes back to politics and whatever nonsense was going on there.
"At that time, our group was the original Taekwon-Do group called the ITF. Their group, which was based in South Korea, went on to get Olympic recognition and our group didn't unfortunately," he says, adding: "It's a different code really — it's like comparing rugby union and rugby league. They're a very similar sport but there are a lot of subtle differences. And the longer the split goes on, the more the subtle differences are coming in.
"The World Taekwon-Do Federation (WTF) would wear body armour. If you ever see them in the Olympics, they have body armour on and they're not allowed to punch to the face. Whereas our athletes would have gloves and foot protectors and helmets on, but they're allowed to use hands and feet. You score one point for any hand technique like a punch to the head, two points when you kick to the body. And three when you kick to the head.
"[The Olympic decision is] out of our hands as athletes. It's politics at a much higher level unfortunately. It goes beyond our sport. Because it comes from Korea, I'm sure you can appreciate there's a lot of politics between the North and the South. The Government have a vested interest in these sports because they're internationally recognised.
"It's very complex and we don't really talk about it anymore — we just focus on our own sport. And our World Championships are at such a high level. Maybe we'll never have an athlete compete at the Olympics, but those World Championships were our Olympics. The training that goes into the preparation is phenomenal. You've got seniors who are trying to hold down full-time jobs and juniors who are either in college or going to secondary school. They have to train in the morning and straight again after work."

YouTube credit: ITF Taekwon-Do
The next big event, prior to the European Championships in Rimini, for Ryan and his colleagues, will be the Open World Cup in Jamaica this August, though he concedes that they "almost certainly won't have as many athletes going to that" compared with the last event in Britain, owing to cost issues.
And while the Irish side again are expected to play a prominent role in these upcoming events, what makes the sport particularly unique and special in its own way — rather than the glory involved in competing — is the emphasis it places on mutual respect between athletes.
Compared to other high-profile sports in which cheating and cynicism are rife, the idea that in Taekwon-Do, personal improvement is valued as highly as success cannot help but seem refreshing.
"I don't think I've ever heard anyone walk in and say 'I want to be a world champion,'" Ryan says. "Parents see the benefits of the sport for their children in helping them improve their co-ordination skills and their muscular development and their flexibility and all those things that any sport will offer — there's a great social aspect to it.
"There's the discipline of a martial art that's associated with it and the other thing as well is that we put a big emphasis on behaviour. Taekwon-Do has five tenets — courtesy, integrity, perseverance, self-control and indomitable spirit. It's not that they're just coming in to learn physical activity, it's how we interact with each other and the respect that we show, so parents are looking at this as a very valuable sport.
"And it's also a life skill that they can give to their kids. That's why we attract a lot of kids coming into it. But we do get teenagers and adults too. A lot of them are attracted initially as a way to get fit or as a way to learn some self-defence.
"But it's later on when they see they can be competitive. Or if they're not interested in competition, they can train as a referee, or they can become a coach or an instructor, so once they're in Taekwon-Do, they can see an awful lot. They think: 'I can just train and be fit, or I can set other goals for myself'. They can get the next belt or get a little fitter or maybe, be on the national team. There's different goals depending on who you're dealing with really. So there's always something different on offer."
All images used with permission from Stephen Ryan.
You can find more info on the sport at www.taekwondo.ie.