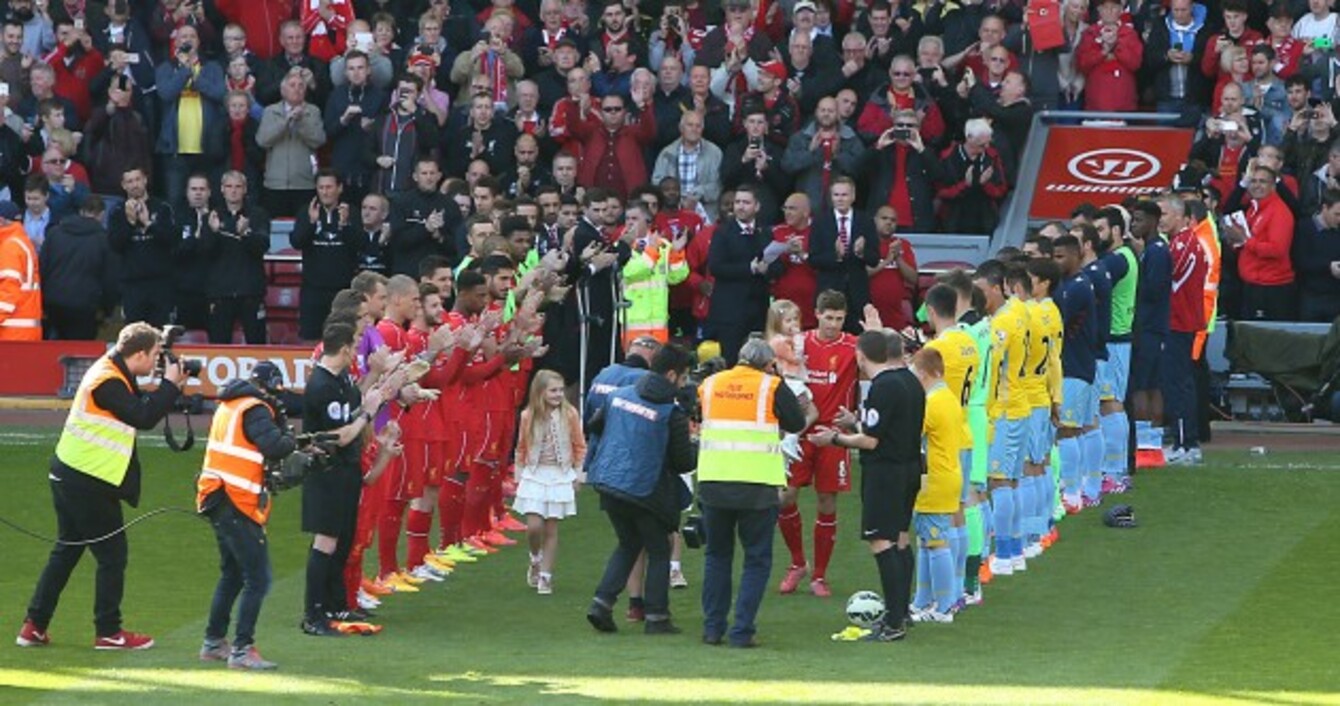 Liverpool's Steven Gerrard walks out to a guard of honour before his final game at Anfield.
Liverpool's Steven Gerrard walks out to a guard of honour before his final game at Anfield.
FOR ALL ITS glorious heights, there is also an element of sadness attached to Steven Gerrard's career with Liverpool.
From winning the Champions League against AC Milan to being humiliated 6-1 versus Stoke in his final game with the club, Gerrard's lows often seemed as brutal as the highs were heady.
Over the course of his many years as a top Premier League footballer, Gerrard has come across as someone not totally at ease with his superstardom. Instead he gives the impression of being an introvert and a chronic worrier, with an innate perfectionism and intense desire to succeed that few other contemporaries can match.
This portrait is consolidated and expanded upon in his his autobiography, My Story, released earlier this year.
The final part of his career in England was anti-climactic in a sense, as having been in superb form and seeming set to captain Liverpool to a first-ever Premier League title, a costly slip in a crucial end-of-season encounter with Chelsea ultimately led to the opening goal and an eventual 2-0 loss. An angst-ridden Gerrard clearly realised the team had missed their best-ever chance to win the league title as a result.
The melancholic undertones lurking amid a decorated career are reiterated when Gerrard's ghostwriter, Donald McRae, tells The42 of the star's admittance that "not a day goes by where he doesn't think about the slip".
McRae himself is distinguished in his own field of sports journalism. A two-time winner of the William Hill Sports Book of the Year award, he was also nominated for the same prize this year after writing an excellent biography of the boxer Emile Griffith, A Man's World, with a film of the acclaimed book recently being green-lighted.
Despite being "exhausted" after finishing the Griffith book last March, McRae promptly undertook the challenging task of ghosting Gerrard's autobiography, after the Liverpool legend personally asked him to write it.
Although both McRae and Gerrard initially were hoping for a year to write it, with the former typically spending three-to-four years on a single project, Penguin's editor wanted the book out as soon as possible — something that, McRae says, worked out well in hindsight, with interest in Gerrard reaching peak levels amid his Liverpool departure last May.
The pair consequently were obliged to work at considerable speed, with Gerrard often meeting McRae on mornings after taxing Premier League games towards the end of last season.
Far from the stereotypical cliché-prone footballer, Gerrard does not mince his words in the book and McRae admits he was surprised by the extent of the star's honesty.
He bares his soul in this book and he's totally candid about his disappointments and shortfalls. One thing that maybe took me back a little bit was that he was more inclined to talk about the low moments than the high moments.
"I thought that was interesting, because he said to me he felt he had spoken about winning the Champions League again and again. He didn't want to go down that particular path but in the end, I did persuade him that we needed to talk about the 2005 Champions League final.
"In his public image, he comes across as quite a cautious, thoughtful person, but it was even more than I expected."
Ghostwriting is often portrayed as somewhat of a thankless task, and while acknowledging the challenges that this unfamiliar role entails, McRae says that the experience was ultimately a satisfying one.
"It's important as the ghostwriter to push yourself out of (the book). There were other avenues I would have liked to have explored more, but this is Steven's book, so I quickly understood that I would be guided by him and I would allow his voice to lead it.
The best moment, for me, where I actually felt vindicated, was when he spent such a long time going over the book painstakingly, chapter by chapter, page by page, word by word, which showed me how much it meant to him. There were telephone conversations when he was in LA, emails and texts going back and forth.
"He would sometimes want to change one word here or there, but when it was done, it was only tiny, nuanced changes that I had to make. Ultimately, he sent me a lovely message saying how happy he was with the book. That meant a lot, because we kind of shared it together — we were obviously totally different, he's a footballer, I'm a writer. But for those short few months, we were kind of consumed by this book."
In the past, sports stars' autobiographies have caused controversy, with the athlete often blaming the ghostwriter as a result for adopting too much artistic license, notably in the case of Roy Keane and Eamon Dunphy.
However, with Gerrard's book, there was little chance of a similar scenario occurring.
There's a classic anecdote, I forget who it was, but he had a book written about him and he went to be interviewed," McRae recalls. "One of the first questions was about his father, and the sports star said: 'Oh no, I'm not talking about my father, that's totally private.' And the interviewer said: 'But there's a whole chapter on your father.' And he said: 'Oh, is there?'
"Steven conveyed how much he was going to put into this book and that he cared about it. I think anything he does he wants to do as well as possible and for me, that was so illuminating and heartening. He got paid well to have his name attached to this book and he could have done the bare minimum and not been bothered by it. But it mattered hugely to him, which made me feel like all my hard work was actually worth it.
"There was only one anecdote, which he asked me to take out. When he saw it in black and white, he felt it would be best (to exclude it). Stuff about Rafa Benitez and Stuart Pearce and people that don't always come out particularly well — he was totally happy to include that."
As critical as Gerrard can be of the likes of El Hadji Diouf and Mario Balotelli among many others, he is similarly harsh on himself. The book opens with the now-infamous Chelsea slip and Gerrard describes in detail, the anguish he felt at the time and which he continues to feel, to an extent, as a consequence of that one unfortunate moment in time.
"I don't think he is quite over the slip — it was the devastating moment where he felt Liverpool lost the league title… He does feel in time he will get over it. I think in a small way, the book will help him come to terms with it.
When we were working on the book, it was kind of haunting him. It was a testimony to him and what he was about in that we started our interviews in the week Liverpool were playing Man United. He would have been injured for many weeks and the night before we met, Liverpool were playing Swansea and he came on for that game. He came on in the second half and Liverpool didn't play well that night, but they managed a 1-0 win."
The book describes how Brendan Rodgers effectively went back on a promise he made to his captain that he would always be first choice in the big games. After being left out of the starting lineup for the United match, the veteran midfielder's frustration was swiftly apparent, when Gerrard got sent off for a bad challenge just seconds after being introduced as a second-half substitute.
"Liverpool were woeful in the first half, they were a goal down and he came on at half-time. I thought: 'This is going to be interesting.' I knew how fired up he was going to be — what I didn't expect was seconds later, he would be sent off for the stamp. Just as a selfish writer, I thought: 'Oh f**k — it's not going to help me, or the book.'"
This disappointment meant Gerrard became temporarily reluctant to talk to McRae, leaving the writer concerned that his silence could impact on the book's strict deadline.
With famous sportsmen, understandably, when things go badly, they don't want to talk about it for a while. I got a message saying give him some time and I thought 'this could go on for weeks' and the clock was ticking for the deadline, but we met four days after the stamp and the key point was that I wanted to start with the slip. After the stamp, I was thinking: 'This is going to be so difficult.'
"But there's another football writer that Steven has known for many years called Paul Joyce and who Steve trusts implicitly. Paul was invaluable to me in writing this book and I asked what he thought, and he said: 'You've got to start with the slip.' That gave me loads of confidence and I did say to Steven: 'Do you mind?'
"He just said: 'Yeah, this is where we've got to begin, because this was the most painful moment.' Four days after the stamp, to immediately talk about the slip, it said a lot for him."
Countless headlines were created amid the book's release, most of which revolved around Gerrard hitting out at various individuals. One of less publicised but nonetheless equally interesting passages of the book related to the Liverpool star's injury-related depression and subsequent relationship with the renowned sports psychiatrist Dr Steve Peters. Did the psychiatry help Gerrard become a better player ultimately?
"If you are calm in your own life and feeling fairly balanced, you would assume when you're playing at a high level, that can only be a good thing. He was such an instinctive player at his peak, he played with a lot of emotion. But certainly in terms of being a happier person, I think Steve Peters helped Steven Gerrard enormously."
Be part
of the team
Access exclusive podcasts, interviews and analysis with a monthly or annual membership.
Become a Member
Another notable passage in the book relates to Gerrard's wistful reflections on management, as he dreams of managing Liverpool one day, while being realistic enough to accept that this scenario is far from a given.
He needs football in his life because he's extremely obsessed with the game — not as much as Jamie Carragher is, he would say, but I think it defines him. He's been in love with football since he was a tiny little boy.
"Knowing him better now, he's the kind of person that when he puts his mind to something, he comes close to fulfilling that ambition. If I had to hazard a guess, I would say one day, we will see him as Liverpool manager. When that is and how successful he will be, those are the two big unknowns."
As much as the slip and other career disappointments continue to trouble Gerrard, the climax of his Anfield career was not without its redemptive moments either.
In the book, Gerrard recalls the various opportunities he had to leave Liverpool and move to a number of illustrious clubs, including Real Madrid and Chelsea. The Merseyside-born star admits he would almost certainly have won more trophies if he had joined up with Jose Mourinho in London, or another top European club.
However, McRae feels that ultimately, Gerrard genuinely believes he made the right decision in staying at Anfield. And indeed, in a football world driven increasingly by cynicism and money, where 'loyalty' is beginning to seem like an archaic term, the star's dignified stance on the matter is both unusual and refreshing.
"In terms of staying at Liverpool, I think he felt totally vindicated.
His last game at home was a defeat against Palace. His last-ever game for Liverpool was the humiliation of losing 6-1 at Stoke — that hurt him hugely. But I think he felt so vindicated by the love people showed him in the last few weeks. It showed him what it meant to so many people that he stayed for so many years as a first-team player at the same club. Since the age of eight up until 35, he'd been on Liverpool's books.
"One of the most powerful moments was when his Dad said to him: 'Forget the medals, you have the love of your people. If you'd gone to Chelsea, you would never have got that.'
"Ultimately, as a footballer, he cares about winning and medals. But he's wise enough to know that in the long term, the medals are less important than the legacy he has at Liverpool."
And McRae, having interviewed countless elite sports stars for The Guardian over the years, feels Gerrard shares some similar attributes with other legendary athletes.
I think the top, top people — someone like Tony McCoy, who's totally different in personality to Steven, but there is that hunger for perfection, that attention to detail, that kind of obsessive zeal for doing something out of love. He has all the attributes of the iconic figures of sport — they pour out of him.
"I know a lot of people dismiss him and perhaps don't like him and say he doesn't show enough humour — we had a lot of laughs along the way — but the thing that stood out was his utter dedication to doing what he loves, and that was why he was such a great footballer. I got to see that in close-up as he came to the end of his amazing time at Liverpool."
Now, of course, Gerrard is living in the relative serenity of America, in comparison with the football-obsessed city of his birth. As sad as he was to leave his beloved Liverpool, McRae feels that this transition has given Gerrard an unfamiliar sense of freedom, lifting a considerable burden off his shoulders in the process.
When he went to the States and I went to see him in LA, I think he was surprised at how much he enjoyed being out of that consuming obsession with Liverpool and football. It had totally taken over his life and interactions with his wife and kids had always been shadowed by this commitment to Liverpool. He enjoyed, in LA, becoming fairly normal and just being a husband to his wife and kids. He's a good Dad, but away from Liverpool, he had time and he wasn't famous and he just enjoyed being out of that insanity of being Liverpool's captain for such a long time.
"Liverpool is such a football-crazy city and it's a city of two halves. He would either be swamped with adulation, or he would get a lot of genuine stick off the Evertonians. Because he felt responsible in a way (after the slip), he felt he'd let down Liverpool's fans, which is why he was blaming himself and he needed to find a ghost town where he could be on his own and attempt to come to terms with what had happened. It shows how much Liverpool means to him and also how suffocating it can be as well."
Steven Gerrard: My Story is published by Penguin. More details here.