THE DEBATE RAGES on.
Even in absentia, even with his arm in a cast and a period on the sidelines ahead of him, the conversation revolves around Joey Carbery.
Out-half or fullback?
Either way, the kid is special.
No debate there.
Ryan Byrne / INPHO Carbery weaving his magic against Fiji on Saturday. Ryan Byrne / INPHO / INPHO
But we won't see him for a while.
Peni Ravai eventually broke him, one crushing hit too many.
It's a real shame.
"He is tough mentally and he is certainly tough physically," Stuart Lancaster says of the 22-year-old.
"He has the confidence and the courage to try things. That is a great asset for a player, particularly at 10. He will never take the easy option. He will always push himself.
"If he makes a mistake, he doesn't dwell on it too long which is another good quality. He will be now. But, this is another window to get stronger, particularly in his lower limbs.
"He will be back, hopefully, in the New Year."
The sooner the better.
Carbery's only appearance — 66 minutes, to be exact — at out-half this season ended in cruel circumstances, with his left arm fractured and a growing realisation that for all the weaving and dummying and the wizardry and skills, the big boys will always have the last laugh.
In taking the ball to the line time and time again, Carbery put himself in the firing line and an afternoon of pleasure ended in pain. An incredibly inconvenient time to pick up another injury.
Lancaster agrees: "It is such a shame he has picked up this injury now because there are windows [to play at 10 for Leinster] around the corner.
"We've got two Pro14 games, the two Exeter games and four or five Pro14 games. There is no way that Johnny [Sexton] would have played all those. He [Carbery] would have played at 10.
"Unfortunately, the injury now means that he will miss that window. He is still very young and I'm very confident – he works on and off the field – he will develop into a great 10."
Schmidt described it as an 'unfortunate situation' in his post-match press conference on Saturday. He knows Carbery needs to play regularly at out-half for Leinster, and not fullback as has been the case, if he is to develop into the 10 Ireland want him to become.
We saw flashes of that potential on Saturday.
But the problem is Sexton remains the undisputed first-choice for both club and country.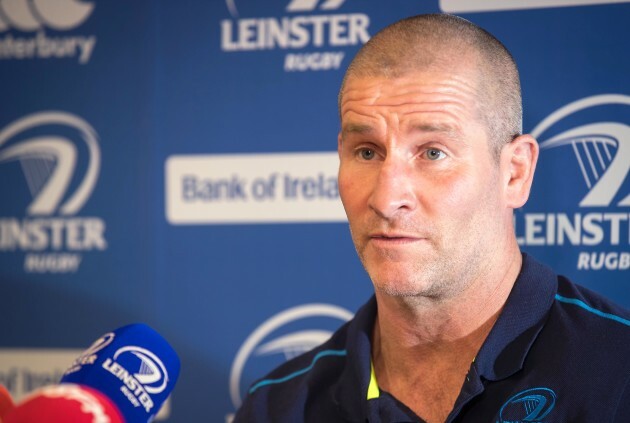 Oisin Keniry / INPHO Stuart Lancaster speaking at Leinster HQ yesterday. Oisin Keniry / INPHO / INPHO
And then there's Ross Byrne who has established himself as Leo Cullen's second-choice, with Carbery having filled the fullback shirt in the absence of Rob Kearney. A dilemma which needs to be resolved.
Lancaster insists Leinster are working off the same page and there are solutions.
"We share the same desire really, to give Joey time at 10," the Leinster coach explains.
"When you think back to the start of the season and he got injured on the tour [of USA and Japan] didn't he? He played in the pre-season game against Bath at 10 [came on at half time] and got injured in that, picked up a calf injury so the first two games he could have played at 10 he was injured for.
"Then we obviously we go to South Africa and we've lost Rob Kearney through injury at that point.
"My view on it is, as I said the other day, he reminds me a lot about Beauden Barrett and how he developed as a player. He was a 15 who has evolved into a 10 and I think that's what will happen with Joey."
Even in the 18 months Lancaster has been at the province, Carbery has developed immeasurably.
"He's definitely physically grown since I've met him. I think he played his first game at 10 in the first game last season against Treviso — he scored two tries — and I arrived that week.
"When I looked at him when I first arrived. I remember looking at him, thinking, 'this guy isn't that big physically.' He had a great pre-season and, physically, he is equipped to play international rugby.
"He was just unlucky at the weekend that he met with a big Fijian."
There is still room in the modern game for the diminutive playmaker to weave their magic and pull the strings.
"His game has developed. There is no doubt that, to be a complete 10, you've got to be able to play the all-court attacking game.
"You've got to be able to play territory and field position. You have to have the basics top-class. Your defence, your goal-kicking, kicking for the line, all of that. In every area, he has improved.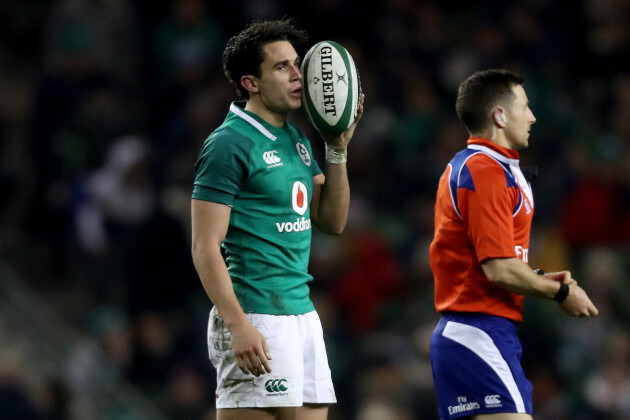 Bryan Keane / INPHO Pulling the strings: Carbery's November series has been ended prematurely through injury. Bryan Keane / INPHO / INPHO
"Like any young player, there are still areas to improve. Every time he steps on the field, he has brilliant role models to learn from whether it be Isa Nacewa or Johnny or Robbie or Garry.
"He is surrounded by great players and he is humble to learn. He is only going to get better. He's going to be a great player for Ireland."
But he'd have to take Johnny's place?
"There'll come a point when he will narrow the gap," Lancaster continues. "But he's narrowing the gap with probably one of the best out-halves in the world, and in my opinion at the moment Johnny is playing the best since I've worked with him.
"I think Johnny is at the top of his game so it's not a bad chasing point, is it for Joey to go at? But to knock Johnny off that 10 position you're going to have to be playing well at the moment.
"His detail, his understanding of the game, his ability to see the picture, physically he's in good shape, he's leading the team well. Johnny is playing as well as I've ever seen him, and that's great credit to him really."
And so the debates rages on, even when Carbery is temporarily out of the picture.
The42 has just published its first book, Behind The Lines, a collection of some of the year's best sports stories. Pick up your copy in Eason's, or order it here today (€10):