STUART OLDING IS still only 22 but he's had enough heart-breaking time on the sidelines through injury to last a career.
The Ulster man is a hugely positive character who says that his ability to smile through the tough times has been important.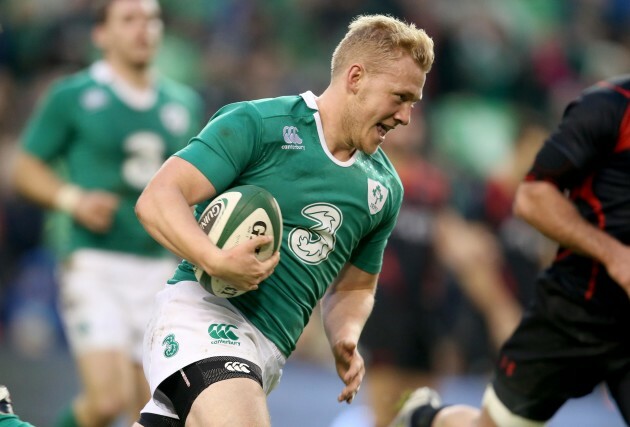 Dan Sheridan / INPHO Olding has two Ireland caps and scored a try against Georgia in November 2014. Dan Sheridan / INPHO / INPHO
Olding made his return from 10 months out due to ACL surgery last weekend for the province's A side, completing 64 minutes in the 13 shirt and earning positive reviews from Les Kiss and his coaching team.
Any ACL injury is cruel, but Olding's was even more so given that he sustained it in a game against the Cardiff Blues last March that marked his return from two months out with an elbow ligament injury.
Olding also missed the vast majority of the 2013/14 season with his first ACL injury. This promising back has served his time out of the game.
Remarkably, Olding has already managed to fit 36 Ulster appearances and two Ireland caps into his career. Joe Schmidt remains a huge fan of the former Belfast Royal Academy student.
It's all behind me and hopefully that's it now," said Olding yesterday at Kingspan Stadium as he reflected on his lack of injury luck in the last two seasons. "Hopefully I've reacted well to them and can now come back a better player."
There were tough times for Olding, as with any player recovering from an ACL injury, but he says he worked hard to retain his naturally positive outlook on life.
"Always smile, that's a massive thing for me, keeping a smile on my face. Coming into training every day, other players have their own problems so don't need me dragging them down either.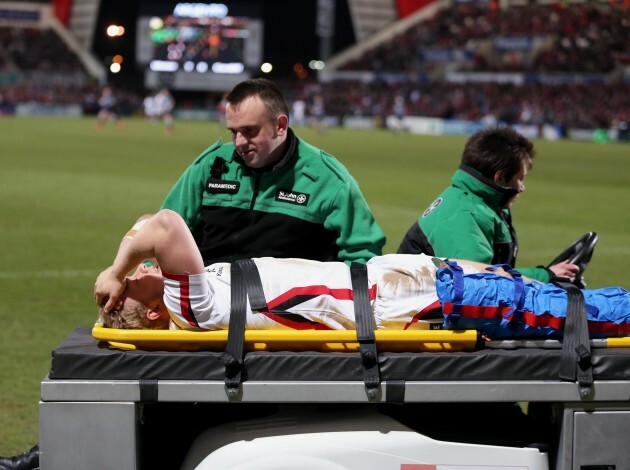 Presseye / Darren Kidd/INPHO Olding suffered the ACL injury last March. Presseye / Darren Kidd/INPHO / Darren Kidd/INPHO
"Go in with a smile on your face and go into every single physio session, rehab session, weights session with 100% intent because who knows when it could be all over."
The 22-year-old says he was "a wee bit nervous" in the early part of last week before Friday night's clash with Bristol in the British and Irish Cup, but was "happy enough" with his performance as he get on the ball regularly.
He looks relatively lean in comparison to the player who had initially returned from injury last season, and Olding confirmed yesterday that he has indeed slimmed down in his latest period of rehab.
The first time I came back I had bulked up but it wasn't all good weight," said Olding with a smile. "I think I'm four or five kilos lighter and I'm definitely faster – that comes through on the GPS – and stronger.
"I feel a bit lighter on my feet and my agility and stuff is good, so I'm really excited to get back out there and play."
Next on Olding's path to full fitness is Saturday's visit to Treviso in the Pro12, when he is set to make his first senior appearance for Ulster since that miserable day in March of last year.
While international honours will always be a prospect for a player as skillful and intelligent as Olding, his immediate focus is on earning a starting slot in this Ulster team during the Six Nations period.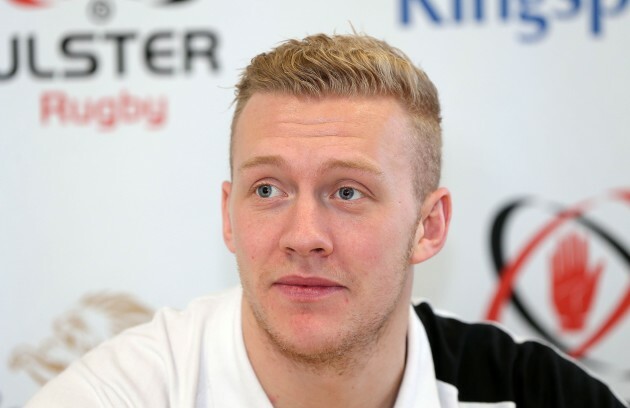 Presseye / Declan Roughan/INPHO 22-year-old Olding is eager to play at 12 again. Presseye / Declan Roughan/INPHO / Declan Roughan/INPHO
Stuart McCloskey and Luke Marshall have been brilliant in midfield this season, but their involvement in Ireland camp should mean Olding and fellow injury returnee Darren Cave have a chance to impress.
Olding has starts for Ulster in the 10 and 15 shirts, although the majority of his appearances for the province have been at inside centre. Asked where he hopes to play, Olding indicated that his preference remains for the 12 slot.
Again, wherever at the minute," said Olding. "We've got internationals across the backline and there's loads of competition and I'll be happy to fit in anywhere. Hopefully I'll be able to nail down at 12."
The approach Ulster have to attacking this season ought to suit Olding's creative skills and he is excited to get involved in Kiss' game plan against Treviso.
"I think some performances have gone really, really well and it's a great brand of rugby we've been playing. It's not just throwing the ball about, it's taking opportunities whenever they're there.
"I think it's suited to the players we have, playing that sort of expansive rugby and with ball in hand."