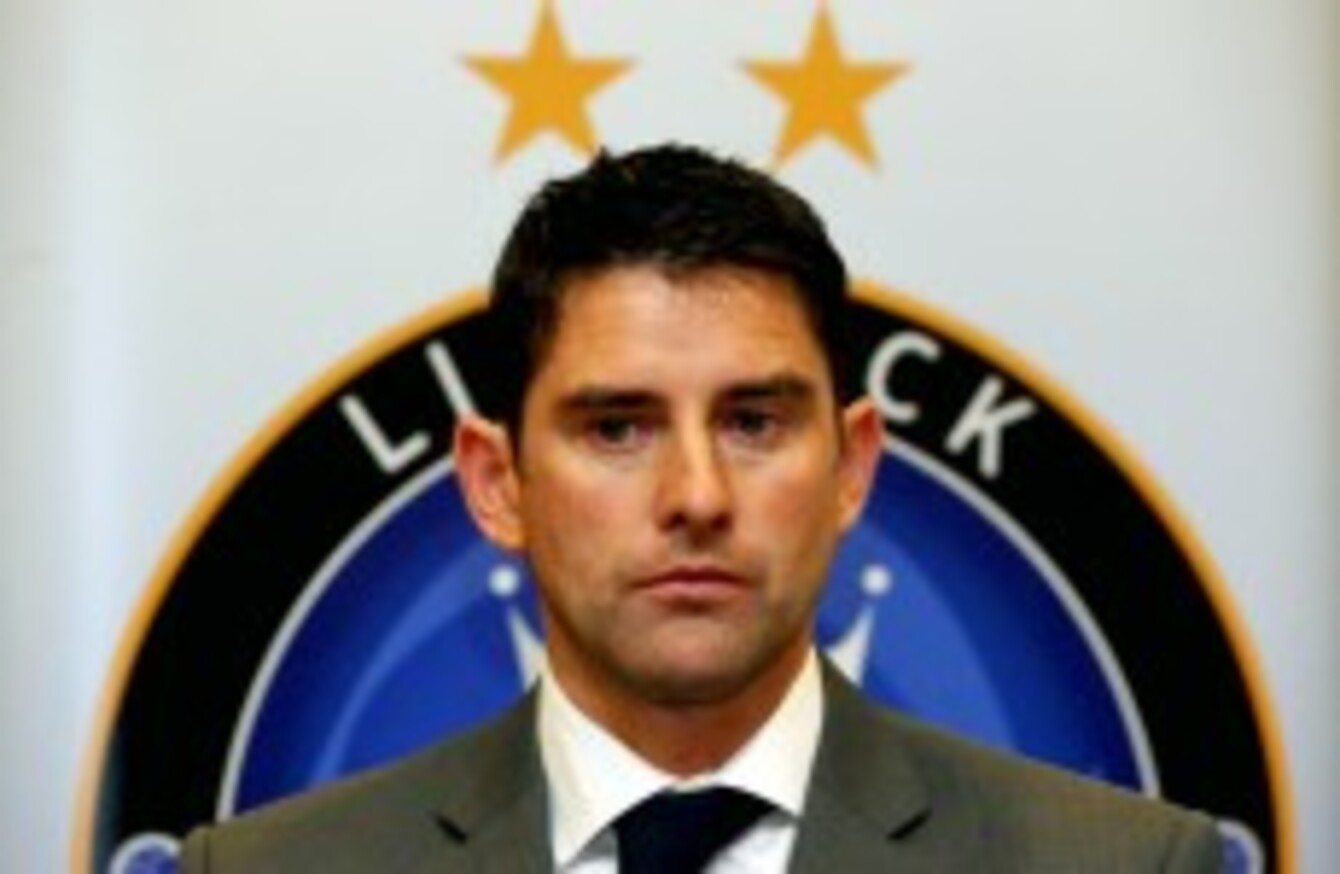 New man: Limerick boss Stuart Taylor at today's press conference in Dublin.
Image: INPHO/Donall Farmer
New man: Limerick boss Stuart Taylor at today's press conference in Dublin.
Image: INPHO/Donall Farmer
LIMERICK FC CHAIRMAN Pat O'Sullivan has promised Stuart Taylor every support he needs to make the club's return to the Premier Division a success.
Taylor, a former Drogheda United player and coach with Scottish club Hamilton Academical, was officially announced as Limerick's new manager on a three-year deal today.
The Scot's appointment brings an end to the lengthy search for Pat Scully's successor but O'Sullivan insists that it was important to get the right man for the job.
"You might say that we're a bit late coming to the table in terms of our manager," the chairman said at a media briefing in Dublin this afternoon.
We believe that football is a great product in Ireland and, no disrespect to anybody, we wanted to contribute to enhancing that so when we looked at replacing our manager, we went very much outside internationally.
He added: "[Stuart] will have full responsibility for all football within the club and anything to do with football. Any supports and assists he needs, he'll have."
Taylor, 38, landed the job after a long recruitment process which saw Limerick linked with a host of high-profile candidates including Phil Brown, Les Ferdinand and former England boss Peter Taylor.
O'Sullivan dismissed a lot of the links as pure speculation: "In a lighthearted way, we were never at the Emirates over Christmas and we didn't interview several of the managers who were mentioned. I don't know who they are, they were never in Limerick and I've never met them.
We're low-profile people but what we do, we like to do it right and that's why we went internationally looking for people who were interested in our job.
O'Sullivan also confirmed the appointment of former Athlone Town chief executive John O'Sullivan as the club's new CEO and spoke positively about Limerick's decision to play their home games in Thomond Park this season.
"The Markets Field was never going to be ready for this season. The Markets Field is a wider pictures in terms of development, not just for soccer but for Limerick as a whole. We obviously needed a facility to complement Premiership football.
He added: "Sport is a great tool in a social economic sense and it shows that we are playing a constructive role in bringing other sports working together for the betterment of the local economy.
It's a real positive thing for the club. People talk about facilities at football grounds and at grounds where sports games are played. Here's an opportunity now for the midwest region and the wider football public to watch their team playing Premiership football again after 19 years; economically and socially making a terrific contribution to the city; and playing our games at a top-class stadium. What more could they ask for?