FOLLOWING TWO PHASES of Super 8s action, things are beginning to take shape across the two groups with All-Ireland semi-final spots still up for grabs.
Dublin and Galway are the only teams who are guaranteed a safe passage to the last four, while David Clifford's last-gasp goal for Kerry has reignited their chances of progressing to an All-Ireland semi-final.
Kildare and Roscommon are the two teams that are out of contention as we prepare for the final phase of games.
Here's how things stand and the possible outcomes:
Group 1 
Final Fixtures – 4 August
Kerry v Kildare, Fitzgerald Stadium [Throw-in, 6pm]
Galway v Monaghan, Pearse Stadium [Throw-in, 6pm]
Table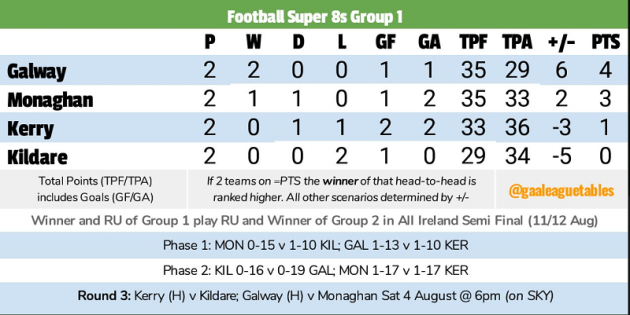 GAA League Tables Twitter Page. GAA League Tables Twitter Page.
As it stands, Galway are in pole position in Group 1 on four points, meaning that Kevin Walsh's charges are already through to the semi-finals.
Wins over Kerry and Kildare have sent them to the top of the table and they will hold onto that position if they can get a win or a draw against Monaghan when they welcome them to Salthill.
A win for Monaghan would see them leap-frog Galway and send them through to the semi-finals as the Group 1 table-toppers. A draw would also be enough to see them qualify out of the Super 8s.
Kerry were in a precarious position heading up to Clones on Sunday but that goal from Clifford to snatch a draw at the death has given their semi-final hopes a shot in the arm.
Éamonn Fitzmaurice's men will go through if they defeat Kildare and Galway get the better of Monaghan. Kerry's hopes of going through would then come down to score difference.
Kildare pushed Galway all the way in Newbridge but that three-point loss eliminates them from the competition and they are now playing for pride when they travel to Killarney.
Group 2
Final Fixtures – 5 August
Donegal v Tyrone , Ballybofey [Throw-in, 3.30pm]
Dublin v Roscommon, Croke Park [Throw-in, 3.30pm]
Table 
GAA League Tables Twitter page. GAA League Tables Twitter page.
Dublin booked their place in the All-Ireland semi-finals on Saturday evening after holding off a spirited Tyrone performance to come away with a three-point victory.
The other qualifying spot will go to either Donegal or Tyrone, who will meet in an all Ulster clash in Ballybofey. Tyrone would progress in the event of a draw due to their superior scoring difference.
Roscommon were eliminated from the Super 8s following their defeat to Donegal on Saturday. They face Dublin in a dead-rubber fixture at Croke Park.
The42 is on Instagram! Tap the button below on your phone to follow us!