THE SUPER BOWL is a notoriously tough event to get tickets to, and if you are lucky enough to buy one it will likely leave you without pocket money for a few years.
Richie Whelan is a massive Seattle Seahawks fans and after seeing them win the Super Bowl in New York last year, he wasn't going the miss the chance for a repeat in Phoenix yesterday when they played the New England Patriots.
He flew over with his friend Paul McEvoy but the escalating ticket prices – they were going for about $8,000 – and the scarcity of them meant they were resigned to watching the big game at a pub.
But with 45 minutes to kick-off they decided to go to the stadium to see if they could somehow try to blag their way in.
Whelan told The42 the step-by-step chain of absurd events that saw the ticketless duo end up with the best seats in the house.
"We went up to two security guards at the first barrier and just asked them, 'what's the best way to sneak in?'," Whelan said.
"They laughed and said we there was no way we would make it into the stadium but they told us that one of the gate's only had one person on it and they were sort of winding down. We went over there and the woman had her back to us so we slipped around the metal detector and went through."
But that was only phase one of Operation Breach the Phoenix and it only got them into the exterior section of the stadium where fans mingle beforehand.
They still had to beat another layer of security to get in.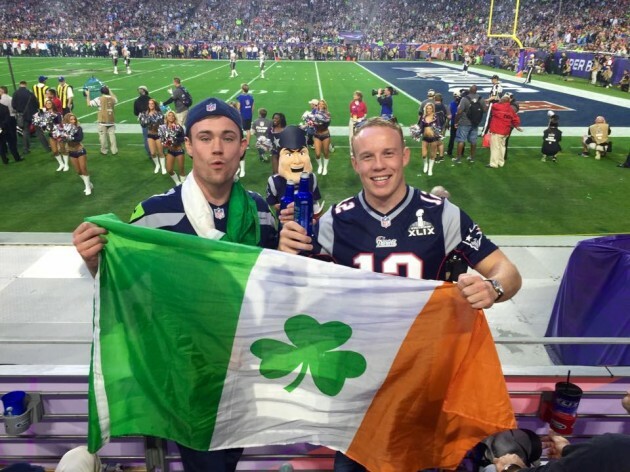 Cahir News online Cahir News online
"We saw about 20 first aid workers being checked by a bunch of security guards so we just tried to hide behind them and blend in. We pretended we were on our phones and had just stepped out for a second."
Then, the lads found another unwitting accomplice who helped them pull off their audacious plan.
"We saw one security guard over by the door and he was kind of winding down too," Whelan said
"The game had started at this stage so I think a lot of the security guards had mentally checked out. We broke off from the group and just opened the door and walked in. He had his back to us and never asked us for a ticket."
Whelan and his pal were both shaking as they watched the rest of the first quarter from the concourse. They didn't want to bulldoze their way into a section for fear of being caught but eventually they decided – to hell with it, we've come this far – and moseyed down towards the best seats in the house.
"At first we played musical chairs and just took peoples seats whenever they went to the bathroom or to get a hotdog," Whelan said.
As luck would have it, they made friends with two people who were leaving at half time to sit in a corporate box so for the second half they had fourth-row seats worth $25,000 in a section that was full of the Patriots players friends and families.
It's a ridiculous feat of sneakiness and luck but it was bitter-sweet for Whelan because his beloved Seahawks lost in the most excruciating way possible to the Patriots, throwing an interception on the game's final play.
And despite all the cunning he showed at the Super Bowl, Whelan doesn't plan on doing the same at the Aviva Stadium when he returns.
"I don't think I'll be doing it again, I'm not a notorious sneaker," Whelan laughed.
Originally published at 21.30