TADHG FURLONG WAS understandably inundated with messages and calls of congratulations after Ireland's win over the All Blacks in Chicago two weekends ago.
His mother, Margaret, sent him a brief message on Whatsapp.
"Just congratulations and 'hope the body's well' and 'was everything ok?' because I came off early," says the tighthead prop.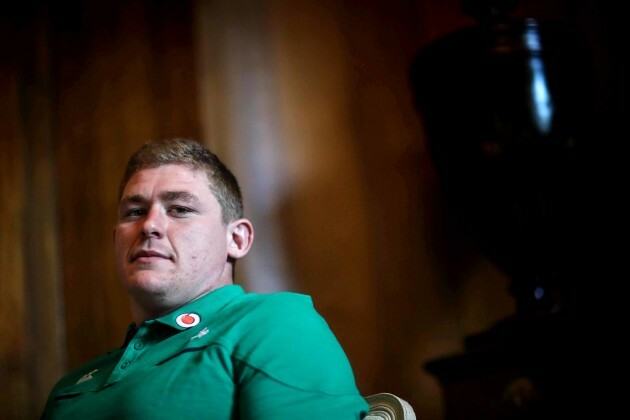 Billy Stickland / INPHO Furlong was superb in Chicago. Billy Stickland / INPHO / INPHO
Wexford hurling captain Matthew O'Hanlon – a former schoolmate of Furlong's at Good Counsel College - was on to share his delight for an old friend.
Friends and family bombarded Furlong's phone, the joy being transmitted from his village of Campile and the nearby town of New Ross.
His family weren't at Soldier Field, meaning Furlong had to wait until Ireland got back to their team hotel to speak to his father.
"He doesn't have a mobile phone!" explains the 24-year-old. "He actually doesn't, so he has no way to text you. You have to ring the landline.
'What do I want a mobile phone for?' – that's what he'd say to me. You give him a call when we got back to the hotel and things had settled down a bit, to see where we are."
And what did his father, James, a former prop and coach with New Ross RFC have to say to him?
"He'd just say 'fair play.' He'd be a man of few words."
While Furlong is a lively and engaging speaker, that straightforward attitude seems to have permeated into him. He essentially shrugs his shoulders at the thought of attempting to beat the All Blacks again this weekend as he earns his 10th Ireland cap.
Furlong is a proud Wexford man and though he looked to move swiftly on from the achievement in Chicago, a visit back to New Ross RFC last weekend brought the hysteria of the local community into focus.
"The place went crazy. I suppose all over the country, if you have someone from your county involved, the rugby public went mad.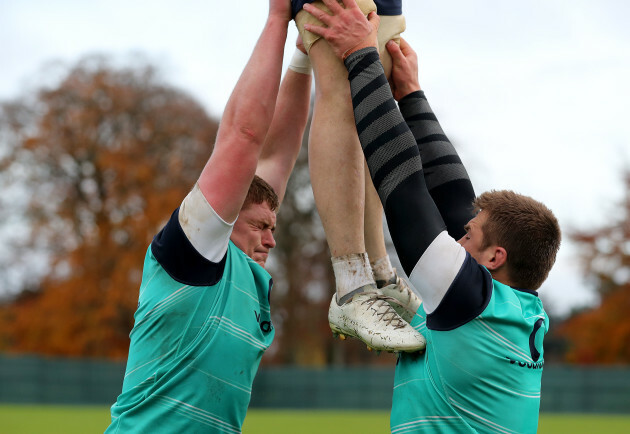 Dan Sheridan / INPHO Furlong and CJ Stander lift at lineout time in Carton House. Dan Sheridan / INPHO / INPHO
"It was something we'd never achieved before and where we achieved it, and everything that went with it, yeah it was a little bit crazy. It was brilliant for the lads back home.
"I always said if I could give something back to the club, try and get young fellas interested and into the game in Wexford, it'd be brilliant. Hopefully that carries through."
Already this mature young man is thinking of leaving a legacy of sorts, although his best years clearly lie ahead of him. Having come through Good Counsel, Furlong naturally played hurling and football as a youngster.
He played with Horeswood GAA club too, with a video of him in action as a 12-year-old now having passed 34,000 views on YouTube.

While Furlong laughs that he was "the little tubby guy running around," the mobility on display in that video, and the comfort with the ball, both remain part of his game now in Test rugby.
"I just went out playing rugby because I liked doing it. Once you come into the Leinster academy, you start getting serious. When you come from a GAA background… I don't know… I hate getting boxed off as a stereotypical prop who is not allowed to do this and only allowed to do that.
"You kind of mark yourself with the rest of them. Looseheads are always supposed to be more dynamic around the park. I never really got that.
"You come into Leinster and Collie McEntee [the former academy manager] is saying your mobility is a point of difference and you need to bring the rest of the game up to a standard and that is what you work at."
Furlong has done exactly that, building his scrummaging ability to the point that he has now impressed against South Africa and New Zealand in his two most recent starts.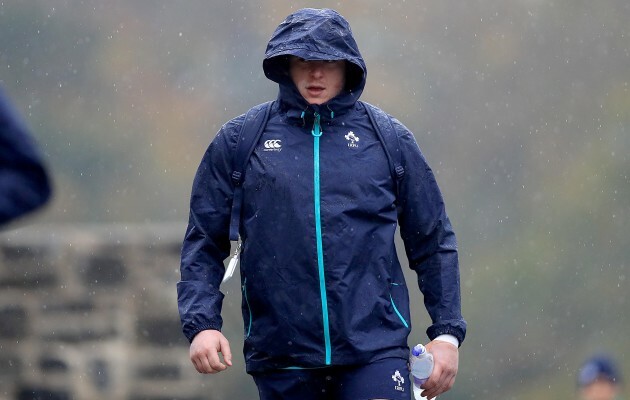 Donall Farmer / INPHO Furlong wins his 10th Ireland cap this weekend. Donall Farmer / INPHO / INPHO
The Wexford man cites the influence of Mike Ross with Leinster and Ireland as having been helpful in his development, stressing that he needs to find the remarkable consistency that has been a pillar of Ross' career in recent years.
The scrum battle in Chicago went Ireland's way, but it was notable how both teams looked to play off the scrum. Seeking out penalties in illegal ways simply didn't appear to be the name of the game.
Exclusive Six
Nations Analysis
Get Murray Kinsella's exclusive analysis of Ireland's Six Nations campaign this spring
Become a Member
"It's not less aggressive," says Furlong when the topic of providing clean ball is raised. "You're probably fighting harder to stay put and not give one side or another up.
"Everyone's working in tandem to hold the scrum square and steady so you can get a good strike, a good strike to the back and then play off it. It's less messy, I would say, than provincial level where you get teams working more angles and shoving early and stuff like that.
"I think international rugby, you figure out the smaller things matter. The smaller margins make a big difference and you have to fight really hard to stay square and straight, otherwise it can be a bit messy."
And while Ireland will certainly look for a dominant scrum performance against the All Blacks tomorrow, Furlong explains that a calm head is key in this area of the game.
"I suppose you come to your scrum and you have your cues to get yourself ready, your reminders. It's not baying for blood.
"It's very calculated, it's very technical. You're thinking your process through your head, your set-up. It has to be consistent the whole time. When you're in there, you're fighting by feel a lot of the time because, obviously, you can't see what's happening.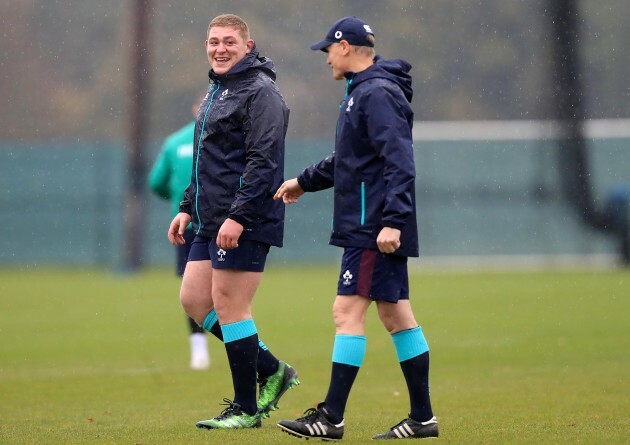 Donall Farmer / INPHO Joe Schmidt has put his faith in Furlong at tighthead. Donall Farmer / INPHO / INPHO
"You can't see what it's like from the camera. You're in there, you're fighting, trying to get that feeling you're used to. You know the feeling when you're in a good shape, when the loosehead's not going to rock you and when you can pin down the hooker coming across at you.
"It's always just fighting for that feeling, trying to get good launch for our backs because we like to play off our scrum. It's a good opportunity to play."
The more of that, the better for Furlong.
The42 is on Instagram! Tap the button below on your phone to follow us!