TADHG FURLONG DELIVERED another excellent performance for Ireland yesterday, backing up his world-class showing in Chicago two weekends ago.
Furlong provided one of the standout moments of yesterday's game with a rampaging burst in the first half of the 21-9 defeat.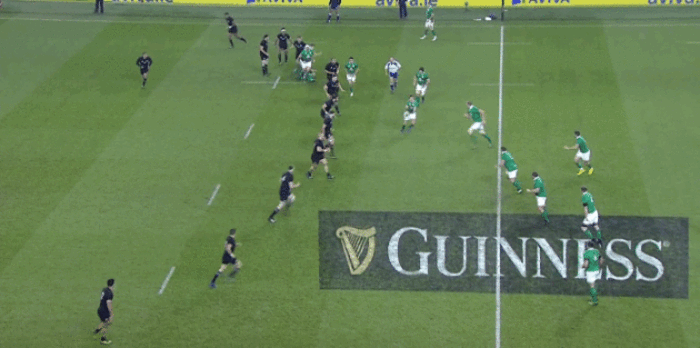 It's stunning explosive power from Furlong as he bumps off Brodie Retallick, knocks Owen Franks into the ground, fends Retallick into the ground as the lock comes back for a second bite, then sits All Blacks captain Kieran Read down in emphatic fashion.
This was one of 10 carries from Furlong for Ireland yesterday, as he made 15 metres of gains with ball in hand. The 24-year-old also provided four passes for Ireland at the Aviva Stadium.
Two weekends after an outstanding defensive display against the Kiwis in Chicago, Furlong only had to make four tackles yesterday evening.
However, one early hit stands out in the memory.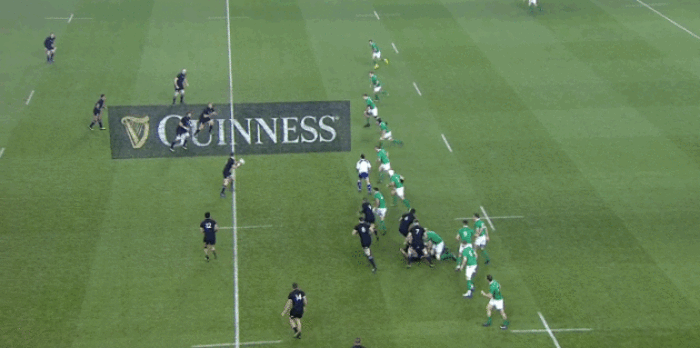 The sheer mobility and agility of Furlong shines through in this instance, as he first negotiates his way past the decoy run of Retallick in midfield and then steps on the accelerator to drift across the pitch at eye-opening pace.
Jared Payne and Andrew Trimble don't get their switch defence synced up as Payne commits to the player throwing the switch pass. That signals immediate danger, but Furlong's pace has taken him all the way across the pitch.
Julian Savea takes a sharp line, angling back out to the left from the switching point, and even gets his right hand free for a fend, but Furlong makes a firm tackle on the drift.
It might seem somewhat run of the mill, but many tightheads simply wouldn't have been in this position. Furlong's mobility means he was on scene to shut down the threat, allowing Sean O'Brien to pounce over the ball for a turnover.
Even as O'Brien makes the clean steal, Furlong is back on his feet attempting to aid the effort.
In the incident above, Furlong reeled in a stray lineout throw one-handed, although he did lose the ball forward in the subsequent contact. Nonetheless, the moment provides a glimpse of his handling ability and skill level.
I just love playing rugby and I always have, I don't carry a massive amount of ball," said Furlong last week.
"I just try to concentrate on getting in the right position, doing your job well, nailing your little roles and if it comes to you, it comes to you. You just try and play what's in front of you."
With Furlong's scrummaging also improving every time he takes to the pitch, Ireland have a gem of a tighthead on their hands.
- This piece was updated at 11.29 to include a clip of Furlong's one-handed catch at the lineout. 
The42 is on Instagram! Tap the button below on your phone to follow us!