TANIA ROSSER IS back in the Ireland Women's set-up after a four-year break away from the game.
A reconstructed shoulder and a loss of passion for the game were the major factors at the time of her early retirement, she told TheScore.ie, but she is back and in the form of her life ahead of the 2014 Women's Rugby World Cup.
From Hastings in Hawke's Bay, New Zealand, Rosser moved to Ireland at the turn of the century. While in New Zealand she taught current Crusaders and All Blacks full-back Israel Dagg. "He was always a character and a bit of a cheeky brat too," she recalled. "He was brilliant at rugby, though. Even from that early age, you could tell he was destined for big things."
She quickly became established in the Leinster team and an Ireland call-up followed soon after. A talented scrum-half/out-half (in the Ruan Pienaar mould), Rosser played in the 2006 and 2010 World Cups and is set to pass the 50-cap mark at next month's event in France.
While she is now 35, Rosser feels fitter and stronger than ever ahead of her third World Cup. Still, she admits to thinking her Ireland days were long numbered. "Ireland have had an established squad for the last couple of years so, even though I was back with Leinster, I honestly didn't think there was any room in the squad for me.
"The girls have done brilliantly over the last couple of years and proved they can mix it with the best by winning the Six Nations Grand Slam [in 2013]. I suppose I have brought brought in to add my experience and knowledge of cup rugby to the squad."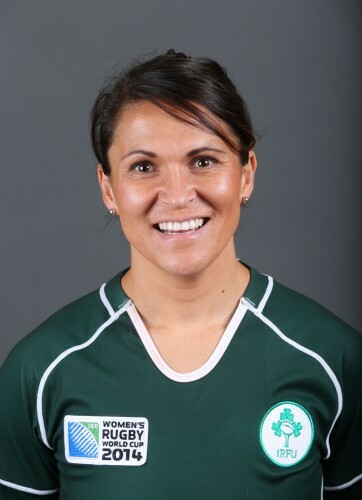 Cathal Noonan / INPHO Rosser in her Ireland WRWC 2014 jersey. Cathal Noonan / INPHO / INPHO
She added, "A lot has changed since 2010 and the squad have a lot more available to them. They have their own strength and conditioning coach, access to the nutritionist, video analysts, physios and doctors. In 2006, there was just a coach and a manager on the bench."
In between her first and second World Cups, Rosser gave birth to a boy named Serge [after French fullback Serge Blanco]. She was back on the rugby pitch three months after giving birth. "I felt I was ready but it took a while to recover from games after I returned," she said. "Whereas it would have taken a day or two to get over a physical match, it was taking my body close to a week. Sammy Dowling and Albie Mccormack [former Ireland physio] were great for getting me back in good shape so, within a month, I was up to speed."
Rosser is unique in the current Irish set-up as she is the only squad member with a child. "Back home," she said, "there are kids in the changing rooms before and after matches — men's and women's. Having children and getting back to sport is a given in New Zealand but not so much here."
It was not motherhood that forced Rosser out of the game four years ago, rather a dislocated shoulder and a loss of motivation. "I damaged my shoulder against the USA and it required reconstruction. Again, Albie was great for getting me in working order. I found, though, that I had lost my passion for the game. I'm the type of person who likes to give it 100% in everything I do, so I stepped away from the game."
That passion, without doubt, is back and Rosser has high hopes for Ireland. "I felt a bit sluggish in my first game back but the Wales game was great for me and I really came into my own. I enjoyed playing with Ashleigh Baxter. She is a great, young player who reminds me of myself when I was her age. She's solid under the high ball, has great feet and likes having a cut. I'm looking forward to playing with Sophie Spence, too, as she is a great teammate at Leinster.
"As I said, the skill and fitness level has jumped in the last few years and there is a bit more flair to the team. I'd be hopeful that we can get into the final four and see where we go from there. The girls have shown, by beating the likes of France and England recently, that they can compete at the highest level. I don't see why we can have a crack off the likes of New Zealand too."